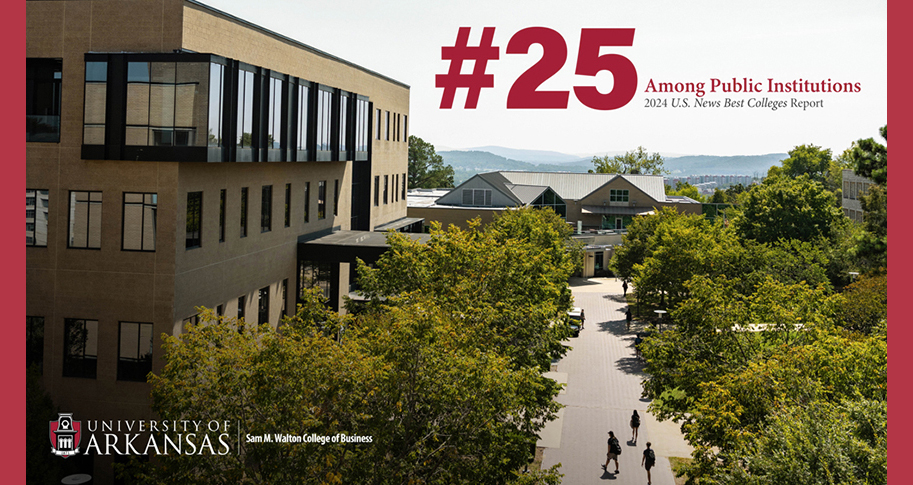 The Sam M. Walton College of Business is positioned as the 25th Best Undergraduate Business Program in public colleges by U.S. News & World Report in its 2024 national listing. Among public and private institutions across the country, Walton College is ranked 38th in the publication.
The college, which has remained in the top 30 public business schools in U.S. News rankings for 22 consecutive years, tied with University of Tennessee's Haslam College of Business, University of Utah's David Eccles School of Business and University of Pittsburgh's College of Business Administration for the position.
"The U.S. News & World Report ranking is a testament to the dedication of our faculty, staff and supporters. It recognizes the outstanding education our students receive. The Walton College strives to provide a student experience that combines world-class classroom instruction with experiential learning and professional development opportunities," said Brent D. Williams, interim dean for Walton College. "This semester the Walton College welcomed the largest number of students in its history to campus – nearly 9,000. We are able to attract high caliber students because the Walton College is one of the best public business colleges in the country as this ranking indicates."
Also noted was Walton College's undergraduate supply chain program which is ranked 11th nationally among business colleges.
The rankings and reputations were determined through a U.S. News survey, which each year asks business school deans and senior faculty to rate public and private undergraduate business programs accredited by the AACSB (Association to Advance Collegiate Schools of Business) International.