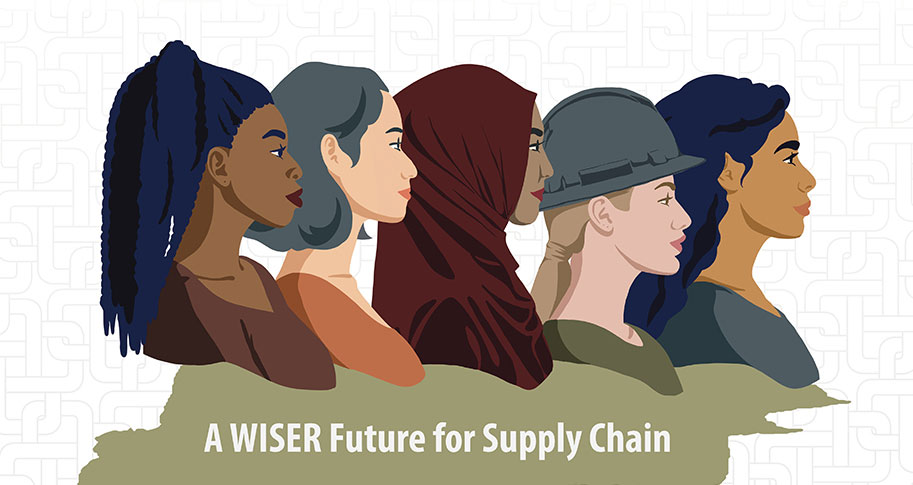 The 4th Annual WISE Future Leader Symposium kicks off Oct. 6-7 in the Reynolds Center for Enterprise Development at the Sam M. Walton College of Business. The event, themed "A Wiser Future for Supply Chain," will celebrate female pioneers who have led the way for women in supply chain management and many legends of the industry will be on hand.
WISE, which stands for Women Impacting Supply Chain Excellence, will include keynote speakers: Shelley Simpson, president of J.B. Hunt Transport Services; Kathryn McLay, president and CEO of Sam's Club; Amiee Bayer-Thomas, chief supply chain officer of Ulta Beauty; and Debbie Hodges, vice president of supply chain at Walmart.
Around 115 students and faculty from 24 universities have registered for the symposium. Participants will hear from panels of industry experts discussing a variety of topics related to supply chain challenges like sustainability and technology, how to navigate a successful supply chain career, the importance of mentors and sponsors, and much more. Breakout sessions will discuss key event takeaways and how to increase diversity, especially as it relates to gender, in supply chain students.
WISE LEGENDS
A new addition to this year's event is the WISE Legends ceremony, an inaugural women's hall of fame featuring 14 women in the supply chain management field. Honorees range from transportation pioneers to women who have influenced the diversity and success of today's supply chain industry. The honoree list was developed and researched by an inter-university collaboration of female supply chain students. A new class of legends will be introduced at future symposium events.
This year's honorees include:
Johnelle Hunt, co-founder, J.B. Hunt Transport Services
Helen Walton, business adviser and wife to Sam Walton, founder of Walmart
Edwina Justus, locomotive engineer, Union Pacific
Luella Bates, first female commercial truck driver, Four Wheel Drive Auto Company
Mary Elizabeth Walton, 19th century inventor of anti-pollution devices for railways
Lillie Elizabeth McGee Drennan, first female trucking firm owner, Drennan Truck Line
Shelley Simpson, president, J.B. Hunt Transport Services
Ann Drake, founder of AWESOME and former chairman and CEO of DSC Logistics
Kathryn McLay, CEO, Sam's Club
Kathryn Wengel, executive vice president and chief global supply chain officer, Johnson & Johnson
Judith McKenna, president and CEO, Walmart International
Judy McReynolds, chairman, president and CEO, ArcBest
Rosalind Brewer, CEO, Walgreens Boots Alliance
Barbara Melvin, president and CEO, South Carolina Port Authority
SPONSORSHIPS
The symposium is sponsored by several companies and individuals:
Named Sponsor – Shelley Simpson
Gold Sponsors – J.B. Hunt Transport Services, Walmart, Sam's Club, Debbie Hodges
Silver Sponsors – Clorox, Uber Freight, USA Truck
Bronze Sponsors – ArcBest, BNSF Logistics, Brenda and Douglas Keiser, Dollar General, Johnson & Johnson, Procter & Gamble, Samsung, Tyson Foods, Ulta Beauty
Educator Sponsor – ISCEA (International Supply Chain Education Alliance)
PARTICIPATING UNIVERSITIES
Attendees hail from supply chain programs around the country. Faculty and students attending the symposium include:
University of Arkansas
Auburn University
Brigham Young University
The Citadel
Colorado State University
Georgia Southern University
North Carolina A&T State University
The Ohio State University
Oklahoma State University
Texas Christian University
Howard University
Iowa State University
Lehigh University
Texas Tech University
University of Central Arkansas
Marquette University
Miami University
University of South Florida
UT-Dallas
Virginia Commonwealth University
Michigan State University
Mississippi State University
Western Michigan University
University of Wisconsin
For more information regarding the J. B. Hunt Transport Department of Supply Chain Management, visit supplychain.uark.edu.