Charles Scharlau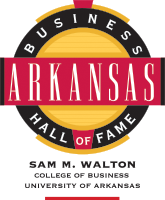 Charles E. Scharlau
Retired Chairman, President and Chief Executive Officer
Southwestern Energy Company


When Charles E. Scharlau returned to Arkansas a newly mustered-out Marine at the end of World War II, his father met him at the train station in Cotter, Arkansas. The elder Scharlau greeted him with the news that the University of Arkansas was delaying freshman registration for returning soldiers.
A 100-mile bus trip to Fayetteville set the younger Scharlau on a path that would take him to the C-suite of a booming energy company.
Scharlau went to the university on the GI Bill®, taking a two-year pre-law course and then graduating from the law school in 1951. Legendary law professor Robert A. Leflar recommended Scharlau for a job at the company that would become Southwestern Energy.
Scharlau went to work there as an attorney and worked at the company in many different positions before eventually becoming its chairman, president and chief executive officer. He was involved in all facets of Southwestern Energy Co.'s business for more than 47 years.
Scharlau served on the University of Arkansas Board of Trustees from 1997 to 2007 and as chairman of the board for the 2005-2006 academic year. He also served as president of the Alumni Association, chairman of the National Development Council, chairman of the first large fund raising campaign, vice chairman of the Campaign for the 21st Century, a member of the 2010 Commission and president of the University of Arkansas Foundation.
During the Campaign for the 21st Century, the family created the Scharlau Endowed Chancellor's Scholarship and the Scharlau Endowed Chair in Chemistry and gifts to the general and law libraries. Scharlau endowed two research chairs at University of Arkansas for Medical Sciences and established an endowed chair in presidential leadership to support the University of Arkansas system.