Frank Lyon, Sr.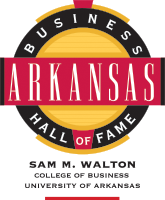 Frank Lyon, Sr.
(1910 - 1998)
Chairman of the Board
Frank Lyon Company
Little Rock, Arkansas
Frank Lyon, Sr., began the Frank Lyon Company in 1942 as an electrical appliance distributing company. In 1952, Lyon was awarded the Arkansas RCA franchise, ultimately obtaining the Whirlpool and RCA distributorships for 90 percent of Arkansas, Missouri, Kansas, Louisiana and Texas. In the early 1970s, he negotiated a contract with Sam Walton to distribute every RCA television Wal-Mart sold nationally until 1989.
Lyon's success brought other opportunities, including the Coca-Cola Bottling Co. of Arkansas, the 13,000-acre Wingmead Farms Inc. and Twin City Bank. He invested in downtown Little Rock's Worthen Bank & Trust Company and First Federal Savings and Loan buildings. In the 1990s, his family holdings were listed in Forbes magazine's Top 400 wealthiest Americans.
In 1946, Lyon joined the board of trustees of Arkansas College, serving as chairman from 1976-1988. Because of his work there, the college was officially renamed after him in 1994. Lyon volunteered for many other organizations, including the Little Rock Boys Club, Arkansas Children's Hospital, St. Vincent Infirmary Foundation and Arkansas Arts Center. Lyon was born in 1910 in Camden, Ark., and attended the University of Alabama.