Gene George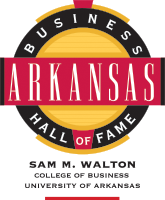 GENE GEORGE
(1922-2010)
Chairman
George's, Inc.
Springdale, Arkansas
Gene George's career spans over five decades with George's, Inc., a third-generation family enterprise and one of the largest and most respected integrated poultry companies in Arkansas. He attended the University of Arkansas in the 1940s and then joined his father and brother in the poultry business, becoming president and CEO in 1969. In 1980 he was named chairman.
A member of one of the pioneer families in Northwest Arkansas, George transformed a local and regional business into a multi-division corporation, serving both national and international markets with over 4,000 employees. George's, Inc. has operations in Arkansas, Missouri, Oklahoma and Virginia.
George believes that the company's greatest strength is its people. He recognizes the loyalty, hard work and knowledge of the employees as being a major force behind the growth of the company.
He served on the board of the Northwest Medical Center for over 30 years. He was an original investor and director of J.B. Hunt Transport Services, Inc. and Hudson Foods. He presently serves on the boards of J. B. Hunt, First National Bank of Springdale and the Community Care Foundation, Inc.