Kenneth Pat Wilson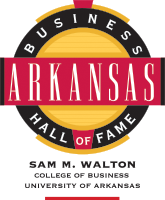 Kenneth Pat Wilson
(1919-2002)
Chairman and CEO
First Arkansas BancShares, Inc.
Jacksonville, Arkansas
Kenneth Pat Wilson organized Jacksonville State Bank in 1949 so that his community would have a bank. Today the bank is known as First Arkansas Bank & Trust.
Another major accomplishment was his effort to bring the Little Rock Air Force Base to Jacksonville by serving on the Pulaski County Committee of 100 businessmen. After the location was selected in 1952, he served as president of the Little Rock Air Force Base Community Council. He was active in the Jacksonville Chamber of Commerce for almost 30 years and worked to obtain natural gas, water and sewer services.
Wilson was born in Jacksonville, Ark. He attended the University of Arkansas. After serving in World War II, he returned to Fayetteville to receive a degree from the Walton College in 1946. He was a life-long advocate for the University of Arkansas and the Razorbacks. In 1999, he and his wife Ruth made a $2.4 million gift to the University of Arkansas Chancellor's Scholarship Program. Wilson was dedicated to Jacksonville's economic growth, enhanced civic services, educational resources and recreational opportunities. He also served Central Arkansas through leadership on many commissions as well as on the boards of many corporations.