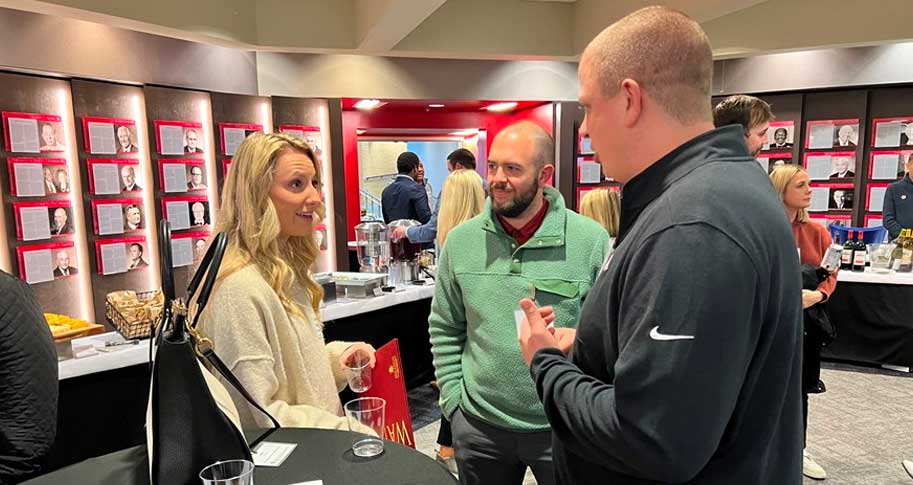 The Walton MBA programs teamed up with Walton Career Services to host a networking event for students prior to the Walton College Spring Business Fair. The event included 51 companies, and all expressed an interest in hiring MBA students. Many second-year students attended the event actively seeking employment, and first-year students made connections with representatives for internships or full-time positions after graduation.
Participating companies included McLane Foodservice, Consolidated Electrical Distributors, Strategic Financial Partners, NielsenIQ, PepsiCo, Emerge, Northwestern Mutual, UFP Industries, ISN Software Corporation, Techtronic Industries (TTI), Walmart, Equitable, Werner Enterprises, GlaxoSmithKline, Maverick Transportation, DSV Global Supply Chain and Logistics, Techtronic Industries, USA Truck, Phigenics, Global Shop Solutions, Walton Arts Center and more.
Lauren Granger (MBA '23) found the networking event to be insightful, beneficial and fun. Granger had already secured an internship this summer at PepsiCo as their MBA national commercial and sales strategy intern, but she attended the event to meet other professionals and build new relationships.
"I think regardless of where you stand in your career, networking is vital to one's career growth," Granger said. "At the MBA networking event, there were several opportunities that I was able to learn about that I hadn't already known about. I am grateful for the Walton MBA and hosting events such as the networking event that allows me to learn about new opportunities as well as learn from working professionals' stories."
Justice Jackson (MBA '23) is interested in HR, specifically talent acquisition and onboarding. She is looking for an internship and also found the event to be beneficial.
"I had the opportunity to connect with various companies, as well as network with my fellow peers," Jackson said. "I spoke to the representatives from Walmart, and they shared a variety of HR internships offered within their Global People department. It was interesting to learn more about the company and the programs offered."
Nicholas Cross (MBA '22) is seeking full time employment after graduation in May. He hopes to work in the consumer packaged goods industry using his engineering background to drive efficiency and sustainability within supply chains.
"I really enjoyed the networking event and connected with some companies that weren't on my radar," Cross said. "I had great conversations with Emerge, Werner, Phigenics, Walmart and DSV. I appreciate all the hard work Dr. Stoverink puts in to help MBA students succeed."