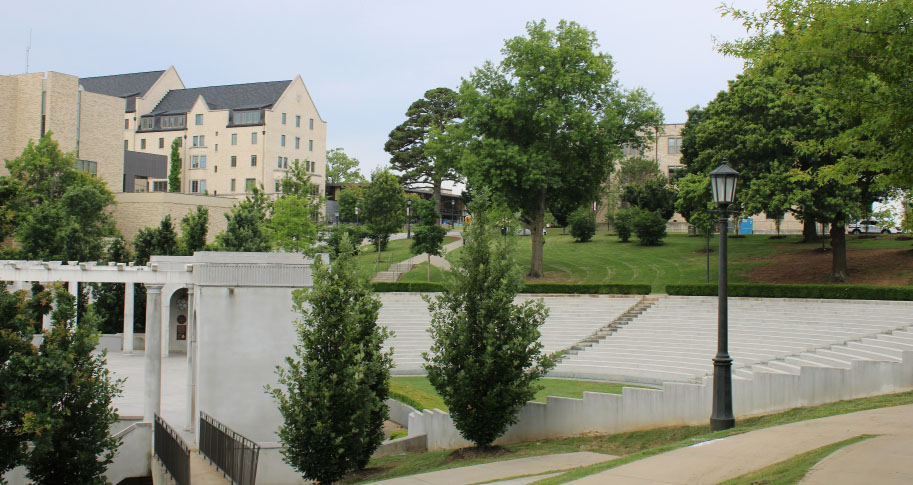 Few words are heard as often in Walton as "value." It often seems like one of those words you just cannot escape. You may hear about it with regard to Walton's EPIC values, the Blockchain Center of Excellence's research on the "Internet of Value," the value-added services that the Supply Chain Management Research Center provides, or in everyday classroom discussions.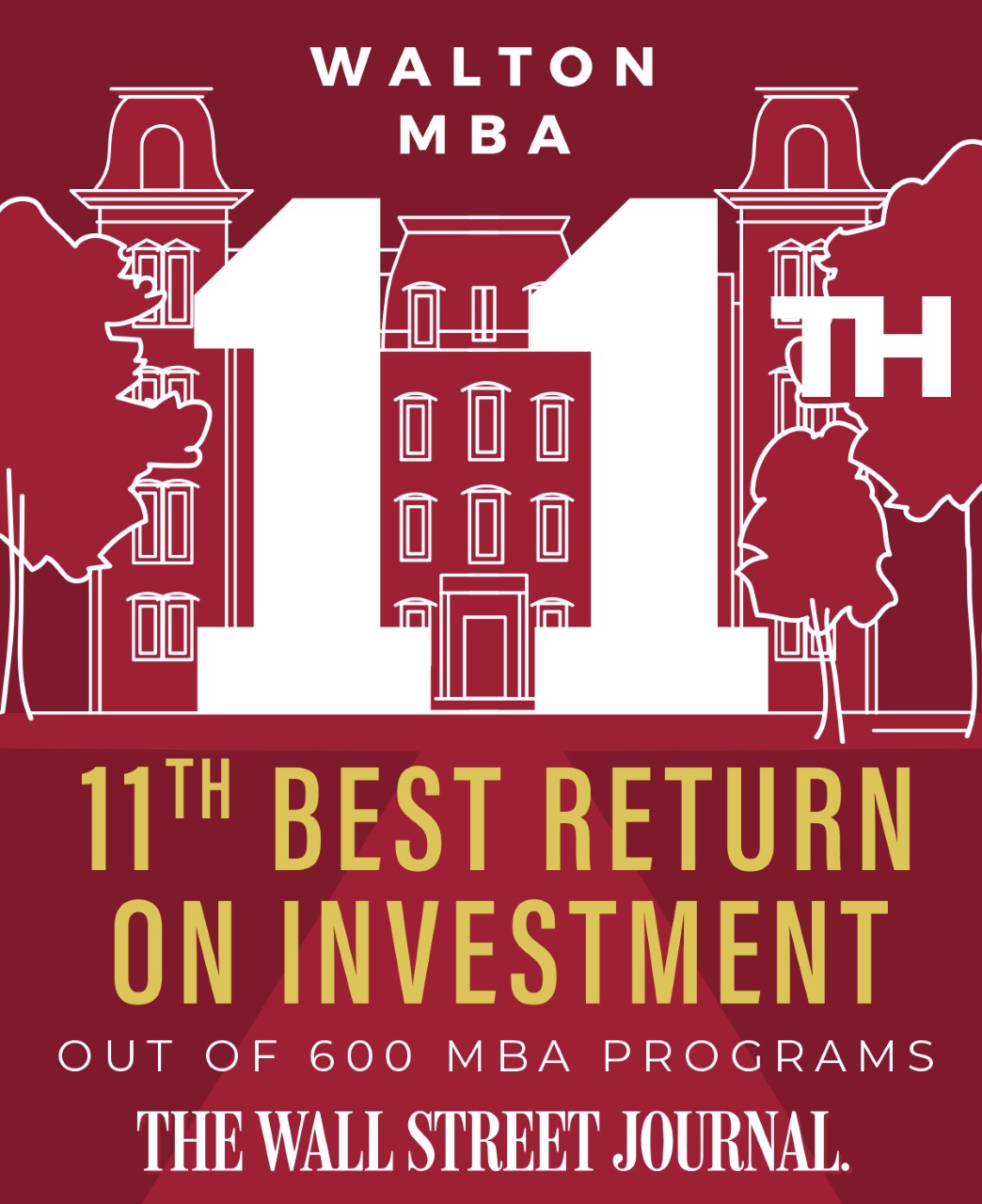 Thanks to a recent story in The Wall Street Journal about MBA programs, I've started to hear more about the value of an MBA. For several years running, almost all of the attention in the room was given to critics questioning whether or when students get a return on their investment. A recent study in The Journal complicates some of these narratives. According to its analysis of federal student loan data for 600 MBA programs, graduates from 98% of those programs "typically make more money two years out of school than they had borrowed."
So, how does the MBA Program at the Walton College rate in this discussion of value? Ranking 11th out of 600 programs, the Walton MBA is among the best. Students borrow an average of $28K for the program and earn an average of $106K two years later, resulting in a debt-to-income ratio of 0.26 for the Walton College MBA program. The graph below, taken from the WSJ article, shows the debt-to-income ratio for the MBA programs in their study. Do you see that blue dot on the far left? That's us.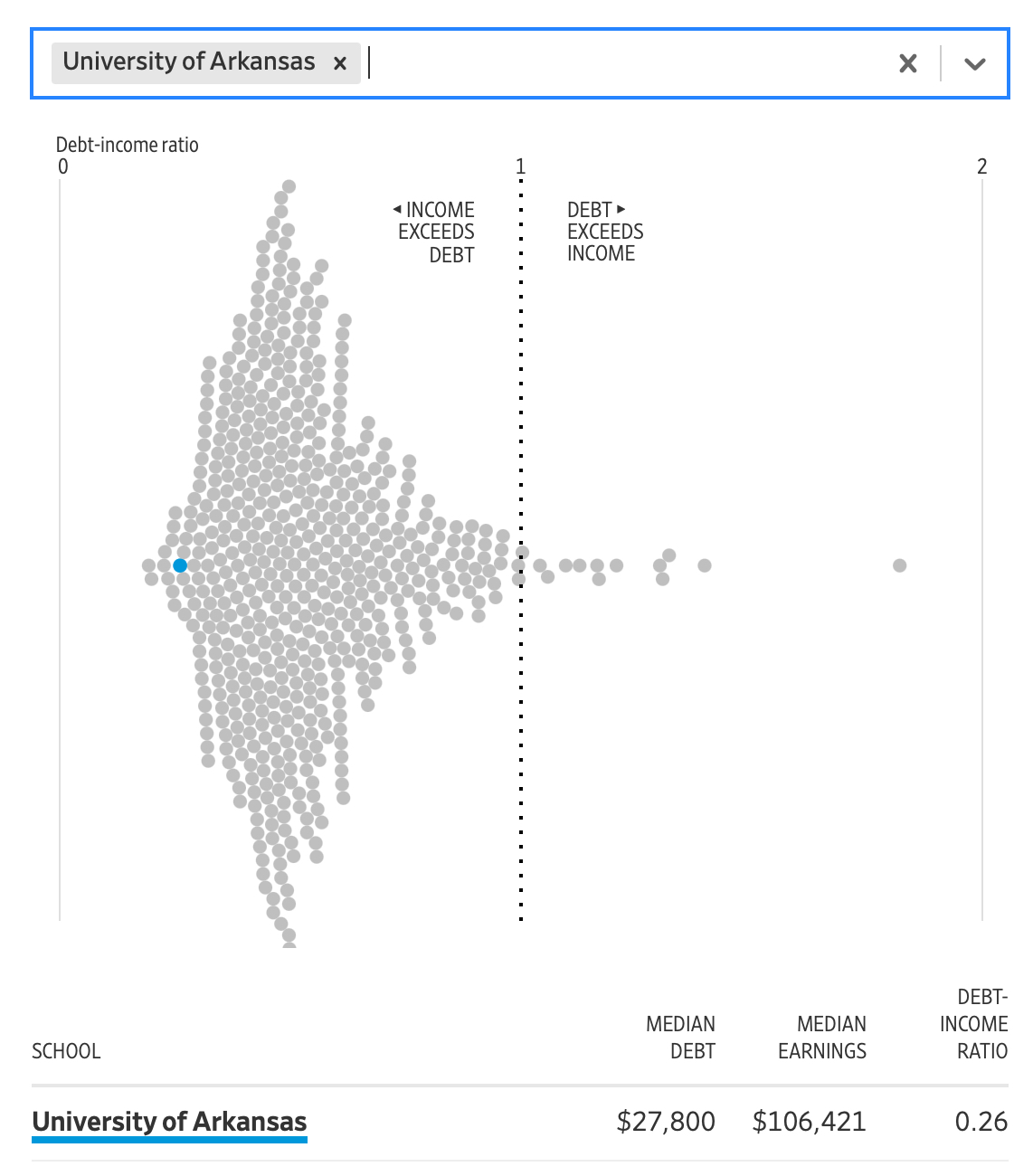 Even more impressive is the fact that the WSJ study doesn't adjust for cost of living, which would make our already impressive advantage even greater!
The Walton Executive MBA program features an innovative curriculum taught by world-renowned faculty, with unparalleled networking opportunities and extensive corporate connections. Designed for working professionals, the hybrid delivery allows students to earn their MBA in just two years with one on-campus Saturday per month.
The full-time Walton MBA program offers students practical experience, skill development and curated networking opportunities. Program highlights include the internship program, corporate mentorship, and professional development workshops featuring guest speakers from some of the largest companies in the world.
Both programs offer focus study areas in high demand fields and access to a global alumni network. The Walton MBA is more than just an academic program - it is also part of the supportive and engaging business community in Northwest Arkansas. Our close corporate partnerships and proximity to over 300 of the Fortune 500 companies allows for numerous recruiting and networking opportunities.
With the Walton MBA, students are equipped to strengthen their knowledge and skills and grow into the leaders of tomorrow. For more information, visit our website or email the Walton MBA team at mba@walton.uark.edu.