How to Build a Plane While Flying
How to Build a Plane While Flying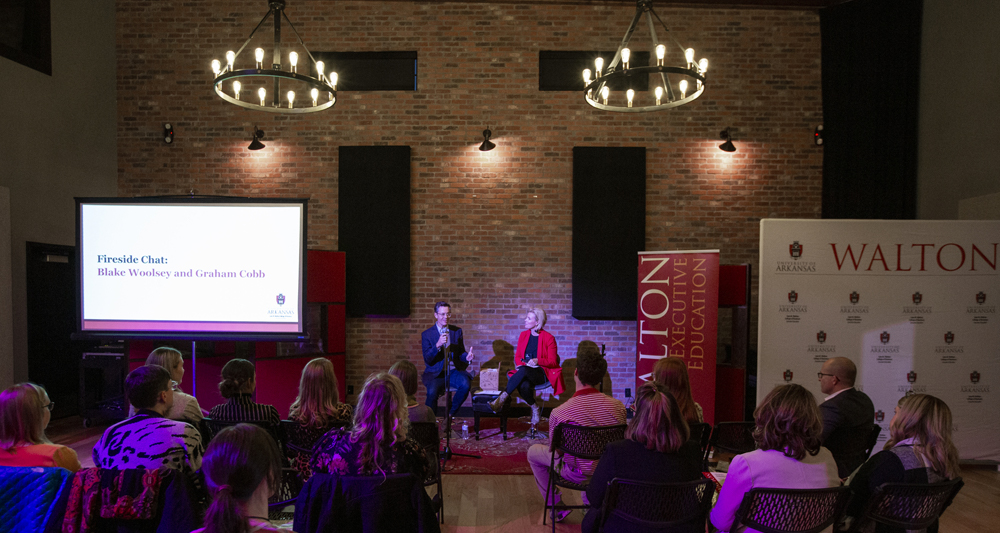 December 17, 2019
|
By Alexandra Goforth
Graham Cobb, president and chief executive officer at the Greater Bentonville Area Chamber of Commerce, isn't concerned with creating new experiences. He's taking advantage of what already exists in Northwest Arkansas – lucky as we are to be one of the best places to live, work and play – according to several national sources.
Cobb's strategy? Connecting businesses and telling their stories to showcase a region rich with art, culture, cycling and culinary experiences. An entrepreneur at heart, Cobb doesn't have time for a fixed, 500-page strategic plan. Rather, he builds the plane while flying. Strategic innovation, disrupting thinking and a "fail fast and fail forward" attitude have won Cobb national recognition for the chamber's economic development campaign: #BecauseBentonville.
Cobb and Blake Woolsey, president of Blake Communications and former senior vice president at Mitchell, recently hosted "A Strategy Story: Intentionally growing communities in unique ways," a pop-up program sponsored by Walton College Executive Education in the Sam M. Walton College of Business at the University of Arkansas.
Woolsey's father was the first to teach her the expression "building the plane as you fly." The expression is meant to encompass both the risk and the uncertainty of innovation. Cobb and Woolsey work closely with local executives and businesses to embrace change and empower others to get involved, encouraging community leaders to gather and "complement, not compete."
Embracing Change
The theme of embracing change was reflected in the setting itself: Haxton Road Studios. The studio is a part of the Haxton District in downtown Bentonville, a development project "where art and business collide." Neil Greenhaw, owner of Haxton Road Studios, has brought his business from a 500-square-foot home studio to a creative, collaborative space for the arts. Greenhaw believes Bentonville "will be in the history books for the arts," and he is proud that his studio has played a small part in the city's growing art and business community. With globally renowned mega-projects nearby, including the Crystal Bridges Museum of American Art and a host of award-winning Ropeswing Hospitality Group properties, Haxton Road Studios exists within a much larger economic movement in the region, a shift Greenhaw says brought his business from "dirt road to downtown." Dilapidated buildings are becoming exciting new businesses and communal spaces where architecture, art, culture and varied immersive experiences are improving the quality of life for residents in Northwest Arkansas -- putting Northwest Arkansas on the map for professionals looking for an alternative to congested metro regions.
According to Cobb, the Walton family is heavily invested in the development of their home region. The Crystal Bridges Museum of American Art, founded by Alice Walton and the Walton Family Foundation, has served as an anchor project for economic growth and development. The museum has been described as a catalyst for the diversification, revitalization and development of downtown Bentonville. The extensive urban development and economic growth that has taken place within the last decade is undeniable. Rolling farmlands and old manufacturing plants have morphed into world-renowned facilities and experiences. For Cobb, the cosmopolitan experience in a small-town is both enchanting and "back to the future-esque."
Social value plays an important role in Bentonville's economic development strategies. The #BecauseBentonville campaign, recently recognized by the Association of Chamber of Commerce Executives as one of the top economic development projects in the country, tells the story of Northwest Arkansas. The campaign promotes local businesses that incorporate an active, artistic and adventurous lifestyle in their business models. This approach is commonplace in Bentonville, Cobb noted, for a reason. It started with the legacy founders of the Bentonville community, namely Sam Walton, whom Cobb describes as an "adventurepreneur." Cobb hopes to attract a new generation of adventurepreneurs to the region and recognizes that quality of life is an important driver of economic growth but comes with challenges. Cobb and Woolsey tackle these challenges head on.
Customer needs are changing faster than ever, and even Walmart is experiencing disruption from constant change. As Cobb notes: "If we aren't improving, then we are going backwards."
Strategic Innovation
Cobb and Woolsey recommend taking a new approach to strategic planning. Cobb stopped looking to the Chamber of Commerce's mission statement and started asking "what, why and how" the mission statement can build a 21st century economic and strategic plan for growth and development. The first lesson? A strategic plan is living and breathing; evolving as it is lived. You have to build the plane while you are flying it.
Moving away from the traditional five-year plan, Cobb and Woolsey prefer to create a "one-page dashboard" with short-term plans, quantifiable measures and frequent progress reviews. Woolsey emphasized the sense of urgency that is essential to understanding and adapting to change, asking executives to consider what change means for their business, what it means moving forward and how it affects their priority stakeholders. Adopting a 12- to 18-month forecast through which businesses clearly define their aspirations helps to facilitate long-term growth while remaining relevant, innovative and flexible in a rapidly diversifying ecosystem. This approach to economic, business and community needs seems to be working well for Northwest Arkansas, especially Bentonville.
Bentonville sustains an increasing rate of economic development, population growth and median household incomes that consistently surpass national averages. Data from the 2017 U.S. Census revealed a 3.68 percent increase in the median household income from $76,447 in 2016 to $79,259 in 2017. Exponential growth continued between 2017 and 2018. The 2018 Annual Development Report. from the City of Bentonville revealed a four percent increase in population, a 25 percent increase in the valuation of all building permits (a total value of around $500 million), a 62 percent increase in residential permits (a total value of $304.5 million) and a 59 percent increase in the commercial project completion rate, with 46 projects completed in fiscal year 2018.
With big projects to look forward to, including a new 12-month pilot program spearheaded by the Greater Bentonville Area Chamber of Commerce focused on inclusive entrepreneurship and increasing access to capital, mentors and training for under-represented communities, and long-anticipated Crystal Bridges satellite facility, The Momentary opening in February, Cobb and Woolsey say they don't see the plane landing anytime soon.
Cobb and Woolsey encourage the community to embrace change, asking executives to consider the culture they are creating in their business and how they are asking their team to be present and to think about the future. To better serve his community, Cobb partners with industry and subject-matter experts, involves reliable, stable brands like the Walton College (an important source of new talent and knowledge on the latest in business strategies) and meets regularly with community thought leaders, including major stakeholders from Crystal Bridges, the Walton Family Foundation and the Bentonville School District. A reinvigorated focus on collaboration, innovation and executive education will help drive the intentional growth of unique communities in Northwest Arkansas.
"Seeking buy-in on the strategy?" To learn more about the techniques and approaches of strategic conversations, the implications of current economic development campaigns and how to take a vision from concept to living product, attend one of the Walton College Executive Education's pop-up programs or enroll in one of the many training opportunities in marketing and communications, strategy and management, entrepreneurship and innovation, or leadership and finance to receive expertly tailored business solutions for you and your business.