Confessions of an Entrepreneur: You Need a Good Business Partner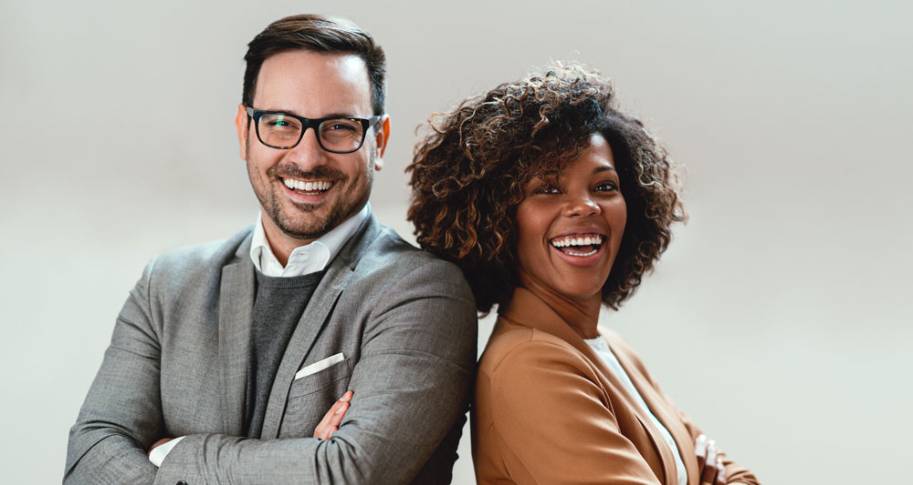 January 26, 2021
|
By Mark Zweig
I was really lucky.
Shortly after I started my first "real" business — Mark Zweig & Associates (what is today known as Zweig Group) back in 1988 – I hired my first employee. His name was Jerry Deane and he had been working in a phone "boiler room" in the 1867 building my $200-a-month office was located in. Jerry is a great guy and retired from the business in 2008 or 2009.
My second employee was a fellow named Fred White. The day I decided to start my business, my then-wife said "you need Fred" in this business. She — and I — had only met him a few months before. I had hired Fred first as a part-time desktop publisher at the company I worked for as executive vice president immediately prior to starting Mark Zweig & Associates. He was, at that time, a student in his late 20s at Emerson College, finishing up his bachelor of fine arts degree.
We met Fred and his then-wife for dinner in Boston and struck a deal for him to come to work with me. It was late July, and he had gone full-time at our prior company upon graduation a few months earlier for $23,500 a year. Our deal for him to join Mark Zweig & Associates was that he would get paid $1,000 a month and I would get paid $2,000 a month. After all of our expenses for office space, copier leases and other employees, anything we had left over we would split 75% for me and 25% for him. While that may sound unfair, Fred was just starting his professional career. I, on the other hand, was already well-known in my industry as a writer and speaker and had finished my MBA eight years earlier, had considerable work experience in my field and had already been a partner in a firm.
Fred lived in the Back Bay area of Boston and rode his bicycle or took the diesel commuter train all the way out to Natick where our office was, about 16 miles west of Boston Harbor. An artsy, quirky guy by any standard, Fred was a graduate of Phillips Exeter Academy the same year they graduated their first female student — Jenny DuPont — who eventually became my next-door neighbor in Dover, Massachusetts, years later. Fred had started out his college career as an engineering and computer science major at the University of Pennsylvania but eventually dropped out. He worked as a warehouseman and line cook at IHOP. He played in a rock band and travelled extensively through Europe. Then eventually he pursued his fine arts degree at Emerson.
Hiring Fred was one of the best business decisions I made over the course of my long career. The guy was and is brilliant — undoubtedly one of the smartest people I have ever known. He had skills that were completely different from mine. He was a system-oriented, long-term thinker. He created all of our processes for efficiently turning out original research reports. He created our direct mail marketing system. Most importantly, he created the single integrated client and potential client database that we used to do all of our work and all of our marketing. It eventually ran on a wide area network and was on every employee's desk. This allowed our company to grow by an average rate of 30% annually for the first 13 years we were in business and land us a spot on the Inc. 500 list of Fastest-Growing Privately-Held Companies two years in a row, something less than 30% of the Inc. 500 companies had done at that point in time.
A couple years after Fred joined me, we incorporated our business and issued stock. But it was a 60/40 split versus the 75/25 profit split deal we started out with. It was the right thing to do. He was so pivotal to our success. In recognition of his contribution, we changed our company's name in '95 or '96 to "Zweig White." That, too, was the right thing to do. Fred — a very introverted and self-effacing guy — always kept himself in the background while I basked in the spotlight. Over time, we sold stock to more than 20 of our employees and diluted our ownership down some, and we eventually sold our business to a private equity firm a little more than 16 years after starting it. That's when I "retired" and came to Fayetteville to become a college professor and start my next business, a design/build/development company.
The point of this whole story is none of our success would have been possible without Fred White. He was the best business partner I could have had at that time. We were completely different and had different skills and areas of interest. That meant that we rarely tread into each other's territory. And while we certainly had our disagreements over the years (most of which I'm sure were caused by my stubbornness and need to dominate at that point in my life — not something I'm proud of today), we shared a common philosophy and vision for what we could do with that business and a desire to build it up and sell it at some point so we could do something different. We achieved our goal, although it took us a little longer than we originally planned.
Today, Fred and his wife Audrey own a cafe in the Jamaica Plain area of Boston, and Fred works as a software developer with an entrepreneurial San Francisco-based company focused on the architecture and engineering industry — the same industry our joint company was entirely dedicated to serving. Although we communicate infrequently, I still consider him a friend and will forever be indebted to him for the contributions he made to our business.
The fact that Fred and I were so different in our backgrounds and skillsets made for a really good partnership. I didn't always love him, and I'm sure he felt the same way about me. He was difficult to work with at times because he was so much smarter than the rest of us. That said, I always respected him and appreciated what he did for us. The mistake so many entrepreneurs make is they team up with someone who is very similar — not, in my opinion, the best way to go!
The moral of the story for start-up founders is this. Pick your business partners carefully! It will either make you or break you.