How Higher Ed Can Practice the Innovation It Teaches
Higher Ed Can Practice the Innovation It Teaches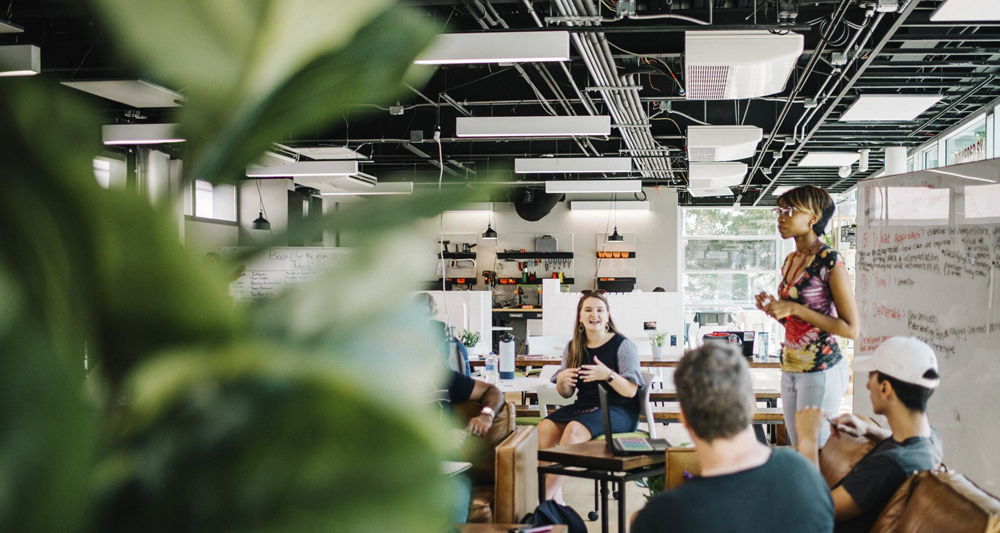 January 16, 2020 | By Stephen Caldwell
Photo credit: Raleigh Woods
When it comes to innovation, there's an unspoken mantra in many industries that goes something like this: "You do it."
Higher education is no exception. Researchers often look to create breakthroughs within their disciplines of study, but, they, too can get stuck in proverbial ruts, whether it's with research techniques, approaches to educating students, or partnering with the world outside of academia. And when university administrators, faculty, staff and students become adopters of innovation not creators, the industry of higher education ends up on the trailing end of innovative best practices.
The McMillon Innovation Studio, however, has a brief but interesting history at the University of Arkansas that in some ways runs counter to traditional higher education norms but in every way is beholden to the fundamental concepts of innovation. As a result, it's not only teaching innovation, but innovating teaching – and higher education.
The studio, in fact, was born because leaders within the Sam M. Walton College of Business did what that studio now teaches – they practiced human-centered innovation design. Natalie Means, the graduate director for the studio, explained what that means in a recent podcast with Walton College Dean Matt Waller.
"When we talk about human-centered design, we typically start by talking about empathy," said Means, a student in the Walton MBA program at the U of A. "We think of the users … and we empathize with their needs. We try to step into their shoes and experience the pain points that they're experiencing."
During a discovery process, student teams working in the McMillon Studio do surveys and interviews with potential customers who might benefit from having a problem solved. They pay special attention to the "feeling" words they hear when people describe their experiences, and then they create an empathy map.
"Whatever they're feeling when they're experiencing it, we are documenting that," she said. "And that allows us to stay centered on the human perspective of who we're solving for."
Once they know the frustrations or confusions or whatever other emotional pain points rest at the root of the problem, they begin looking for unique ways to solve it.
Waller uses a similar approach when asking alumni and other supporters about how the Walton College might better solve the business problems of today's marketplace. When he asked this question of Doug McMillon, the CEO of Walmart pointed out that the business world needs college graduates who are innovative – they understand the innovative process, they understand how to execute to make innovation happen, and they understand the commitment it takes to make innovation happen.
In response to that feedback, the university created the McMillon Studio, which provides space and support for interdisciplinary teams of students to work with faculty and business leaders on prototypes that solve real problems. It opened in 2016 thanks to a $1 million donation from Doug and Shelley McMillon, and, as Waller puts it, "It's now on the map as a first stop for any student with an interest in solving real-world problems using principles from human-centered design. It really is a key culture builder for a growing student community of innovators and entrepreneurs."
We live in the most innovative time in history. That's why we have smart phones, Sesame Street, Silly Putty, ride-sharing, robot vacuums and countless other innovations that have reshaped the world or, in the case of Silly Putty, some small aspect of it. In the words of the acclaimed philosopher Kermit the Frog, "Somebody thought of that, and someone believed it, and look what it's done so far."
Yet many leaders, organizations, and entire industries still take a you-do-it approach. They don't know how to innovate or they are too busy with the status quo or the tyranny of the urgent to cultivate an innovative culture. So, can things like an innovative mindset and a commitment to innovation be taught in traditional universities in ways that reshape how innovation is done in businesses?
The Walton College believes it's possible, and the McMillon Studio is an important component in how it's taking on the challenge.
The studio became part of the Office of Entrepreneurship and Innovation in 2019, which has given it additional resources to scale. But its purpose remains the same: Shaping the future of commerce by developing and enabling students to be catalysts of innovation. To make that happen, however, the studio had to take an innovative approach to higher education, and that approach in some ways is being adopted and applied by other departments in the college and across the university.
Here are four key ways it is teaching innovation while innovating in education:
No Rubric, No Problem
College students are accustomed to getting a syllabus and rubric for the classes they take. They know in advance what they'll do each week and how they will be graded. Many jobs, of course, have detailed job descriptions, project management plans and metrics that measure success. But there's far less direction when it comes to daily problem solving or innovating.
The students in the McMillon Studio take a less structured approach than they typically find in their classes. Kyle Berger, the undergraduate director, points out that the teams aren't given a product that they are charged with building to solve a problem.
"We tell them, 'Here's the problem. You're going to start with the customer, and then we're going to talk about the solution,'" Berger said in the podcast with Waller. Then the teams have to figure out each step to create the solution. They have guidance, but very few rules.
One way the studio supports students in their efforts is by hosting workshops that help them work on things like defining a meaningful, testable problem statement, interviewing customers, and using data to inform their hypotheses.
An Interdisciplinary Approach
The McMillon Studio attracts students and faculty from all across campus, not just from the Walton College, and the project leads aren't always majoring in business.
"That would actually be going against what we believe at the studio," Berger said, "which is that interdisciplinary teams can achieve more and actually achieve greater innovations."
In 2019, the studio had eight design teams with students representing 20 different majors – "everything from biology to architecture to finance," according to Jessica Salmon, the studio's senior director of strategy and innovation.
The studio's ability to experiment with interdisciplinary teams has laid the ground work for the interdisciplinary curriculum being developed by the newly formed Department of Strategy and Entrepreneurship and Venture Innovation.
Community Partnerships
The McMillon Studio partners with the business community in several ways. Each team is assigned two or three mentors from faculty and local businesses who bring different perspectives to the team's work.
Some mentors from the business community earn college credit for their work with the students. And their businesses can sponsor teams, glean information about their customers from the research done by students, and form joint intellectual property agreements with the students.
"When you think about matching students with faculty with industry to really solve problems as a team to innovate for the future," Salmon said, "I think it changes this entire region and what it's capable of innovating around."
Business leaders also provide valuable feedback to students when the students are practicing their pitches for Demo Day – the end of the semester showcase where they present their results and demonstrate their innovations.
Freedom to Fail
The teams often create products or technologies that will be used by companies or used to found new companies, but that's not the measure of success.
"The studio is about the learning journey," Salmon said, "it's not about the outcome necessarily."
"So they get to take the community through their learning journey, from customer discovery to empathy interviews to prototype failures to iterations and pivots out of that," she said.
Students learn to see problems differently and approach solving them with less fear about the outcomes.
"It's encouraged a lot more creativity in the way that I'm solving problems," said Means, "and it's taught me how to fail quickly and to not fear failure. It's something that we embrace in the studio and it helps improve our ideas. There are often times where projects will pivot, and they'll iterate on their ideas, and it makes them better because they're not afraid of making mistakes. And because it's not in a classroom environment and it's not graded, I think students feel more freedom to pursue their creative ideas."
Sarah Goforth, executive director of the Office of Entrepreneurship & Innovation, said the hands-on approach also creates an environment where what's learned is more likely to stick.
"There's a lot of evidence that shows that experiential learning is powerful for students," she said. "But, by and large, universities have struggled to figure out how to do it, how to scale it, how to manage it, and this platform allows us to do that for students across all the boundaries."
The innovative approach to innovation education provides a nice complement to traditional higher education best practices. It's not an either/or; it's a both/and. Rather than throwing out what on some levels works and has worked for generations to move to something different, concepts like those used in the McMillon Studio allow educators to add something different that strengthens what's always worked but no longer is sufficient on its own. The results are producing innovation for business, and in higher education, as well.
Note: This article is based on episodes 44 and 49 of the Be EPIC podcasts. For the full library of these podcasts, visit the episode archive.