How To Get Your Business Into the Name, Image, and Likeness Game
Name, Image, and Likeness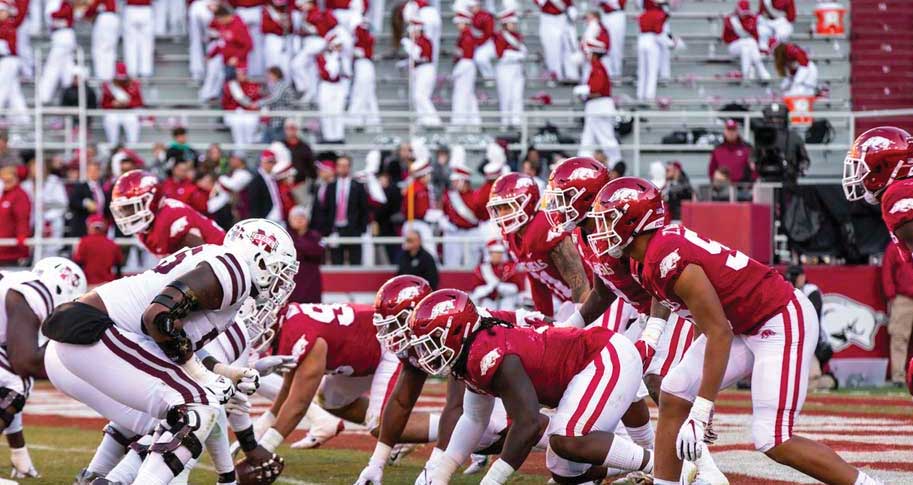 August 6, 2021
|
By Stephen Caldwell
The game-changing new opportunity for student-athletes to legally benefit from their name, image, and likeness – NIL, as it is known – is not just an opportunity for the players. It's also an opportunity for businesses. To take advantage of that opportunity, however, business leaders need to learn the rules and, of course, jump into the game.
To better understand what businesses – even small businesses – need to know so they can get involved with NIL, I spoke to a few experts at the University of Arkansas: Terry Prentice, a senior associate athletic director; Sarah Goforth, the executive director of the Office of Entrepreneurship and Innovation; and Karen Boston, the senior assistant dean for student success and chief student officer at the Sam M. Walton College of Business.
Prentice oversees the Office of Athlete Brand Development, which created the Flagship program to handle all things related to the U of A's NIL efforts. Those efforts include partnerships with several organizations, including the Walton College and the Office of Entrepreneurship and Innovation. Goforth and Boston are developing educational programs and marshaling resources to help student-athletes take advantage of their opportunities, but they obviously also are well-versed in how NIL might benefit businesses.
Here's a summary of the four biggest takeaways I got from our conversation:
Don't think it's not for you. There are at least two main reasons business leaders might want to take part in NIL: love and money. It could be "love of money," but we all know that leads to all sorts of evil. So, let's assume you operate with higher moral standards. If that's the case, then you might genuinely want to help student-athletes and your university's athletic programs (that's the love part). Or you also might want to help your business thrive (that's the money part).
Some leaders might look at the high-dollar examples of NIL agreements and conclude this isn't a game they can afford to play. After all, not everyone can be like Dan Lambert, who offered 90 football players on his favorite team $500 a month contracts to endorse his chain of training gyms (potentially, a $540,000 annual investment).
That's a fair point, but it's based on a limited view. While some boosters will spend heavily, NIL is much broader in its scope – so broad that almost any business of any size in any industry could find good reasons to get involved at some level. It doesn't have to be a half-a-million-dollar line item in your budget, nor do you have to sell products at a national scale or be a whiz when it comes to social media. All those things are options, but not the only options.
Look at the expected … and beyond. So, if there lots of options, what are some of them? At its most basic level, NIL refers to a person's rights involving publicity. Start by thinking what ways the name, image or likeness of certain student-athletes might help you publicize your organization's products or services.
Typically, you would want someone whose values and interests align with yours and your organization. If paying them (or supporting their favorite charity) would benefit your organization, then it's likely an option. That's how an Arkansas wide receiver ended up doing a commercial for a national chain that sells pets and pet supplies.
The student-athlete might be featured in a television or radio commercial, earn a fee as a speaker at an event, or endorse a business or non-profit on social media, for instance. But a business leader also can get involved as an investor. For example, one U of A student-athlete started a lawn care business in Northwest Arkansas and hopes someday to open businesses overseas. Under the new NIL regulations, anyone could make a proposal to invest in that business by helping him buy equipment and scale in exchange for … well, whatever you negotiate.
Learn the market. Now we get to some of the more challenging parts, mainly because this is where NIL ventures into the unknowns. Business leaders and the student-athletes are all trying to determine the market value of an NIL agreement. And as much as we all hate this answer, the reality is that it depends. Not only that, but it will evolve over time.
One of the top potential NIL deals for a U of A athlete at the time I spoke with Prentice, Goforth, and Boston was for an incoming freshman with more than 100,000 Instagram followers and 2.2 million TikTok followers. Why? She already has a huge social media presence and thus a large audience she can influence.
A quarterback at another SEC school signed a deal with an agency that is asking, on the athlete's behalf, for $10,000 per hour for personal appearances. That doesn't mean he will get that, of course, and there are those who think he won't. Nonetheless, the market will determine the values, so it behooves business leaders to stay up to date with aggressive research while also evaluating what they can afford to spend and what they expect to get in return.
Eventually, you'll have to settle on detailed terms for an agreement, and that's not just about money. Many student-athletes are putting together a personal questionnaire (with the help of the Prentice and his team) that a business can fill out to help get specifics on things like how they will be compensated (merchandise, cash, gift cards?), the exact amount or value of the compensation, what the student-athlete is required to do (appear in person, do a radio ad, tweet about a product?), how often, and what expectations there are for exclusivity.
The U of A can't and won't help student-athletes negotiate the deals, but they do look over them to offer insights and to raise red flags. The Office of Entrepreneurship and Innovation also has an "office hours" programs where all U of A students (not just athletes) can meet with volunteer experts for mentoring around topics like taxation, building a business model, or how to recognize unscrupulous terms in a contract.
Learn what to expect. Speaking of expectations, this game has some rules and so obviously it helps to know what they are. Right now, there is no uniform federal law governing NIL, although several versions are in the works. That means the rulebook is likely to change, but there are state laws, university policies, and NCAA rules, and you will be required to agree to abide them.
NIL agreements, for instance, cannot be tied to a student's athletic activities or to the student's university or team. If you were thinking of signing a Razorback player to wear a Hog hat and call the Hogs while holding up your product in a TV ad, well, forget about it.
This is no different from what you see with professional athletes. For instance, when Aaron Rogers or Chris Paul shoot commercials for a national insurance agency, they wear the agency's colors. There are no references to their pro teams, even though most people associate the stars with the franchises they represent.
The reason, of course, is that the franchises, not the players, own that intellectual property. It's the same for college athletes. Arkansas players don't own the right to use trademarked logos (like Ribby the Razorback) or expressions (like woo pig sooie). Arkansas has corporate sponsors (more than 150) that pay for rights that involve using the U of A intellectual property with things like ads on scoreboards or sponsorships of events.
It's also worth remembering that the U of A can't recruit student-athletes based on promises for NIL deals. They can talk about how they will educate and advise, and they can talk about the opportunities that exist, but they can't tell them how much money they would make or which companies would pay them.
Prentice and his team are communicating with U of A alumni and booster and planning at least one event to help educate the business community on the ins and outs of NIL. The Flagship website is also a good place to start if you have questions about NIL or how to get started if you have an idea for a deal with a student-athlete.