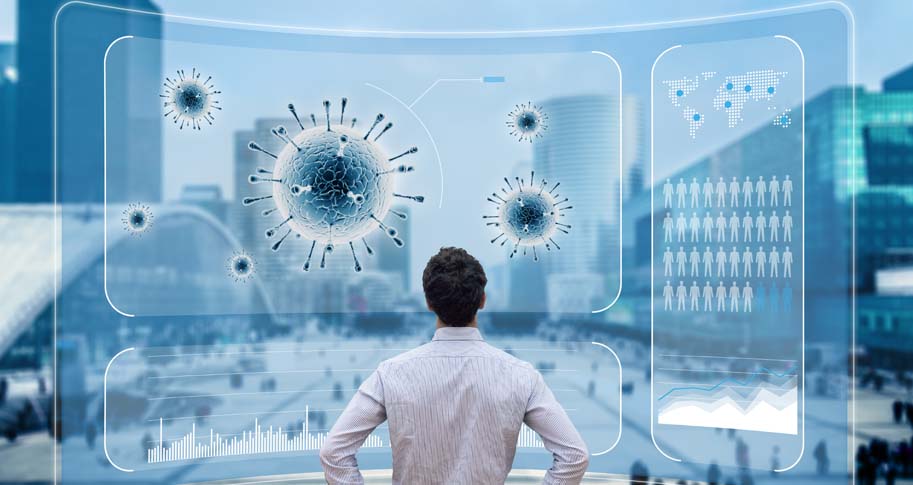 When COVID-19 struck, it seemed to catch the whole world off guard. Though historically we've been through plenty of similar crises and disasters, the global response to COVID-19 left many sectors scrambling. From toilet paper shortages due to supply chain disruptions and panic-buying to intense politicization of a health crisis to a forest fire of misinformation online, we can now look back and see how governments, the private sector, consumers, and other entities' responses to the pandemic were lacking.
Researchers Maura L. Scott, Kelly D. Martin, Joshua L. Wiener, Pam Scholder Ellen, and Scot Burton examined the contributions of dozens of authors who have specifically delved into the subject of disasters in past issues of the Journal of Public Policy & Marketing (JPP&M). Their article, "The COVID-19 Pandemic at the Intersection of Marketing and Public Policy" is meant to "offer insights about the COVID-19 pandemic at the interconnection of marketing and public policy."
A previous issue of JPP&M contained a section that specifically focused on catastrophe and sought to find answers to the question: "What is the role of public policy in or through the marketplace when marketing and social systems collapse because of either human or natural causes?" — a question strikingly relevant to the global pandemic we face today.
While COVID-19 may resemble calamities we have faced in the past, such as war, natural disaster, and other health crises it also poses completely new challenges. Scott et al. posit that examining the research on crises featured in JPP&M can better prepare us "for coping with future disasters," including subsequent pandemics.
The authors argue that disasters "can be classified into four phases including mitigation, preparedness, response, and recovery." It is evident that we were not prepared for the magnitude of COVID-19 and the many consequences the pandemic would have on ways of life in many parts of the world.
The Ongoing Struggle To Mitigate the Effects of the Virus
According to their article, much of the world "had largely overlooked mitigation strategies" that could have been effective in minimizing "negative effects of COVID-19 before they took hold." Needless to say, we continue to wrestle with the challenges of effectively implementing mitigation strategies that would help the world curb the spread and effects of the virus. Scott et al. state that some of the most important mitigation strategies include "communication, consistent information, and greater use of social marketing," which is needed "throughout all phases of disaster management."
In situations like the beginning of the pandemic when there was no vaccine for COVID-19, "information and communication are the primary weapons by which societies can combat the virus." However, communication and information dissemination have been a pitfall for many countries, including the U.S. How people differ in how they choose to consume information has had a massive impact on the global management of the pandemic.
Instead of placing emphasis on "expert-objective sources of information," people have turned to "familiar, well-liked sources" instead, which has added a layer of difficulty to managing the health crisis. Many citizens have been severely impacted by the "current politicization of science and proliferation of media sources," something with real import for people's decisions. Moreover, while the use of social media and other "global communication platforms" should have served as "powerful tactical mitigation approaches with the potential to inform, enlighten, and be a force for good in managing health and well-being," these platforms have accelerated the spread of misinformation. Considering this, Berry and Stuart ask stakeholders: "What types of targeted branding and messaging strategies can help optimize public engagement in societal crisis management?"
The struggles with the COVID-19 response across the globe involve "managing health-related outcomes" and are thus universal. What's made pandemic management worse, though, is both skepticism of science on one side of the consumer spectrum and unrealistic expectations on the other, as some expect "unrealistically easy and miraculous cures" in a short period of time. Although scientists created effective vaccines considerably faster than anticipated, consumers continue to fall prey to "readily available but untested and possibly even harmful offers on the internet and through black market channels."
Another factor that's come into play is people's prior experience with disaster, which can "affect their risk perceptions." In the case of the COVID-19 pandemic during its early phases in 2020, many were quick to draw parallels between the disease and seasonal influenza, in turn causing people to underestimate its potency. In the same vein, the warnings about the unique dangers COVID-19 poses to the elderly or immune-compromised individuals "created a sense of complacency among younger, relatively healthy groups," who may not have taken the disease seriously enough to exercise all preventive and cautionary measures.
Though hindsight is certainly twenty-twenty, the lessons to be learned from previous disasters faced by humanity can help us now and moving forward. The authors emphasize that "eventual recovery will no doubt hinge on calculated risks that see substantive investment in economies worldwide." In order to successfully lead recovery efforts, stakeholders such as government agencies and the private sector must cooperate on a greater scale in order to make the most of these investments.
The Effects of COVID-19 on Vulnerable Populations
Stakeholders cannot ignore how the pandemic has affected various segments of the population in vastly different ways. For example, although no socioeconomic group has escaped its impact, the pandemic has affected the wealthy and the impoverished very differently. When lockdowns across the world ensued and our streets and workplaces were left empty, many turned to e-commerce and delivery to replace shopping in person to obtain food and other goods. For some underprivileged groups this was not an option. Difficulties stemming from "questionable internet access or lack of sufficient credit to establish necessary accounts" or "locations where it is difficult to access necessities" disproportionately affected poorer populations and made everyday life impossible during a pandemic. As a result, closer cooperation between government agencies, nonprofits and other stakeholders could better address food scarcity issues such as children losing their access to school lunches during lockdown.
At the same time, although income disparities are undoubtedly important to consider in pandemic mitigation efforts, the authors caution that "vulnerability cannot simply be distilled according to demographic categories such as income." Vulnerability, they posit, is multidimensional, shifting, and often context dependent." Race, gender identity, and disability – among others – are all factors that impact how people continue to experience the effects of the pandemic.
Essential workers who are "[o]n the front lines of the pandemic response" continually face high-risk situations. One method to improve our overall preparedness for the pandemic is to meet the pressing need for "a unified set of procedures and protections for these workers" on whom our society and infrastructure depend. Berry and Stuart recommend the creation of "standardized, national lists" that would designate and classify "essential service occupations for specific types of crises," which would help stakeholders "act efficiently and effectively when faced with future crises."
As much of the world has been inching its way toward the return to "normal," this return will mean different things for everyone. The authors still warn that stakeholders must acknowledge that "what is 'normal' has not been good for all consumers (i.e., when 'normal' is a return to dire living conditions or extreme poverty)," both of which have been exacerbated by the effects of the pandemic and rising prices for food and other necessities.
What's more, previous research suggests that "conditions for many vulnerable consumers likely will become far more challenging." Many segments of the population are currently experiencing "levels of scarcity that they have never encountered, and that manifest on a great scale." As such, carefully considering "marketing and public policy issues and the interdependence of their implications" can help stakeholders "prevent or help reduce existing consumer vulnerabilities."
Learning From the Past To Manage Future Crises
Supply chain disruptions have had a debilitating effect on some companies and organizations that depend on the production and delivery of "goods and services to help individuals and organizations continue to function." In other cases, these stakeholders have been pushed to innovate and come up with solutions to supply chain issues. These effects of the pandemic point to the "inextricable interconnectedness between public health, the economy, and the environment," all of which needs to be considered as we continue to "learn from the response to this pandemic to tackle future crises."
Furthermore, the authors claim that the chief takeaway from research on disasters at "the marketing and public policy interface" is the importance of the "interdependence among consumers; businesses; local, state, and federal governments and agencies; nations; and a variety of other constituencies." No one entity is therefore responsible for the way the pandemic unraveled. Likewise, no one entity can fix the issues surrounding COVID-19 alone.
By acknowledging the interconnectedness of "marketing and public policy" and the stakeholders involved in the pandemic response, we can chart a path forward that leaves us better equipped to respond to the needs of consumers during such times of crisis. As many public health officials have noted, COVID-19 is not the last pandemic we will have to confront. A good first step is to create "strong partnerships between the private sector, governments, agencies, policy makers, consumers, nongovernmental organizations, and nonprofits." All of these entities should cooperate "to enact sensible policies and practices" while taking into account "the critical role marketing can play in those efforts."