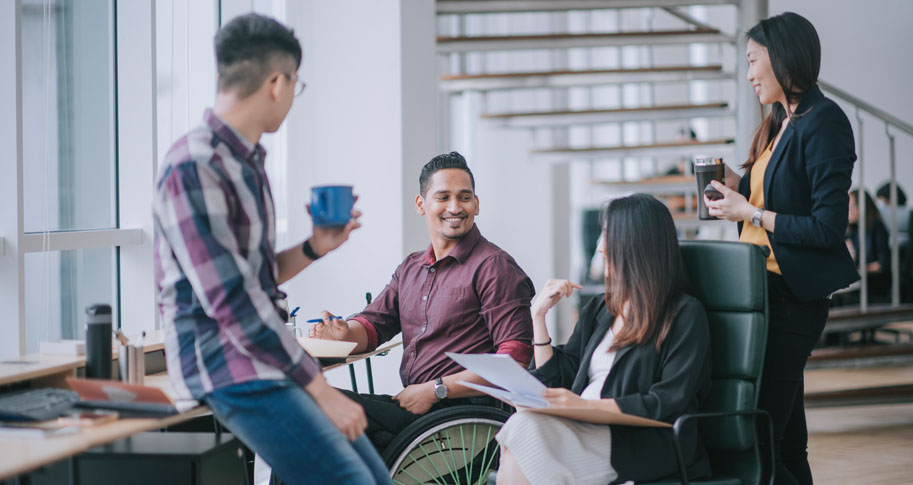 A well-known episode of Seinfeld pokes fun at a convoluted philanthropy model in a 1990s corporation. George Costanza makes up a fake charity and the CEO of the company where he works blindly donates a large sum of money to it without question—and of course hijinks ensue. It's a great piece of comedy, but it also reflects a lot of the detachment companies had with their charitable outreach in the past while highlighting (and poking fun at) the desire firms have to invest in social causes that strengthen their public image. Any charity that isn't controversial, such as George Costanza's very generic "Human Fund," might be as good as any other. In "The influence of diversity and employee relations on corporate philanthropy and performance," authors Ana Câmara and Oleg Petrenko explore how a diverse workforce can help drive corporate philanthropy. When employees feel they help influence the philanthropic efforts of a company, their productivity increases in a variety of ways, but so does the firm's outreach.
Building on corporate social responsibility (CSR) and diversity research, Câmara and Petrenko show that firms with a diverse employee base tend to learn from managing such diversity. They become more aware of issues relevant to their employees and more fluent in strategies for responding to different kinds of social pressure. Firms may involve themselves with more prosocial, inclusive, awareness-raising causes and organizations than they might have otherwise. Such practices allow firms to foster better relations with their employees, give both consumers and employees pride in their work, and create cultural capital, which, in turn, has financial benefits as well.
The Benefits of Diversity in Philanthropy
Recently, companies such as Groundswell, Blackbaud, and Sales Force Philanthropy Cloud have begun to democratize corporate philanthropy through a cloud-based platform. These platforms allow employees to offer suggestions for charities to donate to and to vote on what causes they want the company's contributions to support. This way, regardless of the company's purpose or industry, employees have agency in directing the company's charitable impact. While these companies provide only one model for allowing your employees to influence corporate philanthropy, their existence suggests the impact of this personability. Câmara and Petrenko found that the kinds of relationships facilitated through CSR practices, such as corporate philanthropy, contributed to increased job satisfaction, commitment, and performance. In a 2021 article, Forbes listed the top 100 highest funded organizations. Among the top ten are organizations such as United Way Worldwide, St. Jude Children's Research Hospital, and the Salvation Army. These recognizable names certainly belong to worthy causes, but because of their big-name recognition, they may overshadow the lesser-known or more localized charitable organizations. More money is donated to a few big organizations rather than a diverse array of organizations, big and small, global and local. When firms learn from their diverse workforce, they are more likely to support socially inclusive causes supported by their employees. Consequently, employees feel more intimately connected to their companies because they can identify ways in which firms seem to rally behind their interests. In 2018, Giving USA estimated a total increase of 8%, $20.77 billion in charitable giving since 2017, with $405 million being directed towards immediate disaster relief. A 2021 report from the Conference Board Environmental, Social & Governance Center found that 63% of companies solicited said they ask their employees about nonprofits to donate to. Of these companies, 99% of them said they have broken with their planned philanthropic practices to focus on immediate disaster relief in their area due to employee pressure.
This diversity also enables these firms to tackle issues that other firms might back away from due to the uncertainty or politics involved. Along with a food pantry, maybe you work with a Head Start educational program to show you are investing in a variety of social causes. Now you are in the unique position to connect food insecurity with educational disparities in your local community. These two connections could provide your firm with the foundation to grow even more diversified philanthropy. A more diversified philanthropic portfolio gives rise to a more engaged, insightful workforce.
Implications for Managers

The very concept of philanthropy is that firms don't profit directly from their philanthropic gestures–at least, not in any conventional way. We also live in a time when corporate philanthropy can be politically charged. Customers are going to expect you to work with and donate to causes, but consumers' opinions on causes or organizations can vary widely. Of course, it would be ideal to work with causes that won't cost you customers or profits. But often the fact is you can satisfy some people all the time, all people some of the time, but you can't satisfy all people all the time. Will consumers perceive donating to a local food pantry a religious donation because a church runs the pantry?
While you might not be able to resolve these sorts of social dilemmas completely, managing a diverse workforce will likely give you some of the experience you need to navigate them. From a managerial perspective, philanthropy can be the testing grounds for diverse problem-solving in your workplace. Corporate philanthropy is an expectation, so, why not utilize that philanthropic practice to facilitate positive employee relations and increase your financial performance? The way diverse teams tackle philanthropic goals can and does translate to how those same teams might fare in other kinds of corporate decision-making.
Câmara and Petrenko have shown that a diverse workforce driving corporate philanthropy yields more than just financial profits. It's not a hard concept: feel good about where you work, and you tend to work better and harder. Câmara and Petrenko have figuratively (pun intended) quantified happiness and its effect on corporate structure. Practicing corporate philanthropy can create positive relationships in the workplace, especially when all your employees feel involved in the effort. In the end, Câmara and Petrenko demonstrate that having inclusivity and diversity in the workplace benefits both the corporation and the community.