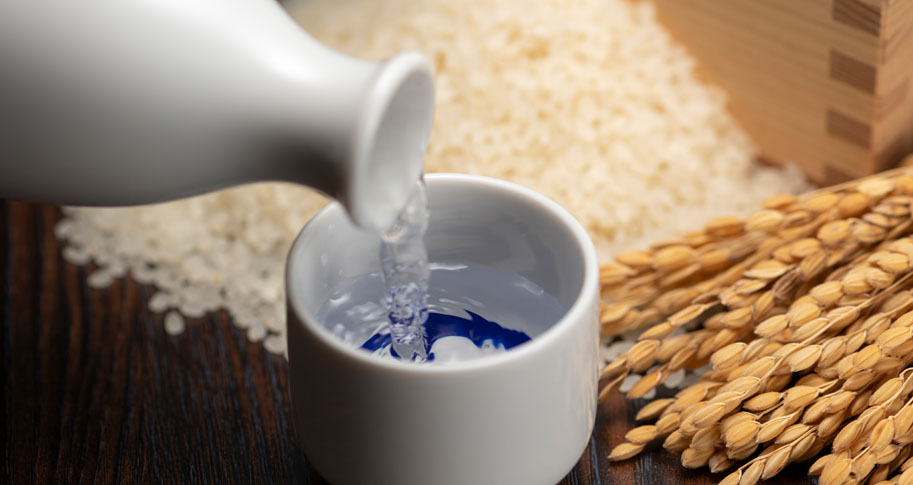 Arkansas will soon join an exclusive club when Matt Bell, a graduate of the Walton College of Business, and Ben Bell, a UALR graduate, open Origami Sake in early 2023 in Hot Springs after a nearly two year process and a decade of dreaming. It will be one of only about two dozen sake breweries in the United States and the only one to share its home state with Isbell Family Farms of England, Arkansas. Isbell Family Farms grows and supplies several kinds of sake rice, or sakamai (酒米), such as Yamada Nishiki, to both Japanese and American sake breweries.
Origami is not alone—American sake has recently started to come into its own, and there seems to be a pronounced interest in the South. This rebirth of the American sake industry has been helped in no small part by Isbell Family Farms. In the 1990s, Chris Isbell surprised many people in Japan and the United States when he began successfully growing Koshihikari, a cultivar of rice once believed to only grow well in Japan. After that success, Isbell continued to experiment with the rice his farm could produce.
Bell and Bell's vision of brewing the rice-based, alcoholic beverage in the Natural State seems, well, natural. Arkansas produces by far the most rice in the United States, 48% of the US's total, and Arkansas and California are the only states that grow any kind of sakamai. The state also sits at the same parallel as Japan's premier sake producing and sakamai growing region, Hyogo Prefecture.
And like Hyogo Prefecture, Matt Bell said the Ouachita Mountains aquifer has "some of the best quality water for sake brewing" in an interview with Walton Insights. It has nearly the perfect mineral content and pH for brewing sake.
Of course, Matt Bell was quick to point out their greatest asset is Ben Bell himself, who spent two years learning the trade of sake brewing in Japan at Nanbu Bijin Shuzo, an esteemed sake brewery from Iwate Prefecture with a 100-year history. Nanbu Bijin has also supported Origami Sake when selecting its equipment and designing its sake styles.
Establishing a Market For Sake
Origami will be the latest entrant to Arkansas's growing craft alcohol industry. The Natural State already sports over 40 breweries, from a Benedictine abbey to the nationally recognized Ozark Beer Company in Rogers, with another half dozen in the works. Likewise, there are a handful of craft distillers throughout the state, even with extensive federal and state regulation. And there is of course the state's legacy wine industry centered in the American Viticultural Area near Altus, Arkansas.
Even as Origami Sake will highlight some of Arkansas's finer qualities, the product itself proves to be enigmatic. Bell says that the production facility is treated like a brewery, which offers them favorable taxation, but the finished product is handled like wine by the Alcohol and Tobacco Tax and Trade Bureau, due to its higher alcohol content, usually in the 15% range. So, although sake has been imported from Japan since the middle of the nineteenth-century and locally produced for over 100 years, Americans still don't know what to make of the beverage.
Bell acknowledged that they certainly have their work cut out for them: sake only comprises 0.2% of the alcohol market. So, Bell said they "have to look at [the business] nationally, otherwise we couldn't survive just selling in Arkansas." He thinks the category would probably need to have about a 5% market share before a sake brewery could be sustainable with only local sales.
To that point, Bell says that "sake is underappreciated." He said that they hope to change the perception of sake as a novelty beverage had at sushi bars, where most Americans first experience sake. Low-quality versions of the beverage are often warmed to mask its impurities and make it more potent. Like wines and beers, premium sake is best served chilled, cool enough that the alcohol isn't prominent but warm enough that the volatile compounds that make up its bouquet aerosolize.
But even with that difficulty, Bell says that Arkansas provides yet another important quality other than its superior ingredients and water: location. Arkansas is centrally located in the United States and its supply chains, so Origami is well poised to represent the Natural State both nationally and internationally.
In their first year of operation, Bell said that Origami is ready to move 800,000 750ml bottles, or 600,000 liters, which is just over 5100 barrels, the unit beer production is usually measured by. For anyone counting, that's about as much as Ozark Beer Company moves and a third of what Lost Forty does, which are the top two beer producers in the state. Bell also said that they're prepared to double production to meet demand with their current set up.
Building a Local Sake Community
Origami Sake is looking to support local hobby brewers as well. Bell said that homebrewing ingredients may be in Origami Sake's future. One of the best avenues to cultivating consumers' appreciation for craft beverages is homebrewing. For example, the industry magazine Craft Beer & Brewing specifically supports homebrewers for this reason.
Unlike both beer and (most) wine, sake is produced with a kind of mold, kojikabi, which breaks down the rice's starch into fermentable sugars (the end product is simply called koji) – a similar process using the same mold produces soy sauce and miso. Because most brewers 'malt' their rice themselves, koji is by far the hardest ingredient for the homebrewer to source, so Bell and Bell are looking at the possibility of producing koji in excess of the brewery's needs to distribute.
Bell and Bell carefully considered the location of their new brewery. They chose Hot Springs because it does offer superior water for brewing. They've drilled a well on the brewery's property for that purpose. The city itself has also been a wellspring of support.
Matt Bell said that the community has been very welcoming and excited about their project. Hot Springs has been working to strengthen ties with its sister city, Hanamaki, Japan, a tourist destination in Iwate Prefecture famous for its onsen baths like Hot Springs was for its bathhouses.
Hot Springs also hosts the Arkansas Cherry Blossom Festival every spring, at which Ben Bell lectures on the history and production of sake. Local interest and community engagement in Hot Springs makes the Ouachitas a natural home for Arkansas's first sake brewery.
In addition to building communities, Bell and Bell are building stewardship into their business model. The facilities are housed in net zero buildings, and the brewery is powered by solar power. They wanted to "make sure it's sustainable," Matt Bell said, who spent 15 years with Entegrity, an Arkansas-based sustainability consultancy.
Sake and the Terroir of Arkansas
Matt Bell and Ben Bell's vision for a local sake industry in Arkansas is compelling, especially because they can rely totally on local ingredients and inputs. When it comes to sake, Arkansas may have a unique blend of the environmental factors – soil, region, climate, water, farming and production practices – that affect a product's taste. This blend, known in winemaking circles as terroir, can become a distinct advantage for Arkansas sake makers. Breweries have to primarily import hops and malt, and, while the state once possessed a strong local tradition of winemaking, wine has become a legacy industry, partly because our humid summers can make winegrowing tricky.
Arkansas, however, excels at growing rice, and its waters' mineral content is perfect for brewing. If consumers can develop a taste for it, and there's no indication they cannot, sake seems like it might be the future of Arkansas alcohol. Considering their distribution plans, Origami's products will be showcasing many of the Natural State's best qualities, representing a modern Arkansas for global markets.