Sharing is Caring: Why We Share Information in Online Discussion Groups
Why We Share Information in Online Discussion Groups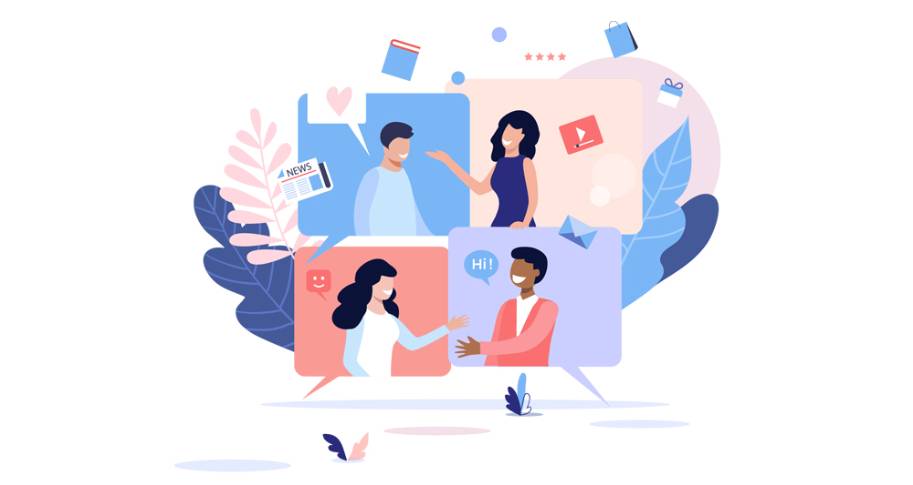 May 15, 2020
|
By Michael Adkison
Researcher: Rajiv Sabherwal
Who needs friends when you have an online discussion community, right?
Despite the rapid increase in the number of telecommuting and teleconferencing services and chat apps due to remote working, that's not a common adage you'll hear your friends say. The truth is that online discussion communities, or ODCs, have their value in society.
Every day, users tune into websites like Reddit and Digg to start conversations about anything. And research shows that users may come for the information, but then stay on for the community. The information-seeking that takes place in ODCs can soon flip the script and become information-sharing, as users want to give back to the group what it had given them.
And more than that, businesses are using ODCs more and more: as much as 40% of marketers use online discussions to learn more about consumers. And 59% of those marketers think that using ODCs can influence your purchasing power.
In other words, when comparing two products, instead of going to consumer reports websites like their parents did, current consumers might hop onto Reddit to see what an online discussion community thinks about which product they should buy. "Online communities are potential tools for customer retention, word of mouth reviews, product reviews, and customer insights." ODCs are powerful, and, as the saying goes, with great power comes great responsibility.
A recent article by two University of Arkansas system professors, Richard Kumi and Rajiv Sabherwal, conducts an in-depth analysis of ODCs and explores why users are so willing to share in those groups. "Knowledge sharing behavior in online discussion communities: Examining behavior motivation from social and individual perspectives" details an in-depth study analyzing users' own experiences to highlight the psychological and cognitive reasons motivating knowledge seeking and sharing behaviors and the success of online discussion communities.
We are Family
When you log in to Reddit, you can enter into any discussion, ranging from discussions about cryptocurrency and blockchain, to debates on what the best order to read The Chronicles of Narnia or conspiracy theories regarding the television series Lost.
The researchers discovered that these information-sharing groups tend to bond over those topics: "ODCs are virtual groups that bring individuals together to exchange ideas and information on a broad range of topics."
Comparatively speaking, far fewer internet users log in to discussion groups than other social platforms. "In 2015, 72% of adult internet users used Facebook, whereas only 15% of internet adult users read or commented on ODCs, such as Reddit, Digg, or Slashdot." This can pose a problem for experiments, like the ones the researchers conduct, but 15% is still a fairly large number of internet users.
And, as stated above, that doesn't stop marketers from using ODCs to advance their businesses. While internet studies are relatively new, plenty of prior research has been conducted to uncover how ODCs operate.
Most extant literature and prior studies have focused on either personal or social psychological factors: "personal psychological factors … include cost and benefits, career advancement, tangible benefits, rewards, incentives, personal gain, and enjoyment … Identification with community, pursuit of collective goals, and support of the community are some of the social psychological factors."
But most prior studies have focused on either personal psychological factors or social psychological factors. This article stands out in that it tests for both schools of thought, analyzing factors ranging from cognitive processes, social identity and intrinsic/extrinsic motivators.
Sharing is Caring
Kumi and Sabherwal's study tests for a staggering 12 different hypotheses: half regarding knowledge-seeking and half regarding knowledge-sharing. From there, the hypotheses test for a number of different potential psychological motivators: evaluative social identity ("self-worth perceived from membership"), cognitive social identity ("the awareness of belonging to a group and the pursuit of collective goals"), affective social identity ("emotional attachment to an organization"), intrinsic motivation ("the joy, pleasure, and personal satisfaction derived from knowledge seeking and sharing behaviors"), and extrinsic motivation ("behaviors… intended to meet goals and objectives not related to the behavior").
Finally, the researchers hypothesize that knowledge seeking and sharing, overall, leave a "positive impact on satisfaction with an online community."
After a pilot test with graduate students and faculty, Kumi and Sabherwal conducted a survey with 144 participants. All participants used two online discussion websites, communities.com and TapaTalk, each of which features discussions "including education, entertainment, music, movies, and so forth." The survey asked participants to respond to questions on a five-point Likert scale, with questions pertaining to the aforementioned psychological motivators. Respondents answered anywhere from 1 ("strongly disagree") to 5 ("strongly agree") to questions exploring the underlying reasons of why they collaborate in online discussions.
The More We Work Together, The Happier We'll Be
On first glance, the results can read a little dense: "only one of the dimensions of social identity is significant… [thus] cognitive and evaluative components of social identity do not predict knowledge seeking and sharing behaviors in ODCs."
Based on those results, collaborating in online discussion communities is not for "self-worth" or a sense of "belonging." Rather, online collaboration comes from users' affective social identity. Users who seek and share information with online discussion communities do so because of an emotional attachment to the group.
Users also indicated that they had a sort of intrinsic motivation to use these ODCs, both for seeking and sharing information. "Intrinsic motivation is a significant predictor of knowledge sharing and seeking behaviors in online communities. However, extrinsic motivation is a significant predictor of knowledge-sharing behaviors but not knowledge-seeking behaviors."
Finally, Kumi and Sabherwal have found that this knowledge seeking/sharing behavior increases user satisfaction with ODCs. Seven of the twelve hypotheses were supported by their results.
Workplace Implications
As previously stated, 59% of marketers "believe customers use online community-generated content to guide purchasing decisions." As a business, then, if you use online discussion communities, it's crucial to know why exactly it is that users are logging into these sites.
"Not every dimension of personal or social psychology motivate knowledge seeking and sharing behaviors in ODCs." These groups are not the result of self-worth or a sense of belonging: they're a sort of online, information-based family. "In the context of ODCs, emotional attachment to ODCs can elicit behaviors that support the collective goals of the ODCs."
Now that you know why individuals use ODCs, it's important to know what you do in these ODCs. "Emotionally attached users turn to ODCs when they are looking for information or knowledge, seeking advice, and looking for answers because they favor the community over other sources."
This is their family, their turf: your business should make sure to acknowledge this when interacting in these online groups. These results also play an integral role in online brand-building and digital content: "if emotional attachment plays a role in behavior motivation in ODCs, then practitioners, and managers can promote emotional attachment to encourage participation. Inducing a sense of belonging by keeping members informed and impressing on members that they are part of a special community can facilitate emotional attachment."
These results are based on an extensive survey of two online discussion groups. But more and more businesses are "going digital" each day. Organizations make their names known with strong social media presence, developing apps for users and building modern, accessible webpages. Online discussion communities make direct interaction between organizations easier than ever, but it's integral to know just who your audience is when it comes to digital content.
Knowing how and why users frequent ODCs can make all the difference to your business's digital content strategy.