Confessions of an Entrepreneur: What I Have Learned About Speculative Home Renovations Over the Years
Speculative Home Renovations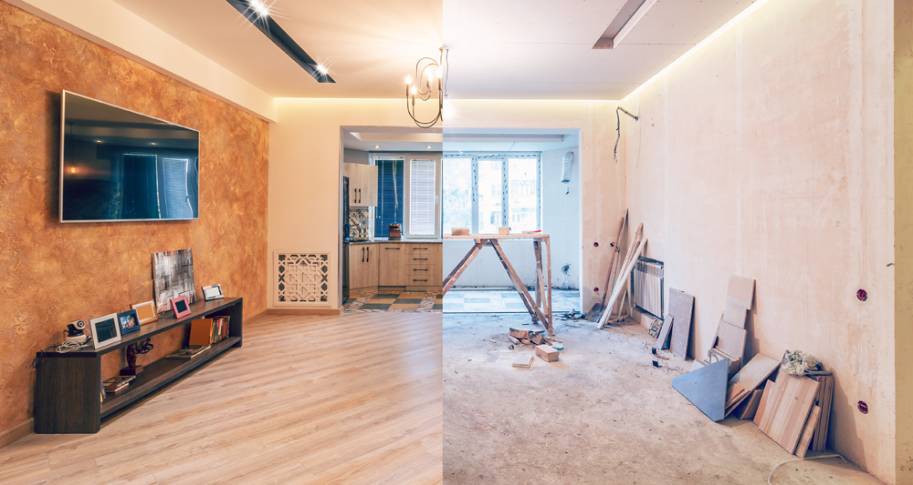 August 5, 2020
|
By Mark Zweig
Everyone seems to be more interested than ever in home improvement these days.
Maybe it's because we are all spending so much more time at home during the pandemic we are in. Or maybe we are all spending more time watching HGTV?
On top of it, so many people think they can make money "flipping" houses (although as someone who has bought and sold tens of millions of dollars of houses over the years, I have always disliked that term). People are getting into this business with absolutely no experience because they think it is going to be an easy way to make money. It isn't!
Like any business, it takes a lot of knowledge to do it right and make a profit unless you get really lucky.
Clearly, not everyone does the right thing when it comes to remodeling. You have to be careful or you can easily waste your money and do things that you won't be happy with, nor help you to recover and earn a return on your investment. On top of it, there is the issue of taste. Some people have that — or at least they know what buyers want — or they don't.
Rather than get into the business aspects of speculative remodeling, this article focuses on the physical aspects of remodeling. Here are some common mistakes that I see people frequently making when remodeling old homes with the intent to sell:
Floor plans.

Failing to alter the existing floor plan to make it more functional. Although it can be scary, renovators sometimes need to knock down a wall or two and re-partition. A few minor changes can drastically improve the feel and livability of the space. And don't forget that changing the exterior entrances to the home, making sure doors are hinged so they open in the right direction and ensuring windows are in the proper location can really increase the value of a home.

Always think about how you will move furniture into the space. Can you get a king size bed into the owner's suite? Will a couch go down those stairs to the lower level rec room? It needs to, or you are going to have a problem.

Bathrooms and kitchens.

These are crucial! Older houses often have small kitchens and bathrooms. Really old houses have even smaller kitchens and fewer bathrooms. People just did not have as much in their kitchens in the 1900s, and the appliances and fixtures we have today didn't exist.

People want open kitchens, and kitchens with islands that their friends and family can gather around while the homeowner/chef cooks. At the medium to high end of the price spectrum, they also want pot-fillers and commercial stoves. They at least want a gas stove and a functional vent hood that exits to the outside.

By the way, don't put wood cabinets on wood floors. It never looks good unless they are vastly different wood colors such as maple floors and walnut cabinets. The absolute worst thing you can do is put oak cabinets on oak floors. Painted cabinets are fine! Just use a good oil base paint.

Under cabinet lights are always good. Turn them on and leave them on.

Bathroom-wise, the owner's suite better have a large tub and large shower, and two sinks, or you are going to have a hard time selling. And while we are talking bathrooms, don't think guests having to go through a bedroom to get to a bathroom is OK — it isn't. That problem must be addressed in your remodel.

Storage.

These older houses also don't have enough closets or storage space to suit a modern family's needs. A real master closet (or closets) can be crucial to your ability to resell at some point. And don't cheap out on the closet shelving and built-ins. Buyers love them!

Garages and carports are essential. Garages should be deep enough for large vehicles and storage as well. Carports need attached exterior storage spaces for bicycles and lawn equipment. Attics should have pulldown stairs. Basements should have large shelves. Many times, we have bought metal and wood industrial shelving and installed it in basements because buyers want it.

"Cheaping out."

Cost shouldn't dictate every decision. The cost difference of using a pressboard door instead of an all-wood one is about $50. You'd more than make up the difference when you sell the house.

In traditional houses, using 4-inch, instead of 6- or 8-inch baseboards, not using crown molding and installing cheaper door hinges and knobs are great ways to shave pennies off your costs, but the combination of these little details can make your house look cheap and unappealing to your target audience.

Bathroom tile — spring for the $4 a square foot tile vs the $1.50 sq. ft. 90s beige tile. No one wants that, and the quantities you'll use are probably so low that the cost won't be much different. Because of different philosophies on how to spend money is one good reason (among others!) to not have any partners involved in your projects!

Materials.

Using modern or synthetic materials rather than traditional ones for traditional houses. Forget modern houses for a moment. These rules don't apply here. And by the way, as soon as you go modern you eliminate about 90% of the buyers for the majority of houses in this part of the world.

But back on materials — thinking that everyone wants "low maintenance" is a major — and often wrong — assumption. Wood may cost more initially and need more care over its lifetime, but many buyers prefer to have something that's real and deteriorates gracefully over time.

Vinyl or concrete siding, aluminum or fiberglass garage doors and laminate flooring are examples of fake vs. real materials, and the wrong choice can destroy the character of the house. Buyers can tell the difference even if they can't articulate it.

Exterior style.

Making an old house's exterior look modern instead of era-appropriate is a common mistake, especially for younger people who are getting into this business. Doing anything that destroys the historical integrity of the home is a big detraction. Replacing the original rail systems with modern rails, tearing off shutters or stripping off other architectural details destroys the historic aesthetic of the home.

Here in Northwest Arkansas, I see a common mistake of builders and renovators — installing replacement windows that don't have the pane dividers called "muntins." It saves a few bucks per window, but sends off cues it's not an old house, but a modern caricature of something old.

Traditional windows in a traditional house will look better to the majority of buyers, even if they cannot articulate why they like them better.

Colors.

Some people have the misconception all historical properties were painted white. It was really only in the early 20th century that America started "whiting out." Earlier houses — and many later ones — were painted all shades of color. You need to look at the era and the type of house and do some research when picking colors.

Another common practice is painting window sashes white. In no historical period that I am aware of were window sashes ever painted white. Why not branch out and try a different shade for the sashes? It's a subtle touch, but could make the difference in making your house stand out from the crowd — and sell.

Inside the house, white is what most people want today. Kill the earth tone schemes, accent walls and painting ceilings the same color as the walls unless they are white. Anything other than a white ceiling will make the room look darker.

Systems and structure.

If you are redoing a house with the intent to sell, you had best anticipate the buyer hiring an inspector. That means the crawl space is going to have to be dry and have a proper vapor barrier. The HVAC systems will need to work and have clean ducts and filters. If the ducts leak or systems don't work, you will probably have to fix them.

The plumbing and electrical will have to be up to par. Foundation problems will need to be addressed. Get ready if you have anything obvious wrong with your foundation to have delays and extra costs, or a buyer who gets cold feet and backs out. Ditto for your roof. It has to be in good shape. Many roofs around here have hail damage and need to be replaced prior to putting the house on the market.

Hiring an inspector to come through your house before you put it on the market so you can address all problems before the buyer does it may save your sale.
That's it for now. Dealing with realtors and contractors effectively is a big part of this business, too! I will address these and other business aspects of this business in a future post.