An Internship Like No Other
An Internship Like No Other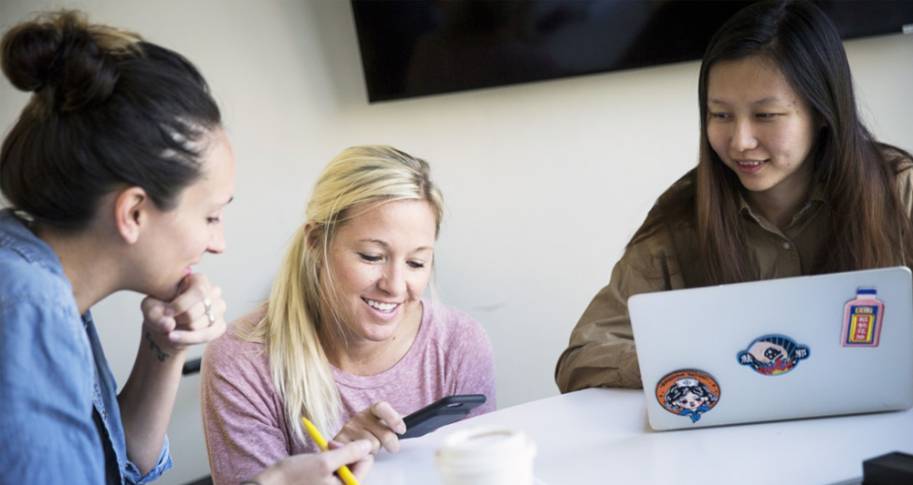 July 8, 2020
|
By Deb Williams
Internships are a rite of passage for most college students, providing a bridge between what they learn on campus and what they will experience in the professional world.
Traditionally, the value exchange is built on relationships and in-person mentoring. As businesses engage in larger and more diverse remote workforces, it is more important than ever to model this environment for students in colleges and universities.
During an unexpectedly wild spring semester disrupted by COVID-19, we tested a new program matching talented undergraduates with startups. Based on my experience, engagement and productivity in a remote environment is not only possible, it can be a meaningful simulation of the dynamic, cross-functional workplace of the future.
The Venture Intern Program launched at the University of Arkansas in spring 2020. It matched 24 incredibly talented students with startups, entrepreneurial support organizations and investor networks across Northwest Arkansas for internships. The program gives students hands-on experience working in the innovative, fast-paced environment of a startup while providing early-stage companies access to student talent with little administrative burden.
After the program concluded, we asked students and companies for feedback.
Here is what we learned and think you should know about students and successful internship experiences:
Student interns are:
EAGER TO LEARN: The internship program demonstrated that most students are ready to be challenged and desire to contribute to the world around them in a meaningful way. When given opportunities and the freedom to innovate and solve problems, they rise to the task.
WILLING TO NAVIGATE UNCERTAINTY: In the feedback we received, the students said they did not know what to expect when the program started. Without a specific job description to follow, it was difficult to anticipate what would be required of them. However, students found that they navigated new tasks, learned skills quickly and gained confidence as they grew their capacity to add value to their companies.
CATALYSTS AND SELF STARTERS: In start-ups, founders do not have a lot of time for hand holding. Students became aware of this quickly and were challenged to think on their feet and take the initiative to solve problems on their own.
What students demonstrated in the Venture Intern Program is that they are capable, ready and excited for the distinctive experiences that startups offer.
Supervisors, on the other hand, taught us about the needs of a startup and the support they look for in the employees they hire. They need employees who are out-of-the-box thinkers, self-starters and problem solvers.
Student interns can be all those things. When supervising an intern, it is important to remember that you have the ability to foster the very qualities you are searching for. Whether supervising an intern at a startup or leading an internship program at a company or corporation, consider the following insights.
Successful internship experiences are:
RELATIONAL: Students seek connection and want to feel seen and heard. Consider including opportunities that lend themselves to mentorship, coaching, exposure to the team dynamics and culture to create relational bridges.
A LONG TERM-INVESTMENT: View hiring interns as more than just hiring help to get tasks done. Think about this as an investment in training the workforce of the future, whether that student stays with your company or works outside of it.
LEARNING LABS: An internship might be the first work experience that a student will have. There is an academic component, but you are essentially teaching them how to work. Offer experiences that cultivate the kind of employee you would want to hire.
EXPANSIVE: A meaningful internship program leaves students wanting more. It creates multiple touch points over the course of the experience that are more than just "getting work done." Surprise and delight your interns with unexpected teaching moments, i.e.: lunch with the CEO or access to a high-level board meeting.
CONNECTIVE: Encourage and offer opportunities to collaborate and work across the organization with different projects and people. If you have more than one intern, consider cohort opportunities for connection and group education/training.
Supervisors who integrated these elements into their interns' work experiences were rewarded with engaged and motivated workers who added real value to the organization.
At the outset of the Venture Intern Program, our hypothesis was that interns would need regular, face-to-face contact with their supervisors to stay meaningfully engaged. What COVID-19 taught us is that students were prepared to work in remote and virtual environments. In fact, by the time quarantine measures went into effect, our interns were already working seamlessly with their hosts in virtual environments – on Slack, in Google Docs, in Asana and MS Teams and Basecamp. Many students reported that going fully virtual was one of the greatest benefits of the program because it allowed them to develop competencies with these essential tools.
In a perfect world, in-person relationships would be complemented with the efficiencies of remote teamwork. But if we've learned one thing, it is that we don't live in a perfect world.
Don't let that get in your way.
If you are interested in learning more about the Venture Intern Program, visit our website or contact program director Deb Williams, dswillia@uark.edu, for more information. You can also read participating student experiences by searching #VIPIntern on LinkedIn.