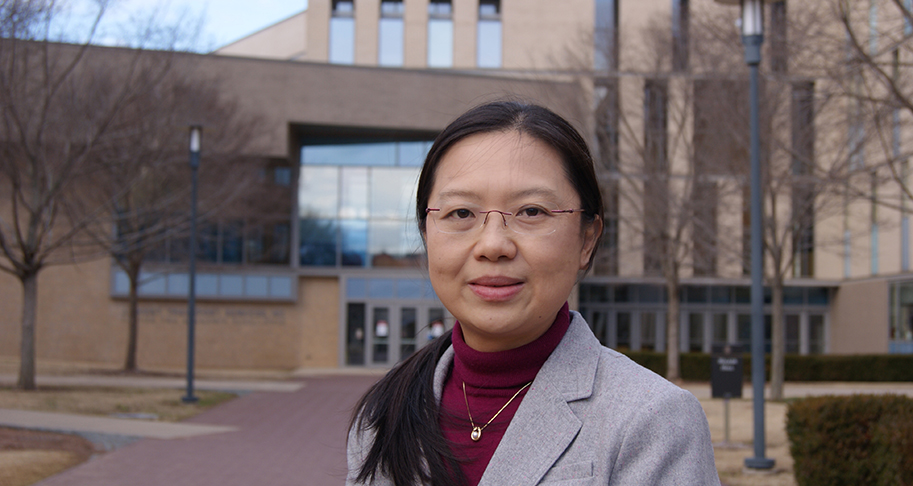 Sherry Li, professor of economics at the Sam M. Walton College of Business, is the new holder of the Lewis E. Epley Jr. Professorship. Li, the second holder of this prestigious title, follows Gary Ferrier, Ph.D., who retired this past summer after 30 years of service to the University of Arkansas.

"I am pleased to officially announce Professor Sherry Li as the new Lewis E. Epley Jr. Professor," said Brent Williams, interim dean for Walton College. "This esteemed professorship, one of our highest academic honors, will help to enhance and strengthen Professor Li's scholarly pursuits and impact on the field of economics. I am proud to recognize her with this honor."

Li joined the Department of Economics in 2018 as a professor of economics and director of the Behavioral Lab at Walton College. Previously she served as a faculty member at the University of Texas at Dallas. Li earned a Ph.D. in economics from the University of Michigan, a master's degree in economics from Syracuse University and bachelor's and master's degrees in public finance from Renmin University of China. Her research focuses on behavioral, experimental, public, labor and development economics.

The Lewis E. Epley Jr. Professorship was established in 1999 as part of the record-breaking $50 million gift from the Walton Family Charitable Support Foundation, which earmarked $1 million for the professorship. The endowment was created to honor Lewis E. Epley Jr., a U of A alumnus, former Board of Trustees member and attorney. Epley practiced law in Eureka Springs for 40 years. He earned a Bachelor of Science in Public Administration in 1954 and a Juris Doctorate in 1961 from the University of Arkansas.