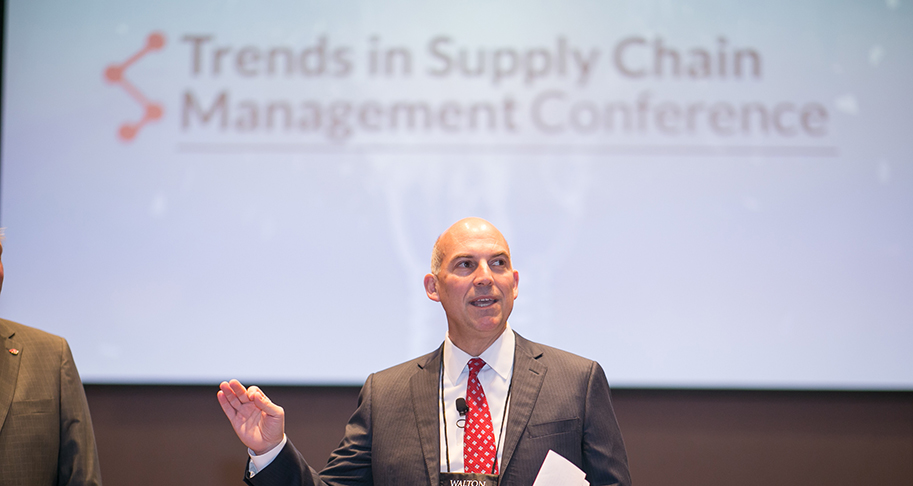 The Supply Chain Management Research Center within the Sam M. Walton College of Business at the University of Arkansas and the Plug and Play Tech Center are partnering to bring Northwest Arkansas supply chain professionals together for the 2023 Supply Chain Trends Expo on April 19.
The event will include a keynote on planning and forecasting from Dean Matt Waller of the Walton College, as well as Karisa Sprague, senior vice president, Fulfillment Network for Walmart.
The Trends Conference will feature keynote speakers, panel discussions and pitches from startups disrupting the supply chain and logistics industry. Topics include omni-channel demand planning, trends report from Plug and Play Principal Harvey Williams, a showcase success story and startup pitches ranging from planning and forecasting to fulfillment and warehousing.
"Every year we host the SCMRC Annual Trends event where we discuss the ongoing trends and developments happening across the supply chain industry," said Donnie Williams, executive director of the SCMRC. "As we gather and discuss the challenges of inventory chaos, I'm excited to learn how we can continue to solve these challenges together."
"Plug and Play is excited to collaborate with the team at the Supply Chain Management Research Center at the U of A for this exciting event," said Josh Saffran, director for the Plug and Play Tech Center. "The opportunity to bring innovation and startup technology to the region continues to be a critical component of what we do at Plug and Play. Managing inventory chaos content will be a great topic to digest for our supply chain teams in attendance."
The event will be held at The Record Downtown in Bentonville.
The event is free, but registration is required.
About Plug and Play: Plug and Play is a global innovation platform. Headquartered in Silicon Valley, it has built accelerator programs, corporate innovation services, and an in-house VC to make technological advancement progress faster than ever before. Since inception in 2006, its programs have expanded worldwide to include a presence in over 50 locations globally giving startups the necessary resources to succeed in Silicon Valley and beyond. With over 50,000 startups and 550 official corporate partners, Plug and Play has created the ultimate startup ecosystem in many industries. It provides active investments with over 200 leading Silicon Valley VCs, and hosts more than 700 networking events per year. Companies in its community have raised over $7 billion in funding, with successful portfolio exits including Danger, Dropbox, Lending Club and PayPal. For more information, visit www.plugandplaytechcenter.com.