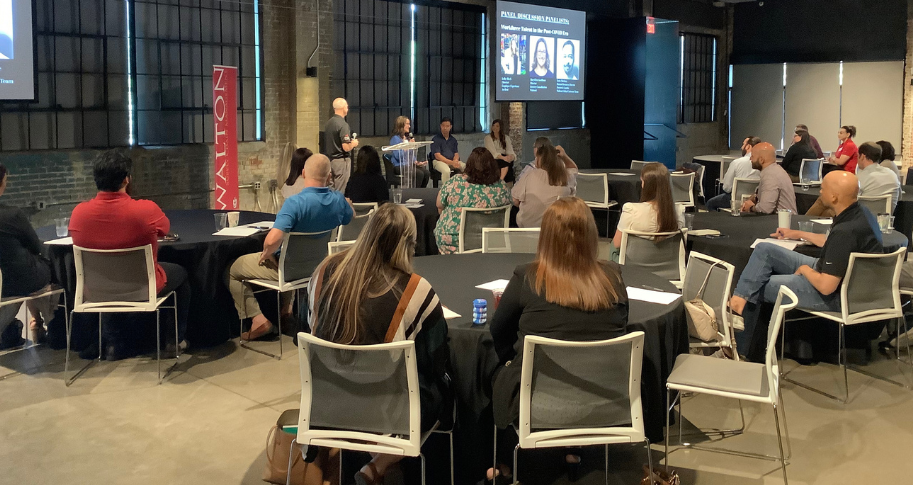 The Summer 2022 SCMRC Peer Learning Event focused on labor issues within the supply chain. Kevin Kliesen of the St. Louis Federal Reserve Bank gave an assessment of overall macroeconomic conditions. Brian Fugate (University of Arkansas) engaged Kellie Black (ArcBest), Torin Martinez (P&G), and MaryEllen Kauffman (Walmart) in a panel discussion on managing workforce talent in the Post-COVID era.
Highlights:
Kliesen reports an increasing probability of a recession within the next year. Expectations of future inflation are rising, while consumer confidence is falling. Inflation expectations are one of the key variables the Federal Reserve watches. Aggressive interest rate hikes are likely as long as inflation expectations remain above the target of 2%.
The labor market remains "tight"—good for workers, bad for employers. Wage growth is strong, particularly for low-wage workers. An important long-term consideration for companies is the shrinking labor force as the Baby Boomers retire.
Panel discussants report worker exhaustion from COVID-related stress as a key challenge for managers. Making workers feel appreciated and not over-taxing them are potential areas for consideration. More generally, managers must continue to focus on the employee value equation: (1) growth, (2) inspiration, (3) impact, and (4) appreciation.
Event Details are as follows:
EVENT: SCMRC Summer PLN Event
DATE: Friday, July 15, 2022
TIME: 9:30am – 1:00pm
LOCATION: The Record | Bentonville, AR
INVITE: Event exclusive for SCMRC members.