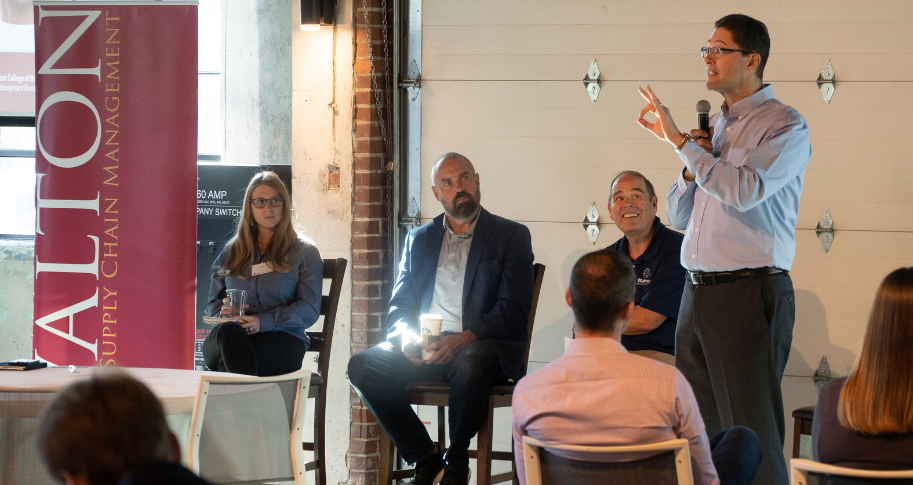 The Fall 2002 SCMRC Peer-Learning Event focused on risk and resilience in the supply chain. Ash Eisa (formerly SVP of Global Sourcing, Walmart) shared his perspectives on the key principles: 1) it is imperative to know your supply chain end to end; 2) balance tradeoffs between costs and control; 3) bear spray seems expensive until you need it—buy the insurance. The principles are easy to agree with at a superficial level, implementing them requires understanding the "nuts and bolts." To this end, Eisa led a panel discussion with Jennifer Christy (Sr. Director of Contract Manufacturing, Tyson), Eric McGee (EVP Highway Service, JB Hunt) and Sean Reber (Sr. Director of Global Sourcing, Walmart) to identify actionable strategies for increasing resilience.
Highlights:
Forecasting is vital, but point estimates are less important than the overall process of contingency planning. While long-term forecasts are inaccurate, they can be updated when better information becomes available. It is important to share these updates with supply chain business partners, even if they seem non-pressing, because partners may be at different decision points in the supply cycle.
Collaboration and partnership provide insurance during times upheaval. Remember that markets are cyclic. It is unwise to wait for the next market shock to cultivate these relationships or to neglect them once the market calms.
Determine the priority between service and cost optimization. There are critical products that must be kept in-stock at all costs, as food suppliers are keenly aware. The degree of resilience to build into a supply chain depends on this decision.
Recommended Reading:
Frances Frei and Anne Morriss. (2020). "Begin with Trust: The first step to becoming a genuinely empowering leader." Harvard Business Review.
Supporting Walton College Initiatives:
"When goods don't cross borders, soldiers will." attributed to Frédéric Bastiat
International business relationships provide grassroot, bottom-up support for peace, while fostering co-prosperity. Highlighting these cooperative relationships is especially important for the US-China diplomatic relationship. Dr. John Kent, in cooperation with the George H.W. Bush Foundation for US-China Relations, is seeking engagement in a supply chain diplomacy initiative to address problems and improve cooperation between US and Chinese business interests. Interested individuals can contact Dr. Kent at jkent@walton.uark.edu.
Retail Supply Chain Experience Center
Experience is a more lasting teacher than power point presentations. Mike Graen is seeking relevant business engagement in building a Retail Supply Chain Experience Center, in which executives can gain hands-on experience of the problems facing supply chain managers and front-line workers. The center would also help train future supply chain leaders studying at the University of Arkansas.
Event Details are as follows:
EVENT: SCMRC Fall PLN Event
DATE: Friday, Oct 14, 2022
TIME: 9:30am – 1:00pm
LOCATION: The Record | Bentonville, AR
INVITE: Event exclusive for SCMRC members.