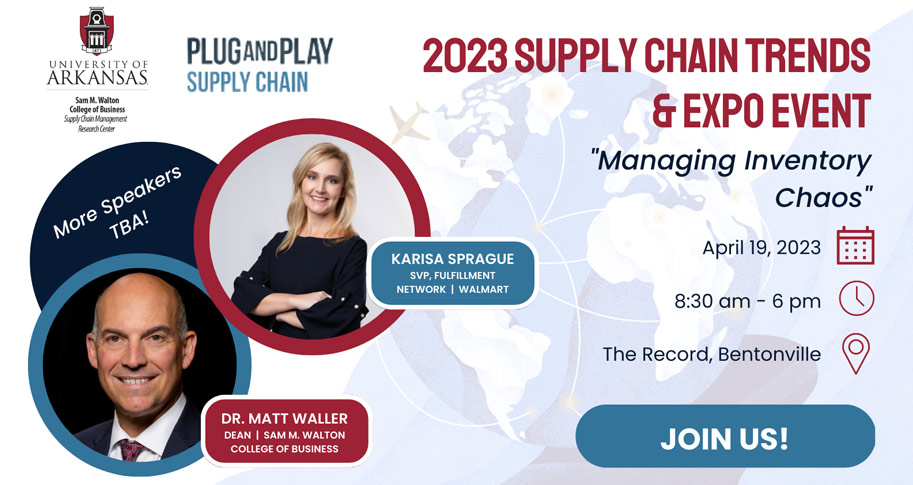 The Supply Chain Management Research Center within the Sam M. Walton College of Business at the U of A and the Plug and Play Tech Center are partnering to bring Northwest Arkansas supply chain professionals together for the 2023 Supply Chain Trends Expo on April 19.
The event will include a keynote on planning and forecasting from Dean Matt Waller of the Walton College, as well as Karisa Sprague, senior vice president, Fulfillment Network for Walmart.
The Trends Conference will feature keynote speakers, panel discussions and pitches from startups disrupting the supply chain and logistics industry. Topics include omni-channel demand planning, trends report from Plug and Play Principal Harvey Williams, a showcase success story and startup pitches ranging from planning and forecasting to fulfillment and warehousing.
The event will be held at The Record Downtown in Bentonville. The event is free, but registration is required.
AGENDA:
Registration & Breakfast | 8:30 am
Welcome | 9:15 am
Omni-Channel Demand Current Trends | 10:00 am
Industry Keynote Karisa Sprague | 10:30 am
Ventures Trend Report | 11:00 am
Startup Presentations - Planning & Forecasting | 11:15 am
Lunch & Networking | 11:45 am
Executive Perspective: Inventory Management | 12:45 pm
Fireside Chat: Retail Media & Enhanced Supply Chains | 1:15 pm
Success Stories | 1:45 pm
CPGs/Service Providers on Omni Channel Demand Planning | 2:15 pm
Startup Presentations - Fulfillment/Warehousing/Tracking | 3:00 pm
Closing Remarks | 3:30 pm
Networking | 3:45 pm