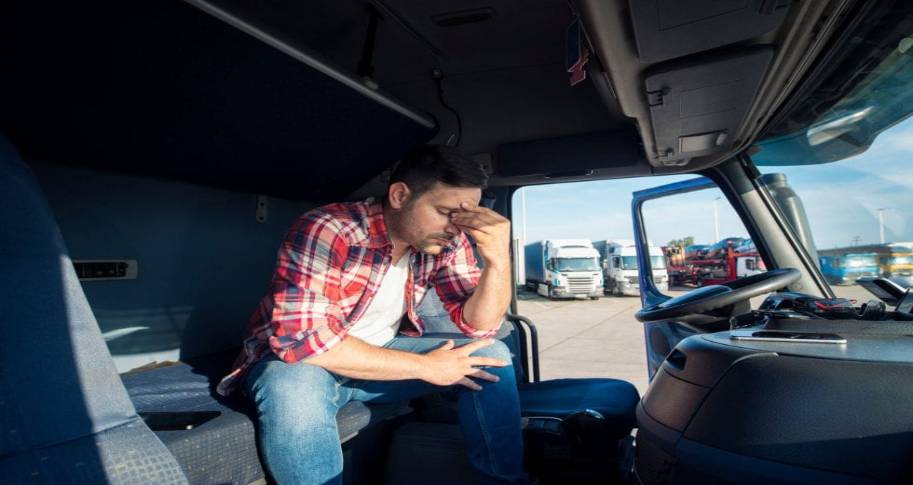 A better understanding of why drivers quit can help firms address trucking's long-standing driver retention problem. A new study by Stephanie P. Thomas (University of Arkansas), Sara Liao-Troth (Georgia College & State University), and Donnie F. Williams (University of Arkansas) analyzes why drivers change firms or quit trucking altogether. Their article – "Inefficacy: The Turning Point of Driver Burnout" – sheds light on how job-related burnout informs a driver's decision to quit. It also shows managers ways to effectively monitor and address burnout-related issues before they cause a driver to leave the company.
Trucking can be a stressful career partly because drivers are expected to "juggle a multitude of relationships and interactions representing various, often conflicting, organizational goals and expectations." Their "boundary-spanning" role is complex. Drivers must interact with various company employees, represent the company to the outside world, and try to meet customers' expectations. When the aforementioned factors are combined with long hours, loneliness, heavy workloads, and seemingly impossible deadlines, stress can eventually progress to burnout. Burnout impacts drivers' personal life, health, and job performance. It can also cause them to quit.
Research into the link between burnout and turnover in trucking generally analyzes three dimensions of burnout: overwhelming exhaustion, feelings of cynicism, and inefficacy. To gauge how each dimension impacts a driver's intention to remain in their current position, Thomas and her co-authors surveyed 190 company drivers (not owner-operators) at two large truck stops in the southeast. The authors find that only one burnout dimension – inefficacy – strongly affects drivers' intent to stay with their current company. Inefficacy is a feeling of ineffectiveness. Drivers experiencing inefficacy may feel both unproductive and incapable of succeeding in their current role due to a lack of skills or resources. Inefficacy can be something of a self-fulfilling prophecy, since feelings of ineffectiveness can manifest in an actual reduction in productivity.
The authors find that burnout's three dimensions have a specific progression: exhaustion, cynicism, and then inefficacy. While "burnout" is synonymous with "exhaustion" to many, the authors find that drivers come into the industry expecting difficult work. Therefore, exhaustion generally isn't enough to cause a driver to consider quitting. Similarly, while cynical drivers may feel like competent professionals who are being undermined by incompetent co-workers or government regulations, they do not generally view quitting as the solution to their problems. However, once drivers begin to feel inefficacy, they are much more likely to seek a new job or career.
The study has many implications for trucking managers who want to retain drivers. The authors find that role ambiguity helps create feelings of inefficacy, so managers should give drivers a clear understanding of the expectations they must meet to succeed at the job. Trucking firms can also help prevent inefficacy by providing social support that helps drivers feel that they have what it takes to be effective in their role and that the company supports them. Managers can provide social support through managerial strategies that focus on appreciation, recognition, and building self-worth. Positive relationships between drivers and company employees are another form of social support. Firms can also give social support through meetings, seminars, tension reducing programs, wellness programs, and skill development training. Finally, managers can monitor driver burnout levels using one of the same tools that informed this study: the Maslach Burnout Inventory – General Survey. Tracking burnout levels could help managers know when and how to address burnout issues before they worsen.
Read the full article in the International Journal of Physical Distribution & Logistics Management.
The article also informed a recent SCMRC LEAD White Paper titled Truck Driver Burnout: Ways Carriers Can Fight Stress-Related Turnover.