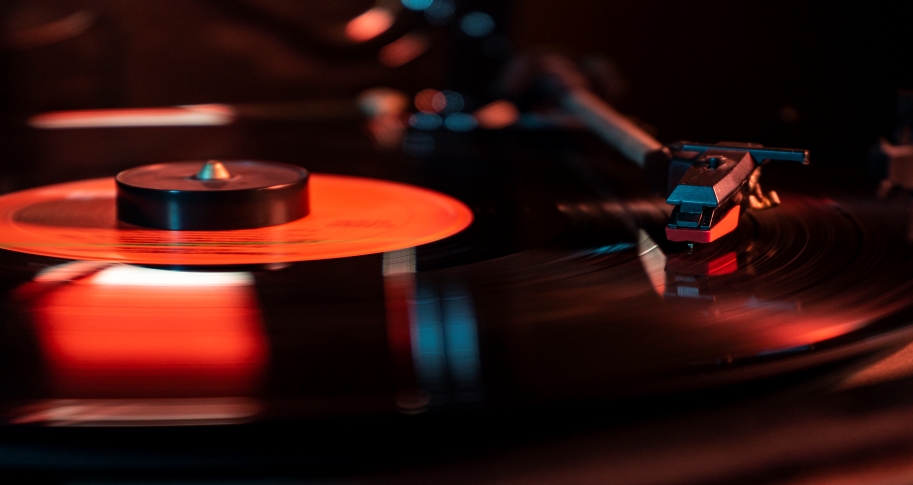 Starting a business is never easy, but firms who were still finding their way when COVID-19 hit faced obstacles that went far beyond typical growing pains. One such startup was Austin-based record manufacturer Gold Rush Vinyl.
Founder and CEO Caren Kelleher started the company in 2018 after seeing how much more artists made in royalties from vinyl record sales compared to having their music streamed online. "For the average independent band to make minimum wage, they can sell 100 vinyl records a month or have their songs stream on Spotify 350,000 times," she says.
Kelleher previously managed independent musicians as a side gig while serving as Head of Music App Partnerships at Google. She hoped to cater to indie bands by accepting smaller minimum orders than other record manufacturers and offering much faster turnaround times. Kelleher could not have anticipated just how much of a lifeline independent artists' vinyl royalties would become once touring ceased through much of 2020 and 2021. Or how factors outside her control would extend her company's order fulfillment times from 42 days to 46 weeks.
This is disastrous
Vinyl record manufacturers were already in a bind before the pandemic began. A February 6, 2020 fire destroyed Banning, California's Apollo Masters Corporation factory, one of two plants in the world that produced blank lacquer discs. Apollo manufactured 70-85% of the world's supply of the discs, which are cut to add grooves and used to create metal "masters" for pressing records.

As new firms scrambled to enter the lacquer industry (and often went on to manufacture subpar products), some vinyl companies turned to an alternate method of producing masters called direct metal mastering. However, the world's only publicly-available direct metal mastering facilities were in Europe. In 2005, the Church of Scientology allegedly purchased the last direct metal mastering lathe in the U.S. to preserve founder L. Ron Hubbard's speeches for posterity. If so, they apparently chose not to share the machine with struggling U.S. vinyl manufacturers.
Rolling Stone called the Apollo Masters fire "disastrous" for the vinyl industry. Then COVID-19 made things much worse.
I was just top of mind
Kelleher began her company with two vinyl pressing machines and plans to eventually add four more, so Gold Rush Vinyl's six employees had plenty of room to practice social distancing in the 8,400 square foot facility. Nonetheless, the company has the distinction of being the only manufacturer in Austin that was ordered to close during the pandemic's early weeks. "They told us later it was because I lobbied too hard to stay open. I lobbied city council to keep manufacturing open, but especially music manufacturing because not being able to tour would have such an impact on artists. So, when they were coming up with categories, I was just top of mind," Kelleher says.
Gold Rush lost three weeks of production time before Texas Governor Greg Abbott issued an order that superseded the Austin city council's. Then the company adopted a round-the-clock production schedule to make up for lost time, causing their pressing machines to break down from the added strain. "We incurred about 16 weeks of machinery downtime as result of pushing so hard," Kelleher says, noting the difficulty in sourcing replacement parts and finding qualified technicians as COVID-19 spread.
Once the machines were back up and running, the firm lost two more days to a raccoon infestation. Unlike most problems Kelleher dealt with in 2020, the improbable disruption had something of a silver lining: it earned Gold Rush a brief mention in the New York Times.
Covid killed our competitive advantage
Gold Rush Vinyl has experienced the same production and shipping delays companies in every industry have experienced during the pandemic. But few companies' pre-pandemic identities were built on rapid turnaround times to the extent that Gold Rush's was. While the typical pressing plant took three to six months to fill an order, Gold Rush Vinyl did so in six weeks. Kelleher hoped to eventually reduce the turnaround time to as little as two weeks by eliminating certain supply chain bottlenecks. Instead, the pandemic extended Gold Rush's average turnaround times to 27 weeks in 2021. By early 2022, Kelleher was telling customers to expect their orders to be ready in 46 weeks.
Kelleher says her biggest mistake was being slow to accept that quick turnaround times were no longer possible. "Customers who were promised six weeks and got their orders in eight weeks were furious, customers who got their orders in 20 weeks were even more furious. Instead of a wish and a hope that things would get better, we should have just confronted the fact that the world had fundamentally changed." Fortunately for Gold Rush, disappointed customers who considered taking their business elsewhere found that extended order fulfillment times were an industrywide phenomenon.
Rising commodity prices have challenged vinyl record manufacturers on several fronts. Vinyl records are made of polyvinyl chloride — PVC prices rose 269% between March 2020 and October 2021. The price of paperboard, used to make album covers, climbed 131% during the first two years of the pandemic. And while the connection between nickel and vinyl records may not be apparent to those outside the industry, the metal is used to create the stampers that press grooves onto blank discs. Each stamper must be replaced after pressing around 1,000 records, so nickel's 246% price increase between 2020 and March 2022 was more bad news for vinyl manufacturers.
Making sure I dedicate myself to being a good customer has been important
With soaring commodity prices threatening to push the upfront costs of printing vinyl records outside many indie bands' budgets, Kelleher and her staff worked to keep their products affordable. As previously noted, Kelleher planned Gold Rush's facilities with expansion in mind. So, when she saw PVC prices trending upward, Kelleher was able to stockpile plastic in her factory's empty spaces, thereby insulating Gold Rush and its customers from some of the price increases.
Kelleher also realized that being willing to pay higher prices may not be enough to guarantee access to key inputs in such a disrupted environment, particularly in an industry where decades-old firms wield tremendous market power. She contracted plastic vendors who had not previously sold to record manufacturers, coached printers who had never made album covers through the process of doing so, cultivated a network of backup suppliers, and tried to stay in all their good graces.
We're looking at revenue diversification
While Kelleher could not have anticipated many of the challenges Gold Rush Vinyl faced in its infancy, she also could not have foreseen that a global pandemic would cause demand for records to skyrocket. The surge in demand — sales rose 47% from 2020 to 2021 — has been a blessing for the industry in many ways. But Kelleher believes it could cause problems in the future.
Gold Rush Vinyl received so many orders that Kelleher was able to complete her long-planned expansion earlier than anticipated and add more pressing machines. But other record manufacturers have done the same, which could lead to a glut of production capacity if vinyl demand returns to pre-pandemic levels.
Kelleher and the Gold Rush team are preparing for that contingency. Early in the pandemic, when it was uncertain how COVID-19 would affect vinyl demand, they tested a monthly subscription service that guaranteed a degree of income for both Gold Rush Vinyl and the artists whose records were shipped each month. That experience informed the creation of a new consumer retail venture Kelleher will launch this summer. She hopes the project will help shield Gold Rush from drops in vinyl demand, disruptions to the supply of key inputs, or whatever unpredictable obstacles the future may hold.