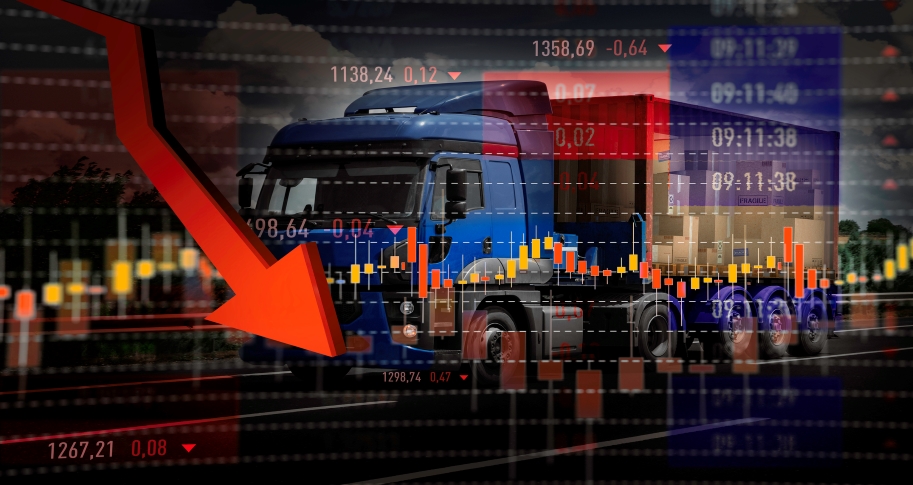 It's been a bad month on Wall Street. The S&P 500 fell 11% during the first 16 trading days of January — its worst start to a year in at least nine decades. Worse still, some analysts believe more bad days are imminent.
Here's what's happening and what it means for freight markets.
An Uncertain Future
Successful investors usually attain that status by carefully analyzing how current trends should affect future stock prices. Investors are seeing several things that could spell bad news for the future and that uncertainty is fueling stock market volatility.
Inflation is causing much of the volatility. As inflation drove up prices for stocks (and nearly everything else) through much of 2021, the Federal Reserve took a wait and see approach. Its members will face a difficult balancing act when they meet to discuss combatting inflation later this week. If they raise interest rates too much, they will slow inflation, but stock prices will fall even further as the economy plummets into a recession. Conversely, if they do not raise interest rates enough, stock prices will rise, but so will prices for everything else.
Global uncertainty is also driving stock price volatility as 100,000 Russian troops line the Ukrainian border. President Biden has promised severe international economic sanctions against Russia if it invades Ukraine. Meanwhile, the Department of Homeland Security has warned that Russia may launch "destructive" cyberattacks against the U.S. if provoked. The whole situation is rife with the sort of uncertainty that Wall Street hates. It is made all the worse by uncertainty over whether the Omicron variant will be the last COVID-19 mutation to wreak havoc on the world's economies.
Transportation Firms Should Not Panic (At Least Not Yet)
The pandemic's supply chain disruptions have highlighted the importance of investing in supply chain resilience. While uncertainty and stock market volatility make it difficult to raise capital for things like increasing capacity, firms should not panic. Investment decisions that made business sense a month ago probably still make sense today.
Inflation will be a story to follow for at least the next two years. The Federal Reserve's handling of inflation will affect freight markets just as much as stock markets. Inflation-driven uncertainty has forced transportation firms to make difficult decisions about potential price and wage increases — slight miscalculations can prove disastrous given firms' thin profit margins. The Federal Reserve's upcoming decision on interest rates, which some do not expect to take effect until March, will shape freight prices and wages in 2022 and beyond.