A Barcode Scanner Darkly: AutoID and the Future of Interactive Mobile Apps
AutoID and the Future of Interactive Mobile Apps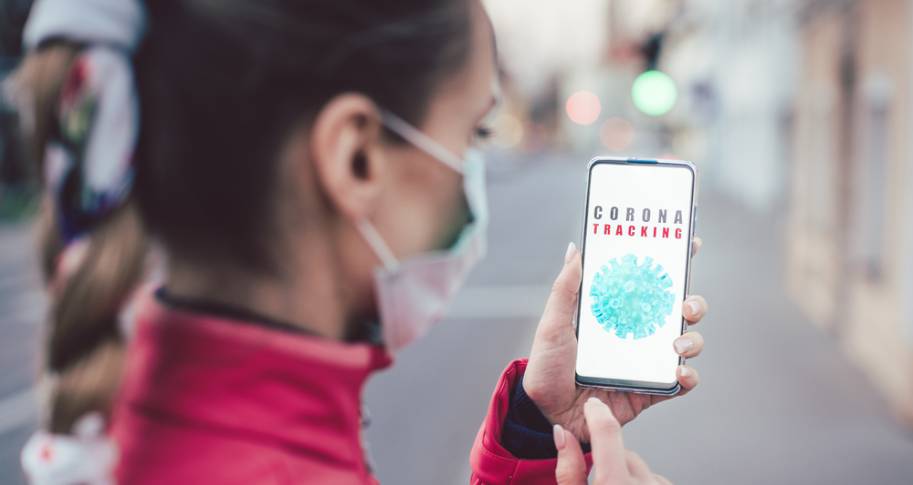 June 26, 2020
|
By Michael Adkison
Researcher: John A. Aloysius and Viswanath Venkatesh
When the COVID-19 pandemic broke out, companies across the world took up arms to combat the disease.
In one of the most grandiose corporate responses, Apple and Google announced an unprecedented collaboration to use Bluetooth technologies to track users' phones – and the spread of the coronavirus. The tech giants are developing an application that would use anonymized data to trace your movements and use Bluetooth to see which other users you have come in contact with, should you or anyone around you test positive for COVID-19.
The problem is, nearly three in five Americans say they are either unwilling or unable to use such an app, according to the Washington Post. Although there are many questions regarding this new program, there is one subject on everyone's mind: data security and privacy.
How can an app that is specifically designed to track your location really be safe and secure? What would happen if that data got into the wrong hands?
Data security has been a hotly contested topic in news coverage even before the COVID-19 pandemic, arguably with no greater presentation than the New York Times' "Privacy Project." Companies like Foursquare use data from smartphones to advertise based on characteristics such as location and browser history.
Nobody likes to have someone watching and tracking them all day. Yet, some countries like Singapore and China have had success with their COVID-19 applications. So, what will it take for Americans to download a COVID-19 app?
Walton College professors John A. Aloysius and Viswanath Venkatesh have been studying the impacts and implications of using mobile technologies for some time now. Back in 2018, along with former colleague Hartmut Höehle and Ph.D. student, Soheil Goodarzi, they tackled these issues, albeit in an entirely different setting: retail stores. "The rapid spread of mobile devices has led us to an application-driven society wherein retailers aim to integrate mobile applications into their omnichannel strategies," they wrote in their article, "A nomological network of customers' privacy perceptions: linking artifact design to shopping efficiency."
In 2015, 44% of Americans used mobile devices to influence most of their shopping, according to the article; by 2019, a survey showed that more than two-thirds of in-store shoppers use their phones to look up and compare products, rather than ask a store-associate.
What features draw those shoppers to their phones rather than store workers? With the growing use of applications in the shopping experience, the researchers analyze the attributes retail apps should, and shouldn't, implement to draw in users.
The Future of Shopping?
Today, QR codes may seem a little dated, but a few years ago, they were everywhere. One 2011 survey found that 14 million Americans scanned QR codes on their phones, 40% of which were in stores. You might not see as many QR codes in the U.S. today, but that technology is anything but lost. And interestingly enough, China is implementing QR codes for its COVID-19 app.
Because of their use in ubiquitous apps such as Tencent's WeChat and Alibaba's Alipay, QR codes have increased in popularity in China. It's called AutoID technology, which basically means any type of technology that allows users to immediately access information.
"AutoID technologies refer to devices, such as barcodes, RFID, magnetic identification, biometric technologies, and optical character readers." The researchers note that one of the greatest tools retailers could use to develop applications is AutoID tech.
"Using AutoID technologies can be beneficial for retailers … because it helps them to pursue omnichannel strategies in which they can integrate important information for customers … in brick-and-mortar environments."
Imagine passing an item in a store, and all you have to do is scan it to know more about it. With RFID, or radio-frequency identification, you wouldn't even have to scan the product; you would only need to be near it, and you can access a hub of information (for example, microchips for pets and toll tags for cars both use RFID).
But AutoID technology, like most new technologies, is not without risks. "There are two major privacy threats associated with the adoption of AutoID mobile applications to retrieve information in retail stores: … (1) purchasing anonymity and profiling; and (2) mobile phone vulnerabilities and information disclosure," the researchers write.
Apps that implement AutoID technology allow the app developers (in this case, retailers) to collect "the information about their browsing and shopping behavior." While the risk is significantly lowered, the researchers note that anecdotal evidence shows that using AutoID has a very small risk of hackers or viruses. As a result, many shoppers get cold feet when it comes to this technology.
Yet, "customers could benefit from AutoID-based mobile applications because they provide superior, timely, convenient information and lead to a more efficient shopping experience." So, how do retailers mitigate the risks and reap the rewards of AutoID technology?
Why We Use Apps
The goal of the researchers is to find out just why we are drawn into certain apps, even when we know there is some privacy risk. Why do we allow apps like Facebook and Amazon to have access to so much of our personal information even after high-profile data security lapses? "Mobile application usability is defined as the extent to which a mobile application can be used by users to attain their goals with effectiveness, efficiency, and satisfaction." The researchers cite a 2015 study that they conducted that identified six factors, drawing from industry guidelines for usability, that help define mobile app usability:
Application design
Application usability
Interface input
Interface output
Interface graphics
Interface structure
Essentially, when an app is easy to use, provides good information and looks aesthetically pleasing, people are going to continue to use it.
In order to test for mobile app usability, the researchers constructed a thorough experiment — including creating an entire faux store called "Acme Products." The store featured hundreds of different products.
The researchers conducted two trials of the experiment: in the first experiment, 194 participants were "given an iPhone 5 and instructed how to shop with their assigned applications — i.e., either a barcode scanner or an RFID scanner." In the second experiment, 190 different participants did the same but were told to specifically pick a portable GPS system, "in which there were multiple brands with distinct features."
The researchers tested for a number of factors in this experiment: how well did the users respond to these apps; how users looking for specific products compared to those who weren't; and how the barcode scanning-app compared to the RFID scanning-app. "We hypothesize that hardware design will have an effect on how users perceive AutoID-based mobile application usability."
The researchers believed that the app interface had significant power in whether or not users would enjoy the app, and they believed that an app with an RFID scanner would be more favorable than a barcode scanner because there is less effort required. They also believed that "when individuals believe they can exert more control over a given interaction, they are less likely to perceive their privacy to be invaded over the course of the interaction."
A Quick Scan
"We found," the researchers write, "that those using the RFID reader spent more time compared to participants using the barcode scanner. Participants using the barcode scanner scanned an average of 12 products and participants using the RFID readers scanned an average of 23 products." In general, participants preferred the RFID to the barcode scanner. The results indicate that the less effort required means the greater potential for use of AutoID. Some participants had varying app layouts—some had product information, some had product reviews, and others had both in a single layout. The results say that app users preferred their apps to have either product information or reviews but not both.
Some participants had varying app layouts—some had product information, some had product reviews, and others had both in a single layout. The results say that app users preferred their apps to have either product information or reviews but not both.
When it comes to privacy concerns, the researchers found that "the more benefits individuals derive from mobile application design and mobile application utility for in-store shopping, the less their privacy concerns regarding their information management." The more beneficial and interactive the app, the less concerned users are with their privacy. "Individuals' privacy concerns can be reduced by effectively designing mobile applications following well-established mobility principles."
The key takeaway is that app users are concerned with privacy, but those concerns can be mediated with the benefits and customization of the application.
AutoID in an International Crisis
When Höehle, Aloysius, Goodarzi, and Venkatesh published their article in 2018, there was no way they could predict the international pandemic that the world would face in 2020. Yet, their findings have significant implications for addressing the disease and how to contain it.
Countries and organizations are turning toward using AutoID apps in order to track citizens who may have come into contact with the coronavirus. So, how should companies like Apple and Google design their COVID-19 app for widespread American use?
One of the researchers' criteria has already been met: simplifying the users' interactions with each other. While the application will not use RFID, it will use Bluetooth technology, which works similarly in principle: all it takes is two users next to each other for their phones to recognize that they are, in fact, next to each other.
Doing so allows users to basically let their phones do all the work. What will be worth considering is the varying success between the Apple/Google app against the Chinese national COVID-19 app, because China's app uses QR codes. Thus, these two apps almost exactly mirror the researchers' experiment, only on a much grander and consequential scale.
When it comes to privacy concerns, the answer is not quite as clear. One potential answer is the application's customizability.
The researchers find that when apps have the ability to be customized and tailored to the user's individual tastes, the user's privacy concerns are mitigated. "Mobile application usability can be used to decrease customers' privacy concerns." But, unfortunately, after that, the success of the app is in the hands of the users.
The researchers argue that application users' recognition of the benefits of an app will compromise their privacy concerns; put differently, when users recognize that a COVID-19 app has the potential to contain the disease, they will forget their privacy concerns and recognize that widespread use of such an app is more important than any one person withholding his or her personal information.
As Apple and Google collaborate with the CDC and begin beta testing their app, recognizing these researchers' findings and suggestions from an unrelated study could be integral to developing an AutoID-based COVID-19 application.