Information Systems: Connecting Technology to Business
Connecting Technology to Business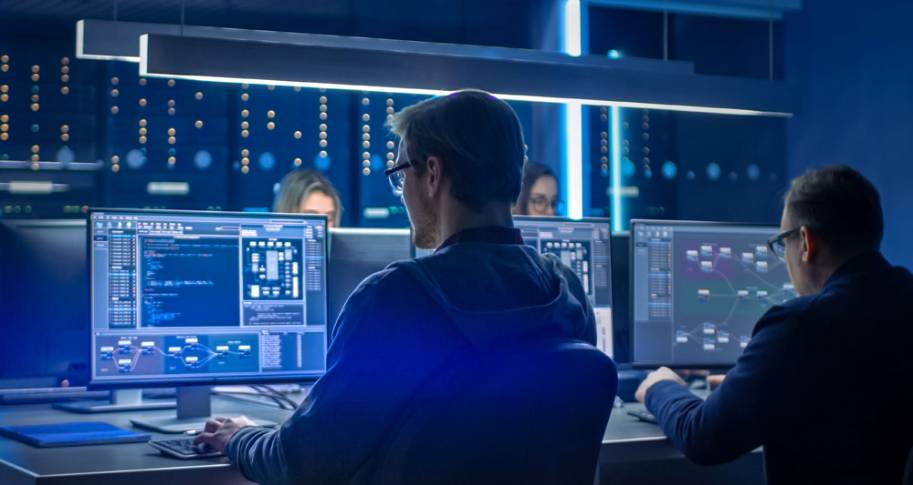 October 29, 2020
|
By Stephen Caldwell
Note: This is part of a series of articles that examines what students learn by pursuing different undergraduate degree options at the Sam M. Walton College of Business.
Students aren't required to learn a foreign language to earn a degree in information systems from the Sam M. Walton College of Business at the University of Arkansas, at least not in the traditional sense. By the time they complete the program, however, they are tri-lingual – fluent in English, technology and business.
This is a handy trifecta when they hit the marketplace because organizations around the world are looking for people who can translate the outputs of technology in easy-to-understand ways that provide real value to the business.
It's hard to overstate the importance of technology in the modern business world. It has become the engine that powers organizations and that reality has created an extraordinarily high demand for these graduates. In fact, nearly 100% of Walton College graduates with a degree in information systems have a job secured before graduation, if that's their goal.
These jobs have comparatively high starting salaries, so information systems not only is a popular major at the Walton College but also popular as a minor and as an option for students who pursue a double-major. Because technology is a thread that runs through the entire fabric of the economy, graduates find work in just about any industry – oil and gas, health care, automotive, media and retail, just to name a few.
It's the opportunity of working with people on business problems in any type of industry that draws many students to information systems. They realize that they get a chance to tap into their interests in technology without transforming into a Dilbert-like character with a classic pocket-protector and an aversion to interacting with people. If you're afraid information systems might send you into that comic strip, consider what the typical student learns while pursuing an IS degree:
The Languages of IS
If you major in information systems, you will learn to code, but coding will not be your major focus. Students with computer science or computer engineering degrees typically make coding a primary focus of their work. They build or improve software and hardware systems. IS majors, on the other hand, learn to code more as a means to understanding and using technology to support sound managerial decisions.
For example, they use technology to examine and manipulate data to learn what insights it can yield and then they figure out how to put those insights to work to improve the business or create new opportunities. To connect the data to the business, of course, they must understand business principles, which is why an IS degree is earned from the Walton College rather than the College of Engineering.
Much like their brothers and sisters who are master coders, IS students thrive if they enjoy problem solving at a deep level that requires patience and perseverance. But they also need to enjoy working with people — and not just other people who are consumed with technology jargon — because part of their role is sharing stories about what they learn from the data and collaborating with other leaders on tech-based solutions to business problems.
In this way, they play a key role in a growing trend in business — helping organizations become transparent with information. They learn how to make information more accessible and relevant between departments within an organization and how best to share information externally, whether that's for regulatory purposes or with outside partners.
The Tools of IS
Technology changes almost daily, thus the need for what seems like a million updates every other day on our smartphones. For students who want to make a career of technology, the challenge is to stay current. No one wants to graduate with expertise in technologies that are obsolete.
This challenge is an area where the Walton College has a particular advantage over many other universities. The faculty has spent more than 30 years establishing connections with major technology providers such as IBM, SAS, SAP, Microsoft and Teradata to form partnerships that give students access to cloud-based enterprise software systems that are current to the marketplace.
Students learn how these large-scale information technology tools are used to run a business from cash-to-cash — from raw materials to sales — or how to incorporate business application using various secure blockchains.
The Practice of IS
One of the unique aspects of the Walton College program is that the data used in those enterprise systems often comes from corporate partners such as Tyson Foods, Dillard's and Sam's Club. These are live data sets that are used in the enterprise systems in a hands-on fashion so students can experience the types of challenges they will face once they graduate.
Typical courses involve a variety of projects, and several classes have capstone practicums that are presented to the class by an industry partner. The students work in groups to find solutions using live data sets on the same enterprise systems that are used by the company that is presenting the problem.
Students who earn a degree in information systems take what they learn and apply it in jobs with all types of titles, from analysts to database administrators, to leaders on IT teams. Some who are in school today will step into jobs that won't be created until some point in the future. But whatever the job title, the students will be fluent in the languages needed to help turn technology into better business decisions.