Master of Applied Business Analytics Is a Natural Next Step at Walton College
Master of Applied Business Analytics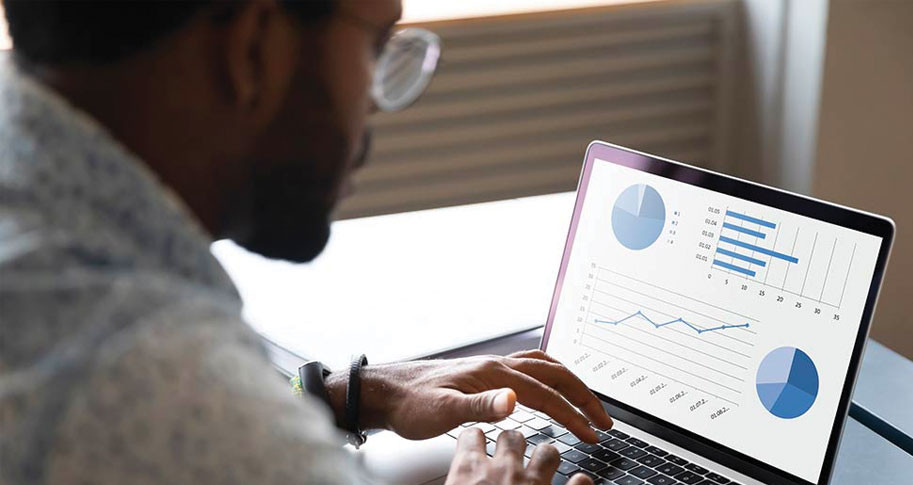 March 12, 2021
|
By Stephen Caldwell
(Note: This is part of a series of articles on the five newest master's degree programs offered by the Sam M. Walton College of Business at the University of Arkansas. Paul Cronan, Elizabeth Keiffer and Rajiv Sabherwal provided insights and information for this article.)
Kelsey Roberts didn't earn a Master of Applied Business Analytics from the Sam M. Walton College of Business, but that degree option didn't exist when she attended the University of Arkansas. Instead, she became something of a model for explaining how and why the program was created.
Roberts completed a master's degree in statistics and analytics at the U of A in 2020, and she now works as a basketball data analyst for the New York Knicks. It was an interest in analyzing sports (like quantifying the value of different options when it comes to trades involving NBA players) that led her to some unique offerings from the Department of Information Systems.
While working on her degree in statistics and analytics, Roberts also completed a certificate in business analytics and a semester-long practicum course on that topic. In fact, six of the courses she took are now part of the Master of Applied Business Analytics curriculum.
Students like Roberts are a big reason the information systems department added this master's program. More and more students (and their future employers) are looking at the data-rich world around them and asking a very practical question: We have all this data, so what do we do with it?
The MABA is a response to that need.
For years, the information systems department has offered a minor in business analytics, as well as the graduate-level certificate. With demand increasing for graduates who have an expertise in this area, the master's degree was the next logical step.
The 30-credit hour program is available for full-time students who can finish it in a year or working professionals who need to attend part time. The first graduates are taking home degrees in spring 2021.
The MABA's focus is on methods for creating solutions to business problems using principles of statistics and application of statistics for analytics purposes. Students learn the complete business analytics process – start with the business problem, gather the data, wrangle the data, analyze the data and wrap it up by telling a story about what the data tells them. In other words, it teaches students to answer that question about what to do with all the data that's now available in the world.
The degree has drawn interest from students like Roberts who want a job as an analyst, professionals who see a need for analytics in their current jobs and professionals who are looking for a career change.
Because analytics is such a trending career track, several of the courses used for the MABA are also used as part of other master's-level degree programs. A student in the MABA, for instance, focuses on the analytics and how to apply those skills in any field, while other degree options focus on a specific discipline (like accounting) but mix in courses on business analytics that are taught in the Department of Information Systems.
Students who are considering the MABA program are welcome to sit in on Saturday classes, which gives them a feel for the content and a chance to visit with working professionals pursing the part-time option. They hear first-hand from students who say they already are using what they are learning in their jobs and can see how the new skills will benefit them in the future.
Those skills also benefit several organizations in the area because the curriculum includes a two-semester practicum course that involves working with real data from real companies. During the first semester, students learn about the company, the data and the problem, and in the second semester they apply theoretical knowledge to answer questions for the companies. Those companies include Dillard's, Arvest, Walmart, Tyson Foods, Rockline Industries, and several departments on the U of A campus, including the athletics department.
The students also regularly hear from working professionals who take part as guest speakers in classes, and every instructor has an opportunity to use an executive in residence who adds even more industry perspective and practical insights to the academic perspectives.
Graduates leave with practical experience using current software and a chance to step into well-paying jobs that are in high demand. Those jobs might involve retail, manufacturing, sports or any number of other industries, but they all involve one common theme: using data to solve a business problem.