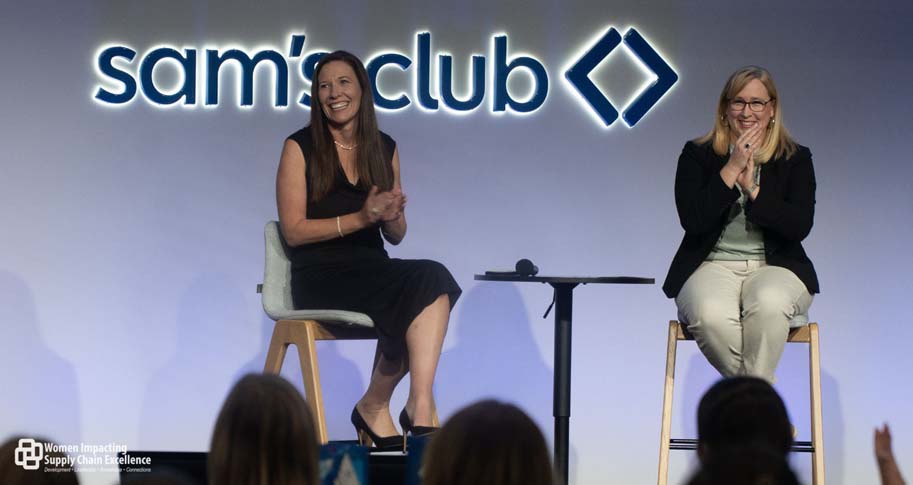 In 2005, my husband, Rod, decided to change careers and move from corporate America into academia. His first position after finishing his degree led us to Georgia Southern University. He started to notice that many of his top students were young women, but they often struggled with confidence. He also knew that sometimes they had questions about careers that they didn't always seem comfortable asking their male professors. There weren't any female SCM professors on the faculty at the time, so he encouraged these young women to reach out to me. Over a cup of coffee, we'd talk, and I'd offer advice and encouragement.
A few years later, I was now a doctoral student at Georgia Southern. I'd been inspired by my husband's move into academia and now that my kids were in school, I was ready move from stay-at-home mom into a new career. I was learning to become a researcher, working on a dissertation, and starting to figure out my teaching style. I knew I wanted to have a positive impact on my students and hopefully encourage them to be curious learners. I wanted to push them to be the best form of themselves. One day, I vividly remember a meeting with some of my students. In this meeting, one of the young women offhandedly made a comment that going to her supply chain classes was like going to a frat party - she was either hit on or ignored.
Boom! In that moment, everything fell into place for me. That was my a-ha moment.
From Rod's students that I grabbed coffee with to these students that were now my own, it all clicked, and I knew I had found my purpose. Yes, I knew the statistics. Supply chain, as a discipline, was male dominated, but I also knew from my own business experience that it offered an abundance of opportunities that were appealing to young women. It wasn't all "box kickers and label lickers." It was about building relationships, solving complex problems, and so much more. While I would be an educator and a researcher, I was also going to lean heavily into increasing the number of women studying supply chain and pursuing supply chain careers. I wasn't sure exactly how I was going to do that, but I knew that it was my passion.
Initially, I started a small Women in Logistics organization while I was finishing up my doctoral work. Our numbers were small, and I didn't have the time or know how to really be successful. However, I could tell that helping young women make connections and have a place that they could talk openly about hopes and fears related to their careers was impactful. It also helped assure them that they were making a good career choice.
After I completed my doctoral work, my husband and I were hired by Texas Tech University to build their new supply chain program into a major. Initially, we were the only supply chain faculty, so we wore many hats and stayed busy. It was here that I gained more experience in leading a student organization and became more invested in students outside the classroom setting. I noticed that most of the organization leaders were young women. I built relationships with them and helped build their confidence and prepare them for their future careers. I also began encouraging them to support one another. I wanted to help mold female leaders so that didn't feel it necessary to tear down others just to grab a seat at the table.
In 2017, Rod and I moved again and joined Walton. During my first semester, I spent a lot of time learning about the supply chain department, the student body, teaching large intro classes, and figuring out where I where and how I should plug in. Pretty quickly I saw the opportunity that I had been waiting for since my days as a doctoral student. That opportunity was called WISE.
WISE stands for Women Impacting Supply Chain Excellence and is a student organization at the University of Arkansas. I was familiar with it prior to coming to U of A. I knew Arkansas was one of the only universities that had a gender focused supply chain organization. Due to some leadership turnover, WISE needed faculty support, and I felt like all my previous experiences had prepared me to use this opportunity to pursue my passion.
In January of 2018, WISE was relaunched. Working with a small group of enthusiastic students, we defined the role and purpose for this group. The four initiatives of WISE are: making connections, personal and professional development, leadership skills, and industry knowledge. Quickly, interest in the group began to grow – student interest as well as industry interest.
Things were progressing well until one night I woke up in the middle of the night. I was mulling over some new ideas for WISE when I had another brainstorm. This idea would dramatically change the way I had been thinking about WISE. You see, I was also actively involved in a group called AWESOME (Achieving Women's Excellence in Supply Chain Operations, Management, and Education). Ann Drake started this organization to build a community of supply chain women in executive roles. I had attended several of their annual Symposium events and was always invigorated and inspired by the experience. So, in the wee hours of the morning, I wondered if a similar experience could be offered to female supply chain students from many universities. The idea for the WISE Future Leaders Symposium was born.
In the fall of 2019, the first WISE Future Leaders Symposium brought together supply chain students and faculty from 12 universities. It was a powerful experience. I will forever be grateful for the companies and leaders that bought into this idea and supported that first Symposium. It was magical to see the connections made between students, faculty, and industry. And they were all on fire for supply chain. There was lots of momentum around WISE - at the U of A and now at other universities.
Then, COVID happened.
And the Suez Canal was blocked.
And social and political conflicts.
And massive product shortages.
And war broke out.
And natural disasters occurred.
And much more.
Suddenly, the words "supply chain" and "supply chain management" were everywhere. It seemed everyone now had an awareness of what supply chain management was. Globally, we felt the successes and failures of supply chains. More students started coming into college planning to study supply chain management.
I was terrified at first that all the hard work and momentum of the previous two years would go down the drain for WISE. The first year or so of the pandemic required out of the box ideas for student groups and student engagement. We learned that you can still make connections, work on professional development, and learn about career opportunities virtually. We even planned more WISE meetings than usual because students weren't on the go as much and those that did join seemed to glad of the opportunity to connect. I learned that you can host a Symposium event virtually (twice) - and you can even expand your reach around the globe when time and money are removed from the equation. A WISE Connections Advisory Board was also launched. Board members from different universities meet virtually once a month to help plan events and activities to raise awareness about women in supply chain. Pre-COVID I probably wouldn't have considered that. This Board is allowing the connections and magic of WISE to continue far beyond the University of Arkansas walls.
Three years ago, I wrote an article about how I became a woman in supply chain. That article was published a month after the first WISE Future Leaders Symposium and four months before the world shut down for COVID. I had a passion for the work that I was doing, but in a lot of ways, I don't think I was dreaming big enough.
Three years later, I am still passionate about increasing diversity and feelings of inclusion in supply chains through gender balance. Most of that focus is on undergraduate students going into entry level roles as it fits well with my department role as an educator in our introduction to supply chain management course. I work closely with companies who believe in the importance of increasing representation in supply chains.
Five years ago, WISE stood for one student organization at the University of Arkansas. Today, the scope is so much broader, and the impact is far greater. WISE is:
A thriving student group at the University of Arkansas which also includes male representation as we are also developing strong allies
Student groups at the University of Oklahoma, Iowa State University, and Georgia Southern University
Women in supply chain events at Mississippi State University, Miami University, Michigan State University, and more
An advisory board of female students from 14 universities with a passion for supply chain and leadership
An annual Future Leaders Symposium bringing together students, faculty, and industry leaders; the 2022 WISE Future Leaders Symposium hosted 23 universities – double the first in person Symposium in 2019
Most recently, a group of supply chain women and male allies gathering quarterly to keep connections strong beyond the collegiate WISE experience (WISE Beyond - launched initially in NWA with goals to expand to other locations)
I have the best opportunity in the world. I also look back and realize understand that the journey from purpose identification to purpose realization may not happen overnight. It may take years, but those years are critical to preparation and success.
I have been privileged to invest in supply chain students for over 15 years now. I know the field needs passionate people to keep the pipeline full (and there are lots of amazing, student-focused supply chain faculty around the US and across the globe). I don't believe I would have been able to continue to grow and develop WISE anywhere else other than Walton. From the encouragement of Walton leadership, support of individuals and companies in NWA and beyond, and the enthusiasm of our students, Walton is leading the initiative to make a wiser future for supply chains. And we're just getting started!
Interested in learning more about WISE or how you might get involved? Reach out to Stephanie Thomas at sthomas2@walton.uark.edu.