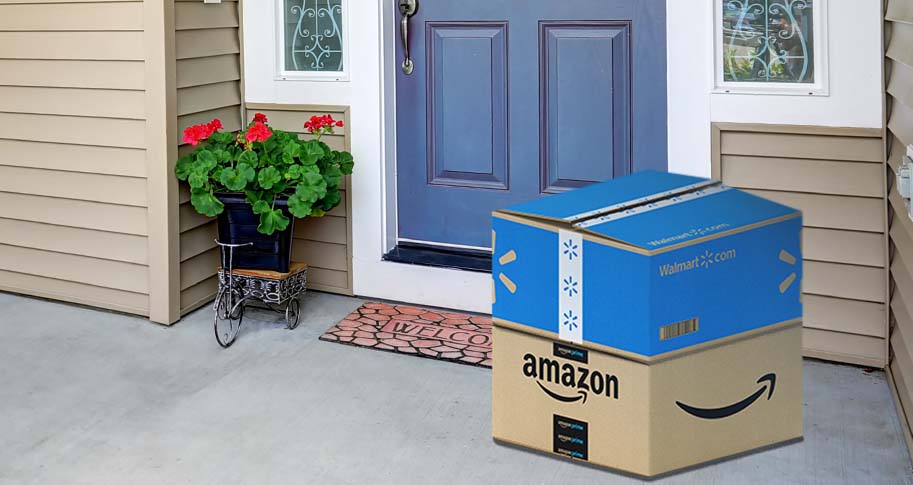 In 2019, online shopping overtook brick-and-mortar stores' share of the retail marketplace, and that was before the pandemic. Lockdowns and shelter-in-place orders did not slow this trend; instead, consumers quickly pivoted online. In the same way Walmart changed our relationship to brick-and-mortar stores, Amazon has changed our relationship with online shopping.
The behemoth has not gone unnoticed. Traditional, offline stores have sought out online channels to reach—and more importantly, keep—their customers, even in unexpected sectors like groceries where consumers still say they value their ability to physically check the quality of products. In their competition with online retailers, brick-and-mortars have focused on providing quicker delivery for online orders, fighting Amazon on its terms.
The University of Arkansas's Dinesh Gauri and fellow researchers, Rupinder Jindal of the University of Washington Tacoma, Wanyu Li and Yu Ma, both of McGill University, question whether that is the best strategy for these would-be online retailers in their aptly named article: "Omnichannel battle between Amazon and Walmart: Is the focus on delivery the best strategy?" Their research suggests that so-called offline businesses ought to leverage product breadth, price, and convenience, because that is the reason consumers choose Amazon for purchases, as it invests in online retail channels.
Of course, offline retailers like Walmart should devise good strategies to expand customer loyalty to their online channels because Amazon has successfully made its foray into the physical sector of retail. From its $13.4 billion acquisition of Whole Foods in 2017 to expanding its own branded stores, such as Amazon Go, the online retailer has broadened its presence in customers' wallets.
Where Customer Loyalties Lie
Walmart recognizes the importance of having online channels alongside its physical channels and has accordingly developed several strategies. Initially, the retailer focused on click-and-collect models, whereby customers choose their products online and pick them up at a nearby store, which eliminated shipping costs and therefore increased margins—an attractive model for a business expanding into new channels. But Walmart has recently been making huge investments in rapid delivery to compete with Amazon by "[putting] 98 percent of the US population within two days of ground shipping." Walmart's presumption is that consumers are shopping online primarily for the speed of delivery and not for other convenience factors.
In their study of consumer purchasing choices, Gauri and fellow researchers identified three (out of 18) components that drove most of the differences between customers' choices. The first component is the experience of the purchase, which encompasses aspects such as the employees and the speed of checkout. Free 2-day delivery is only a fraction of this component. Another component comprises the convenience, price, and assortment of products, largely whether customers can easily get a product from a selection at a fair price. And the last component reflects the quality and freshness of the products.
The components customers valued the most drove their choice of a purchasing channel. For example, customers preferred home delivery from Amazon.com when they were primarily motivated by the assortment, price, and convenience of purchase and, to a lesser degree, the experience (which, again, includes the free and quick delivery). These customers also valued quality verification less. For example, I may want a new pair of running shoes but don't know whether I want Adidas, Puma, or Nike shoes, nor do I know what color or style I want; as a result, Amazon's assortment and price options may appeal to me. Demographically, these customers tended to be young men with master's degrees earning between $50,000 and $150,000.
Purchasing offline at Walmart shows an inverse hierarchy of values: these customers highly valued freshness and quality verification, but this choice did not correlate with customers valuing experience or assortment. If I'm looking to buy bananas and I only like them when they're at a certain ripeness or if I only like watermelons that have a specific type of dull thud when I thump them, then purchasing offline might suit my preferences best for this purchase. The only demographic data that seemed to be associated with this choice was whether the customer was married.
The other assortment of choices in the study showed some combination of these hierarchy of values. For example, store pick-up at either a Walmart or Amazon store seemed to be partially driven by a customer's value of being able to check a product's freshness and quality along with some combination of also valuing the experience and/or assortment of products. The Amazon customers for store pick-up tended to put the most value on freshness verification paired to a lesser extent with experience value, whereas the Walmart customer put a high value on experience and then assortment with freshness verification being an underlying factor (probably driving this choice over shopping online). In both cases, incomes over $150,000 were associated with this customer choice.
In any case, the researchers observe that offline purchases at Walmart stores and online purchases at Amazon.com, their original sectors, are "a study in contrasts." Essentially, for either company to compete with the other on their home turf, they need to provide the value the other's customers seek through that channel.
Checkout or Keep Shopping?
Amazon seems to have succeeded in that competition according to Gauri, Jindal, Li, and Ma. Freshness and quality verification drive customer choice for Amazon store pick-up 50 percent more than does in-store shopping at Walmart.
And while Walmart has certainly addressed the experience value of customers, that doesn't seem to be the primary motivating factor in customer choice for online shopping according to the researchers. Moreover, customers seem to prefer Amazon.com to Walmart on the basis of price despite Walmart's "Always low prices." To Walmart's credit, though, it was never "Always the lowest prices."
Demographically, the researchers observe that Amazon's variety of purchasing channels is popular with younger and male customers, attracting consumers with the highest incomes. Walmart has been able to attract some of Amazon's core customer base with its newer channels, but customers who prefer pick-up options like both Walmart and Amazon's offerings.
It seems that irrespective of the retailer, about a third of the researcher's respondents have embraced this omnichannel retailing. Nonetheless, 58 percent of customers seem reticent to adopt the new purchasing channels that their preferred retailers are introducing. Many of these reluctant consumers shop in-store at Walmart and highly value the ability to check the quality of the products they are purchasing. This second cluster of consumers, who seem to be female, lower income, and with lower levels of education, may not have stable internet connections, may purchase primarily with cash, are unbanked, and may not have the time to send back products if they don't meet a certain quality level.
The researchers suggest that omnichannel retailers "target younger, double-income households with higher levels of education and income, as they seem the most receptive to addition of newer channels by retailers." Of course, developing new channels shouldn't come at the sacrifice of original, loyal customer bases, who tend to have lower incomes and levels of education, underscoring "the critical need to offer greater assortments at competitive prices."
To emphasize what customers actually value, the researchers point to the experience of the member-owned outdoors outfitter, REI, which consistently meets a certain delivery of four days or less, while keeping a loyal omnichannel customer base. Shipping from REI may not be the quickest option, but the customers can count on reliable delivery at affordable prices. And when Amazon's missed of its 2-day shipping during its 2019 Prime Day, they explained: "People are not focused on speed, they are focused on deals."
It seems that everyone, regardless of income or channel selection, still loves a good deal and with so much innovation and competition in retailing industry, shoppers have so many excellent choices in shopping, whether it is online or offline. As they say, customer is always the king!
Note: we recently published a short form version of this research and strongly recommend you read this Mass Market Retailers piece on this project.