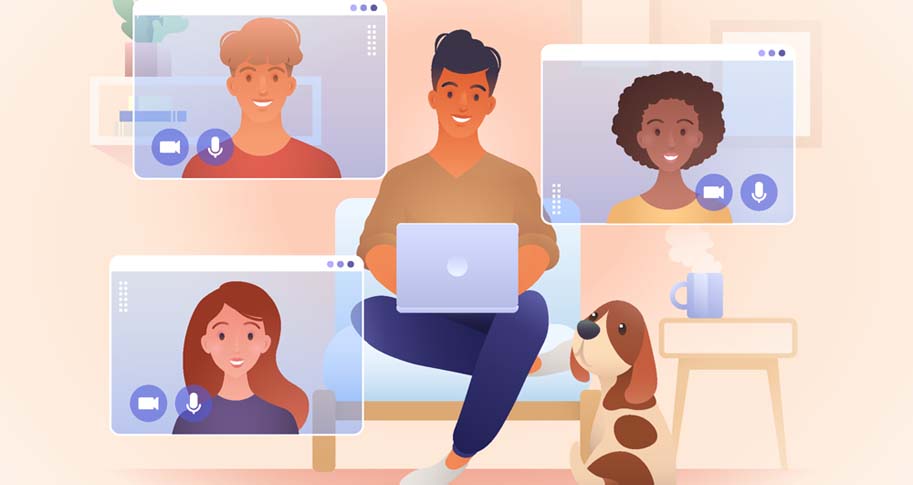 When many of us think of the challenges virtual work poses, the first things that come to mind are unexpected visitors interrupting our meetings, camera or audio errors, filters that get stuck, and so forth. It's no surprise that these challenges are the first to come to mind – nobody wants to be that person on Zoom, Teams, Slack, or whatever platform your organization uses. The pandemic gave rise to many memes, GIFs, and comedy sketches on the communication barriers and challenges virtual work creates. So much so that you would be forgiven in thinking that simply having correct virtual etiquette – namely, good lighting, appropriate attire and background, muting yourself when not speaking – would put you and your team on the path to effective virtual work. We convince ourselves that if we just follow a few simple rules, then these challenges would become minor hurdles instead of major barriers.
But can making these minor, though beneficial, changes truly create an effective team that can navigate and overcome the inherent challenges of working remotely? Or is there something more that goes into making a resilient, high-achieving team? Virtual teams will undoubtedly encounter levels of adversity – fast-approaching or missed deadlines, unexpected product or process problems, poor decision-making – that would prove challenging for standard, face-to-face teams. When this happens, leaders and team members need to know what resources and practices they should adopt to manage or minimize adverse impacts. If virtual teams could follow a clear model that helped them overcome and learn from adverse situations, how much more effective and resilient would they become? Even though more people have returned to the office in recent months, many workers will continue to be remote. As such, these questions and concerns have to be addressed if organizations want teams to perform at high levels.
In their Organizational Dynamics article, "Building Resilient Virtual Teams," Bradley Kirkman and Adam Stoverink provide just such a model for increasing a virtual team's resiliency and performance levels. Kirkman and Stoverink argue that building resilient, high-achieving teams requires an awareness of the complexities of virtual work and an investment in several key resources to better prepare teams when adversity arises. They conclude their research with an action plan for virtual team leaders, which consists of a series of practices to help cultivate resilience.
Yes, remote workers and virtual teams have long existed in the workforce. And, yes, videoconferencing and collaborative work platforms have allowed them to work more efficiently and seamlessly within organizations. And, while very few expect that the 42% of US employees who worked from home in 2020 will continue to do so in the years to come, the Survey of Business Uncertainty expects the share of days employees spend working from home to triple after the coronavirus pandemic ends. Given that approximately 40% of all US jobs could be done at home, this share could continue to increase in the 2020s.
Simply put, if your organization plans to hire and retain top talent and see that top talent thrive, then learning how to build resilient, high-performing teams isn't something you can kick down the road and learn later.
So, What Is Virtual Resiliency
Building virtual resiliency begins with understanding what virtual resiliency entails and how it differs from the sort of resiliency face-to-face teams build over time. Virtual resiliency denotes the "capacity to…bounce back from a…setback that results in a loss of virtual team processes." Anything that impedes the team's ability to achieve its goals can be classified as a setback, from communication breakdowns in coordinating or monitoring key processes to turnover. Setbacks, however, have value – "a virtual team can never actually demonstrate resilience if it does not face a setback….resilience serves as a type of 'reservoir' a virtual team can draw from, if needed." This resiliency can be seen in the ability to "double-down" when facing adversity, when a team uses its hard-won "fortitude and grit to push through an adverse situation."
That said, building virtual resilience differs from the standard resilience face-to-face teams build. Virtual resilience, through "acts of communicating, coordinating, and cooperating….grows and unfolds over time." If virtual team members work in isolation and communicate or meet infrequently, then they'll have a hard time building resiliency. After all, the rapport many face-to-face teams build comes from meetings and the continual crossing of paths natural to a shared office space, grabbing a quick coffee or lunch together, and a variety of other small interactions that over time help you learn about your colleagues, their expertise, communication preferences, and work behaviors. Instead, virtual team leaders should "actively promote team member interactions" to ensure virtual team members build this valuable rapport and even lead some of these interactions to "ensure members cover content likely to foster resilience." Virtual team resilience, in short, requires a different set of practices – from both members and leaders – if it's going to grow within a team. And, while these practices may differ from one team and organization to another, there's still a key set of ingredients any organization can incorporate to build and maintain their virtual teams' resiliency.
Building and Exhibiting Virtual Team Resilience
Knowing what virtual team resilience is and is not is valuable, but what exactly does it take for a team to be virtually resilient? Kirkman and Stoverink establish four resources for helping teams become—and stay—resilient: potency, mental model of teamwork, capacity to improvise, and psychological safety.
Virtual team potency is best known as "A shared belief that team members can be effective at accomplishing all of their tasks." This potency denotes a confidence across the team that, even when presented with obstacles, members know they have the necessary capabilities to complete all tasks required for their job. A team cannot survive and thrive during, or after, a crisis without strong team potency. However, it's important to keep in mind that there is such a thing as too much team potency. In situations where extremely high levels of team potency are present, members can become overly confident and lose the necessary sense of vigilance. Practically speaking, a moderate to moderately high level of potency is where your team should aim.
A virtual team's mental model of teamwork comprises "Team members' knowledge of their roles, responsibilities, and interaction patterns and familiarity with one another's knowledge, skills, and preferences." To boil this down, this mental model is a sort of "roadmap" that ensures all team members have a clear understanding of how they need to work together to be an actual team. This resource is absolutely essential for virtual teams, as they are not afforded the same luxuries as teams working in-person who are able to revisit and adjust these methods regularly.
Virtual teams' psychological safety can be seen as a "Shared belief that a team is safe for members to take interpersonal risks." This resource can be thought of as a team being open and encouraged to try new ways of thinking and doing without fear of not being taken seriously, or worse, punished. In their work with the aluminum company Alcoa's virtual teams, Kirkman and Stoverink found that a high degree of psychological safety allowed teams with a multitude of nationalities to have more effective team processes. If members do not feel comfortable taking risks, it puts a team at risk of missing out on the potential implementation of processes that allow the team to overcome adversity.
Developing resiliency matters because adversity is a given – one can only prepare for it and manage it, not avoid it. The ability to minimize, manage, and mend after adversity depends on how effectively leaders and team members incorporate the four resources above. Teams can minimize adversity by anticipating potential adverse situations and strategizing beforehand. At the same time, when adversity strikes, virtual teams have to quickly decide "whether to (a) adapt and pivot to a new strategy or (b) persist with a current course of action with perhaps more vigor and focus." Managing adversity requires virtual team members to have high levels of effective coordination and keep in mind how their efforts fit into those of their fellow team members. Both monitoring and backing up behavior are critical for virtual teams since adversities can appear to be relatively predictable in the beginning before quickly morphing in unexpected ways.
After experiencing adversity, virtual teams can focus on mending and learning from the adverse event. Teams will begin the process of reflecting on how they handled the situation. Did we make any mistakes? How can we learn from this experience? How can we adapt our team structures and processes to improve them for next time? All of these questions get answered during the mending stage of the adversity lifecycle. Once an adverse situation is resolved, virtual team members should take a few moments to engage in an honest and introspective situation analysis, learn from the mistakes they made when responding to the adverse event, and create "procedural modifications" that will improve the actions of the team members during future adverse events.
The Leader's Role in Growing Resilient Virtual Team Resources
Kirkman and Stoverink recommend five behaviors for leaders wanting to develop a virtual team's resiliency level. First, they should become a role model for empowerment by acting in ways that go above and beyond the expectations for customers and clients. Second, they should encourage their virtual team members to participate in the decision-making process. This doesn't mean that the leader simply listens to what their team members are suggesting, but actually implements these suggestions when making important decisions. The third behavior is to provide effective virtual team coaching, which can include one-on-one meetings with team members as well as frequent "all-hands" meetings with the entire team. Fourth, leaders should share important and strategic information with their virtual team members to prevent a feeling of disconnect. Finally, display a high level of concern and caring for their virtual team members. As is common with a lack of face-to-face contact, it's easy for team members to feel uncared for or as if they're not being heard. Acts as small as a quick phone call or email can combat this.
In addition to these behaviors, the authors recommend three simple practices to improve virtual team resilience. The first is to hold regular virtual team briefings or meetings. Within these meetings, the team should focus on possible scenarios they could face and what responses exhibit resiliency. The second practice is to utilize virtual team training to make working in the virtual space more natural and comfortable for members. The final practice is to implement shared leadership. This practice matters a great deal in the uncertain and ever-changing virtual space, as no leader can do it all.
Shared leadership in virtual teams matters because of how it can help minimize, manage, and mend after adversity. If your team has put in the work to create shared leadership and psychological safety, you will have an easier time discussing the challenges that are likely to occur and then establishing a set of procedures that will guide your responses. The more frequently virtual teams can work through hypothetical adverse situations, the more comfortable they will be with addressing them and managing them when they occur.
Likewise, when adversity occurs, leaders and virtual members can hold an open dialogue to help make sense of their current predicament and how to best approach it. Teams that trust one another will be more effective during managing the "bursts of short, high-intensity periods of coordination and communication, with longer periods of silence that allow members to focus on their respective roles." And, when the adverse situation has ended, teams structured in this manner will have more effective meetings to discuss both successes and failures while also emphasizing how to learn from what worked and what didn't.
As we learned during the pandemic, moving teams to a virtual setting doesn't come without its challenges. However, there are clear solutions that leaders and team members can put into place to not only ease the process, but ensure success in the virtual space. If leaders focus on the four elements of virtual team resilience —potency, mental models of teamwork, capacity to improvise, and psychological safety—their teams will be able to tackle virtually any adversity that comes their way. Additionally, knowing which processes to focus on during the adversity lifecycle— minimizing, managing, and mending adversity—aides virtual team leaders in using their limited time and energy to maximize their team's resilience over time. Ultimately, these processes will build incredibly resilient virtual teams.