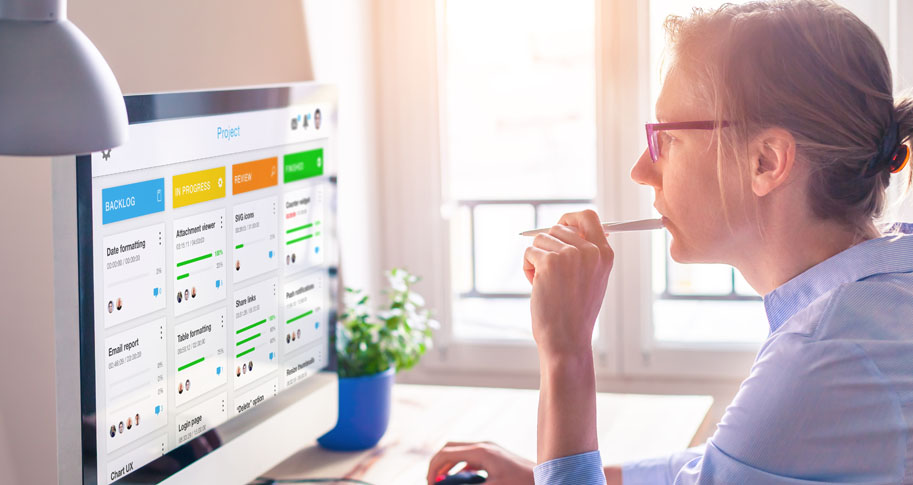 "65% of remote workers do not want to return to the office" – World Economic Forum
"Yes, the office is back. It just might never be the same." – The Washington Post
"'Weird tension' as workers return to the office but still Zoom all day" – The Seattle Times
"Remote work is popular, but 'moments that matter' happen onsite, say top executives" - Fortune
"Turmoil at Bezos' Blue Origin: Talent exodus came after CEO's push for full return to the office" - CNBC
Remember how we thought the tricky part was over once everyone adapted to working from home in Spring of 2020?
Executives, managers, and teams are having their hard-won adaptation skills tested as they try to figure out how closely the "new normal" will resemble the old. Managerial tasks like bringing 2020-21 hires to the office for the first time, luring hesitant workers back to the office, or implementing new hybrid work arrangements would have been difficult in ideal conditions, but the Delta variant has made them even harder.
With unease shrouding many offices, now is a good time to consider whether taking a different approach could energize your team, increase productivity, and make the workday more enjoyable for everyone.
Product management has boosted our team's engagement and output considerably. We think it can do the same for others, whether your team is back in the office, working remotely, or taking a hybrid approach.
What is Product Management?
I think it has changed some of the culture and allowed us to really get to know each other professionally… It was a situation where you've got all these supply chain folks, you've got a history guy, and an economist trying to figure out, "How do we all work together?" And now it just seems to be a much better working, collaborative atmosphere to me. – Donnie Williams
Product management began in the 1930s, but its modern characteristics are heavily informed by its recent use in software development.
Before the internet was widespread, tech companies generally took a rigid "waterfall" approach to software development. Teams spent years planning and developing software. They hired testers relatively late in the development cycle, fixed problems the testers identified, and released the finished product. If consumers found bugs the testers hadn't caught or felt the product lacked key features, there was no easy way to address those issues and salvage disappointing sales numbers.
By 2000, the internet was ubiquitous enough for software developers to take a more agile approach. Teams began breaking work into smaller pieces, briefly meeting each day to discuss their progress, and developing fully functional (though initially bare-bones) software every 2 to 4 weeks. They also met regularly to assess their progress and plan future work, implementing those plans during subsequent weeks-long sprints.
The internet allowed developers to release beta versions and glean valuable feedback by monitoring users' experiences with unfinished products. That feedback informed further improvements.
Occasionally, user feedback revealed the need to develop a very different product from what was initially planned. The agile product management approach allowed teams to pivot in a different direction relatively deep into a development cycle, which was virtually impossible using the old waterfall approach.
After the product was released, developers continued tracking user experiences. Internet updates allowed developers to add features and fix bugs as needed.
Product management revolutionized software development, leading others to repurpose it in myriad ways. It can be used to develop "products" including services, company websites, training videos, handbooks, press releases, or - in our team's case - articles about supply chain management.
Elements of a Product Management Approach
A mutually accountable team works toward a common goal
Agile methodology allows quick pivots when necessary
Work is divided into small pieces that are completed during 2-4 week sprints
Planning meetings are held before each sprint
Brief daily scrum meetings allow team members to update individual progress, seek/provide feedback, and identify roadblocks
Retrospective meetings at the end of each sprint allow the team to discuss what worked and what to change going forward
The team uses public/customer/institutional response to the "finished" product to inform further changes or future product designs
Tip #1: "Absorb what is useful, reject what is useless, add what is essentially your own."
Admittedly, we stole that from Bruce Lee. But the same advice that inspired martial artists to explore many fighting styles applies here, too.
The good news is that, unlike the martial artists who traveled extensively to heed Lee's advice in the '70s, you can learn everything you need to get started with product management from the comfort of your office, living room, or patio. The person who runs our daily meetings used online resources to learn enough to get started in around 20 hours. And he didn't have the benefit of reading this article - you could probably shave hours off that time.
Others have researched product management more than I have. I think that's one of the benefits: just a couple people knowing it well can make the team a lot more productive. – Andrew Balthrop
Further keeping with Lee's advice, our take on product management includes many elements of project management and scrum. LinkedIn Learning and YouTube offer courses and videos on all three. Individual videos or courses are unlikely to perfectly fit your team's needs, partly because they are often tailored toward software development. So, consult multiple resources and focus on the elements that make sense for your team's work.
For example, any how-to video on scrum meetings will teach you that scrum involves a scrum master, a product owner, and team members. Our team doesn't have a designated product owner, and we deviate from the typical scrum format in other ways. But that works for us.
What has really worked for us is applying a product mindset to our work. That is, we certainly apply the core elements of product management to the work but also allow plenty of room to adjust as needed. – Brent Williams
We've also tried things that haven't worked for us. We've tried different meeting times, frequencies, and lengths; team sizes; and team member roles to find what works best.
Experimentation is key to applying the product mindset, especially early on. Don't be afraid to try new things. If an element doesn't work out, your team can use the next retrospective meeting to decide whether to tweak that element, revert to something you did previously, or try something different.
Tip #2: Buy-In
It's easy to learn product management's core tenets, but that knowledge won't do much good unless your whole team is committed to trying to make the new approach work.
On one hand, buying in is easy because product management has so many benefits. It improves team engagement, speeds production time, and brings multiple perspectives to a project. It can also embolden team members to think outside of the box since they get immediate feedback.
Product management can also be structured to require minimal time commitment from high-ranking team members. Relatedly, it can take the pressure off managers to lead and allow others to gain the experience of taking the reins.
For this kind of thing to work, it really is a tribute to Brent Williams and Brian Fugate saying, "Okay, we're going to do this. We're going to give the time to this." But what's been cool about it … is it has energized them as well. – Donnie Williams
While product management has many benefits, team members should consider a few factors before committing to trying this new approach. The daily time commitment can be relatively small, but it is still a daily time commitment. That may prove too much for managers, administrators, or executives with packed schedules.
Senior team members with hectic schedules can be invaluable to the product team while spending relatively little time each day working on the project, but they will likely need to allow someone who can devote more time to the project to take the lead. In such cases, both parties will need to be comfortable with inverting the usual dynamic.
Finally, team members should understand that there will likely be some initial bumps in the road. As you experiment to find what works best for your team, you'll find that some things won't work. View those failures as learning experiences. Every time you try something that doesn't work, you're one step closer to finding what will.
Tip #3: Have Fun
When I took my crash course in product management, one of the "advanced" scrum videos noted that some teams shake maracas to celebrate achievements. I liked the idea that you have to go to the advanced video to find that tip - that's not something they teach in introductory scrum videos. So, I bought a set of maracas as a goof. Ironically. But they're more fun than I figured and it quickly stopped being ironic. Between the maracas, the stop sign I bought after we kept exceeding the 15 minute limit, and a couple other gags I'm saving for the right time, it's a slippery slope to becoming a full-on prop comic. – Ron Gordon
Our final tip is the easiest to follow. After you've learned about product management, gained buy-in from the whole team, and begun using a product management approach: have fun.
If you want to keep team members engaged through multiple sprints and make the product management approach permanent, your daily meetings should be something to anticipate, not dread. Scrum meetings are typically morning events, so they're an opportunity for everyone to start the day on a positive note.
But again, don't sweat this one too much. It will be easy to have fun as product management makes your team more energized, engaged, and effective.