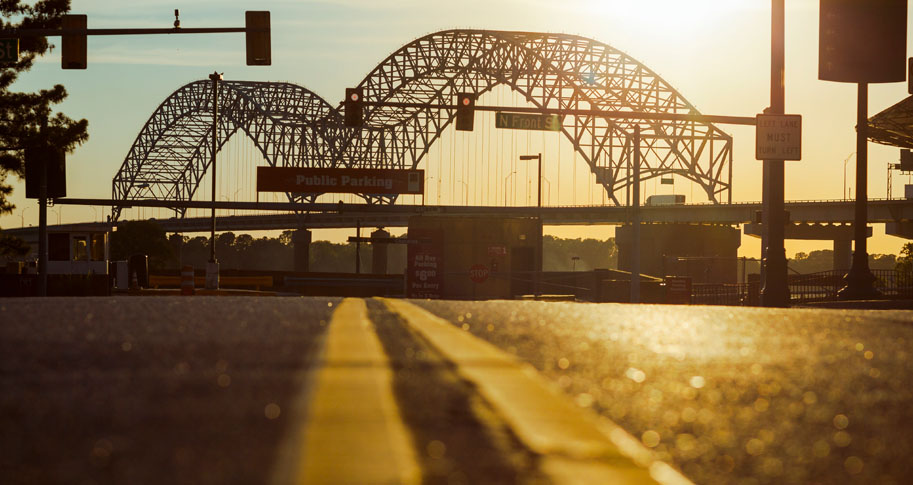 Trucking is a cornerstone of Arkansas's economy, supporting 10% of the state's private sector jobs. If the Governor's Task Force for Economic Recovery has its way, that number will go up.
The task force commissioned a recent Heartland Forward economic recovery strategy that calls for the state to build on its strengths in supply chain management, transportation, and logistics. One proposal involves the creation of a statewide supply chain cluster initiative that would "connect [Arkansas's] supply chain expertise at UA-Fayetteville to industrial and rural-based sectors located throughout the state…grow[ing] more small-and-medium-sized…transportation firms throughout the state's diverse regions – creating wealth and jobs."
That Walton College's Department of Supply Chain Management would play a crucial role in the proposed initiative speaks to its faculty's knowledge of the trucking industry. Walton faculty have published many peer-reviewed articles intended to help the industry—and the policymakers who regulate it—address its most pressing issues.
Safety
With trucking's per-mile wages and thin profit margins, drivers can be tempted to speed, forgo maintenance, or exceed hours-of-service limitations in an attempt to maximize their pay. When those risky practices lead to crashes, the consequences can be dire and far-reaching.
There were 4,415 fatal truck accidents and 107,000 injury-producing crashes in 2018. The financial repercussions of those accidents are trivial compared to their impact on the lives of crash victims and their families, but they warrant mention. Each fatal crash involving a large truck costs roughly $4.25 million (in 2015 dollars), for a total estimated cost of over $15 billion annually. Increasingly common court-ordered "nuclear verdicts" exceeding $10 million have led to industry-wide insurance rate hikes that have driven many small carriers out of business and left others no choice but to pass the added costs along to their customers and, ultimately, to consumers.
Unsurprisingly, policymakers are very concerned about trucking safety. When Congress created the Federal Motor Carrier Safety Administration (FMCSA) in 1999, it tasked the agency with reducing crashes, injuries, and fatalities involving large trucks. The FMCSA has made progress toward achieving its goal. But, like any regulatory body, its well-meaning policies sometimes produce negative, unintended consequences.
SCMRC Research Associate Andrew Balthrop has co-authored several articles examining the unintended consequences of FMCSA regulations. For example, he and Alex Scott (University of Tennessee) have shown that the Crash Preventability Program, which allows carriers to dispute their fault after certain types of crashes, produces skewed crash data. They find that the largest firms dispute accidents 40 times more frequently than independent truck drivers. Over time, that discrepancy will produce inaccurate data that will harm small firms' business prospects by making them seem more dangerous than they actually are, mislead transportation safety researchers, and inform misguided safety regulations that cause more problems than they solve. Scott and Balthrop suggest either reforming or terminating the program before its unintended consequences cause irreparable harm.
Balthrop has also helped show that the 2017 Electronic Logging Device Mandate did not reduce crash rates and may have actually led to more crashes among the small firms most directly affected by it. He recently co-authored another paper showing that small firms tend to temporarily cease operations during announced "inspection blitzes" instead of spending the funds necessary to comply with FMCSA standards, highlighting a major downside of publicized inspection events.
Supply Chain Management Department Chair Brian Fugate has also published on trucking safety. In 2017 he co-authored an article containing a model that uses a carrier's safety record to predict its future safety performance.
More recently, Fugate teamed with Jason Miller (Michigan State University) and Susan Golicic (Colorado State University) to show that owner-operators tend to accrue more safety violations than employee drivers, especially in the areas of hours-of-service compliance and vehicle maintenance. They attribute this to two factors. First, owner-operators earn higher hourly rates because vehicle upkeep costs are factored into their pay, so they have more to gain by exceeding hours-of-service limitations. Second, unlike employee drivers, owner-operators pay for their trucks' maintenance. So, they are incentivized to cut corners on vehicle upkeep to maximize their earnings. These findings show that both inspectors and carriers should closely monitor owner-operators' safety performance in those two areas.
Driver Recruitment and Retention
Trucking has experienced a decades-long driver shortage that heightens costs and lowers revenue opportunities and safety performance.
Unsurprisingly, the problem recently worsened as labor shortages hit many industries. As a whole, the trucking industry is roughly 61,000 drivers short. Arkansas needs approximately 2,400 more drivers. The Governor's Task Force for Economic Recovery calls for adding more trucking firms throughout the state, and the driver shortage has the potential to undermine those plans if left unaddressed.
Walton College supply chain professors Stephanie Thomas and Donnie Williams have published two peer-reviewed articles and an SCMRC LEAD white paper intended to help carriers understand and address their driver retention problems.
In 2017, they surveyed hundreds of drivers to identify their main job-related stressors: loneliness and loss of family life, health-related issues and uncertainty of health-related support, a lack of respect from many parties, and dealing with government regulations. Williams, Thomas, and co-author Sara Liao-Troth suggest ways for firms to mitigate those stressors, including developing plans to help drivers receive medical care when they fall ill in a distant city and hosting company social events to help drivers build personal and professional relationships that can alleviate their loneliness.
In 2020, they published an article showing firms how to monitor and address driver burnout as it progresses from exhaustion, to cynicism, to inefficacy— actual or perceived ineffectiveness that makes drivers far more likely to seek a new job or career.
Walton College Alumnus Jonathan Phares (Iowa State University) and Andrew Balthrop have also addressed the driver shortage. Most research on driver turnover focuses on driver demographics, manager quality, and work environment as factors that contribute to the driver shortage. Phares and Balthrop examine another key factor: potential drivers have options in other industries, particularly construction, sales, production, and non-trucking logistics industries. They find that the driver shortage is largely due to trucking's failure to outpace those industries' wages. They suggest that firms can solve many of their driver recruitment woes by paying higher wages than those offered in the aforementioned industries; pay rates based on average wages in a broad swath of alternative occupations will likely be insufficient to solve the problem.
Sustainability
As manufacturers, retailers, and consumers demand sustainability throughout supply chains, shipping managers are scrutinizing current and potential trucking partners' sustainability as never before. That scrutiny will only intensify in coming years. If Arkansas is going to add more trucking firms, those carriers will need to appreciate the value of sustainability so they don't get left behind by the competition.
Associate Professor of Supply Chain Management Rod Thomas is doing his part to show carriers the benefits of sustainability. Thomas has co-authored five recent articles and an SCMRC LEAD white paper examining how carriers' environmental, social, and economic sustainability affect shipping managers' carrier choice.
Collectively, the articles show that shippers strongly prefer carriers with higher levels of environmental and social sustainability, provided their investments in those two dimensions of sustainability don't undermine their economic sustainability.
Shipping managers also trust sustainable carriers much more quickly and fully. Researchers have generally understood trust formation as a long process, but Thomas helped show that sustainability can generate trust before the two sides begin negotiating their first contract. Trust is vital to any successful supply chain partnership, so it would be hard to overstate the significance of this finding.
In 2019, Thomas cast doubt on another widely held belief: Price matters above all else when shippers choose a carrier. He and his co-authors found that shipping managers strongly prefer carriers who use bypass services like Drivewyze and PrePass, which allow trucks to avoid many stops at weigh stations and tollbooths, saving both paper and fuel. Challenging decades-old prevailing wisdom, the study showed that shippers are willing to pay slightly higher rates to carriers who use green technology.
Thomas's articles demonstrate that sustainability can be a boon for carriers. Many pieces of equipment that contribute to environmental sustainability—such as bypass technology, low-rolling-resistance tires, and speed limiters—require low upfront costs and can yield considerable returns in fuel savings. Similarly, investments in social sustainability, such as fair pay, health insurance, or retirement benefits, should mitigate the driver shortage's associated costs by helping companies recruit and retain talented drivers.
Along with the potential savings in fuel costs and driver retention, sustainability can help carriers stand out from their competitors and attract new customers who learn about their sustainability initiatives through a company website, social media, advertising, or word-of-mouth.
Conclusion
As a land-grant institution, the University of Arkansas is tasked with conducting research that assists industry and contributes to economic development. The Department of Supply Chain Management's trucking research is certainly consistent with that mission. Northwest Arkansas's thriving supply chain cluster makes it fertile ground for researchers; the Supply Chain Management Research Center helps facilitate collaboration between industry leaders and Walton College faculty to identify and address pressing issues.
Safety, driver retention, and sustainability will remain important issues for years to come. Interesting developments involving electrification and automation are looming, along with debates over what roles government should play in encouraging and regulating those changes. Whatever else the future holds, Walton College researchers will be around to help the industry and its regulators address any problems. "The sector often gets overlooked," says Andrew Balthrop. "But folks are missing out—it's a really interesting space."