Staying Connected: Is the World Ready for IoT Technology?
Is the World Ready for IoT Technology?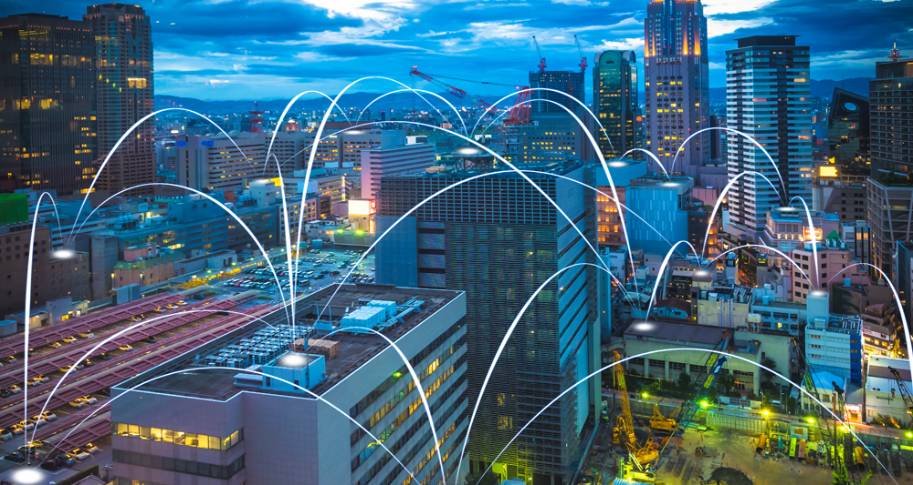 August 14, 2020
|
By Michael Adkison
Researcher: Rhonda A. Syler
Twenty years ago, athletes used pedometers; today, they use Fitbits, Apple Watches, or even their smartphone to track their health.
What makes these modern fitness-trackers unique is the ability to track several different variables to create one big picture. For example, a pedometer does just one thing: it counts your steps. But smart technology can count steps, monitor your heart rate, record your speed, map out your location and much more, creating an all-encompassing visualization of your workout.
That principle of connectivity is the Internet of Things, and some researchers would argue it is the future of everything.
From cars to refrigerators, phones to trains, the potential for the Internet of Things (IoT) is virtually limitless. Today, there are hundreds of different IoT platforms, and researchers predict that by 2025, there could be anywhere from 64 to 73 billion connected devices. Amazon, Google, AT&T, IBM and many other key players have developed IoT platforms. The interconnected world is coming. But is the world ready for IoT?
Researchers J. P. Shim, Ramesh Sharda, Aaron M. French, Rhonda A. Syler, and Karen P. Patten evaluate the state of the industry in their article "The Internet of Things: Multi-Faceted Research Perspectives." They investigate how far IoT has come in recent years — and how far it still has to go. "The IoT is and will continue to disrupt business as we know it," they write, "and no industry will go untouched." How has IoT affected not only consumers but businesses as well, and what will it take to have the completely-connected society that IoT envisions?
The Internet of Things
German conglomerate Siemens "produces a variety of trains and infrastructure components including control systems and power systems." As a blog from Teradata notes, train operators across the world "are expected to perform miracles, i.e. never to be late." When it comes to the transportation industry, efficiency is key; there is no room for errors. And who likes being stuck at the airport because your delayed flight needs maintenance?
Siemens wanted to find a way to avoid that problem. Specifically, Siemens wanted to move from reactive maintenance, like fixing a train after a breakdown, to predictive maintenance, "by employing sensors that generated a large amount of wealth and variety of data and merging that data with other data sources such as weather." The Internet of Things, then, allowed Siemens to address issues before they became hazardous.
The idea of IoT technology can sound overwhelming, but, for all intents and purposes, IoT functions the same way as "smart technology," e.g. smart thermostats, home security devices, smart speakers and phones. IoT works by allowing technology to transfer various data over a network, thus creating a bigger picture without human interaction.
Consider Nest Learning Thermostat, a smart thermostat. Once installed in a house, the wifi-enabled Nest uses individualized data from household members' phones to sense who is home, who is not and what their schedules are. As such, the thermostat will turn itself off when it senses that no one is home. After a few weeks of acclimation, it will realize that you come home every day at 5:30 in the afternoon, so it will set the temperature down to 72 degrees at that time, just how you like it.
"Depending on the IoT application," the researchers write, "smart devices may possess up to five interaction levels," citing prior research on smart technology from Marco E. Pérez Hernández and Stephan Reiff-Marganiec. These researchers identify the smart-interaction levels as:
Essential — In this level, all smart devices must have essential capabilities including digital identification, communications, retention and energy harvesting.
Networked — Every smart device must also possess programming, processing and networking capabilities so that it can collect and share data while one controls it remotely.
Enhanced — In this level, smart devices should be able to sense data, log data and actuate data changes.
Awareness — More advanced smart devices have self-awareness, environment awareness and human awareness.
IoT Complete — When a smart device includes all five levels, it offers the best human-centered IoT design capabilities. Under this best design, a smart device has social readiness and self-management.
Interestingly, the researchers note that a smart refrigerator "exemplifies a smart device with all five levels." Smart refrigerators have the capability to take inventory of its products, order replacements digitally and notify the owner for expired or low supply of products, meeting all five levels of smart technology. From Seimens to smart fridges, IoT technology can be implemented across the board, but what does it look like to practically use smart technology?
Are You Smarter than a Refrigerator?
But compare that to London-based luxury fashion house Burberry, which has implemented radio-frequency identification (RFID) tags with its products, launching "a video that provides information about the product." Indeed, implementing RFID technology in stores has been found to contribute to customer satisfaction, enhancing the shopping experience. "From optimizing operations to enhancing customers' service experience, IoT digital innovations have begun to revolutionize the way we do business."
As the researchers note, implementing IoT into business models is not just implementing new technology; it's a complete shift in mindset. Citing an article in the Harvard Business Review, the researchers offer an in-depth glimpse at this paradigm shift when it comes to value creation and value capture, key concepts for designing a successful business model.
For example, one of the aspects of value creation is addressing customer needs. Traditionally, meeting these needs comes after the fact, in a reactive manner, but in an Internet of Things mindset, those needs are met in a real-time, predictive manner. Other key aspects in business model-implementation include the product's offering, the role of data, and the specific paths to profit.
"Products in the IoT ecosystem shatter that paradigm in that one can update them 'over-the-air' and in real time and, thus, extend their life and potentially improve the synergistic value between consumers and companies."
And when it comes to individual consumers, it's easy to assume that IoT is just another way to make humans lazier and more comfortable. But the truth is, "IoT developers have a mindset focused more on reaching the market first than on improving individuals' quality of life."
Generally, most human-based smart devices have one of three different types of interactions: person-centric, home-centric or city-centric.
"A person-centric environment has a strictly 'tool-based' interaction model in that a smart device assists a user to complete a task (i.e., turning on/off lights, locking/unlocking car doors)." In a home-centric environment, the technology would either be tool-based or completely automated, like a Nest Learning Thermostat, which is entirely independent from user instruction. Finally, in city-centric environments, devices can either be automated or proactive, meaning that "data from the environment causes the smart device to make its own decisions. In this case, the user must trust the smart devices to complete tasks (i.e., a trusted robot)."
For example, Dallas Fort Worth International Airport (DFW) parking garages use a digital parking system that enables sensors to let drivers know which spaces are available. Lights hang above each parking space and change colors depending on the status of the space—green for available and red for occupied.
The technology is here, and the researchers say it will define the future of business. But, is the world ready for the Internet of Things?
Facing the Future
In a word, not necessarily. The technology is revolutionary, but that doesn't mean that it's without risk. "With 4G already here and 5G on the way," the researchers write, "the infrastructure now exists for businesses to capitalize on the hyper-connectivity of the estimated 64 to 73 billion IoT-connected devices by 2025." And that unprecedented number of devices—an average of more than eight smart-devices for every person in the world—means an unprecedented level of cybersecurity is necessary:
More than 25 percent of all cyberattacks on businesses will comprise IoT-based devices… Furthermore, the increase in connectivity will cause data's variety, velocity and volume to exponentially increase, which will further contribute to big data's growth. Such growth will create privacy concerns about the types of data that organizations collect, store and manage.
The fact of the matter is that the Internet of Things is just that — the internet, meaning that it is susceptible to hackers, security threats, and data breaches. Recent research has shown that many firms choose to not invest in cybersecurity to cut down costs. And the researchers of the present article offer various anecdotes involving IoT security threats, spanning "from inconveniences, such as denial-of-sleep attacks that causes one's phone battery to constantly die, to physical threats, such as a hacker compromising one's IoT-enabled car in such a way that it causes an automobile accident."
And while those anecdotes are, well, anecdotal, such attacks have taken place. "In 2016, attackers hacked cameras and DVRs to create a massive power outage in the United States….[which has no] uniform [national] regulations addressing security."
"As the technology environment continues to change due to the IoT, the tools that organizations use to secure the network also need to change."
Cybersecurity, arguably, is the greatest concern regarding IoT implementation, but there are numerous unanswered questions regarding the all-connected society. "Can organizations realize competitive advantage, and, if so, what stages and where? What role will/can other technologies such as blockchain, machine learning and artificial intelligence play in complementing or disrupting evolving IoT business models?" And the all-connected society would require a human-centered, city-centric Internet of Things model, but several questions remain for that implementation:
When the smart devices require human interaction, how should one instruct or train individuals to use them? How can we reduce the effects of bias?
How do users interact with the smart devices (e.g., with a remote control or via a remote location)?
3) If a smart device uses the automatic or proactive model, who programs the devices (e.g., users or manufacturers)?
If the future of IoT involves a developed world, connected citywide with smart devices, several questions need answers. Unfortunately, the only way to find many of these answers would be simply to test IoT.
The Internet of Things and You
The Internet of Things is a fascinating concept — it's in our houses, our cars, our phones, our entire community. But make no mistake; this is only the beginning.
"The IoT has exploded, and its landscape is vast and complex." But the IoT still has a way to go to meet the all-connected society it envisions.
"In addition to navigating the security, platform, and data challenges in the IoT space, organizations also need to understand and leverage the ecosystem mindset inherent to its functionality to monetize the IoT."
The researchers write that, "as new technologies emerge and integrate with IoT systems, researchers will also need to adapt and be ready to address new questions in evolving environments." They list three specific topics that require further investigation:
The convergence of distributed ledger technology (i.e., blockchain) and the IoT.
The convergence of edge computing, fog computing, cloud computing and the IoT.
The ethical standards of the IoT
The global COVID-19 pandemic has done nothing if not require that we use technology; from interacting with each other to ordering some late-night junk food, we are dependent on technology.
From Nests and smart watches to trains and refrigerators, IoT has yielded innovative products to create a connected world, but we are only at the beginning. So, where will the Internet of Things take the future of society?