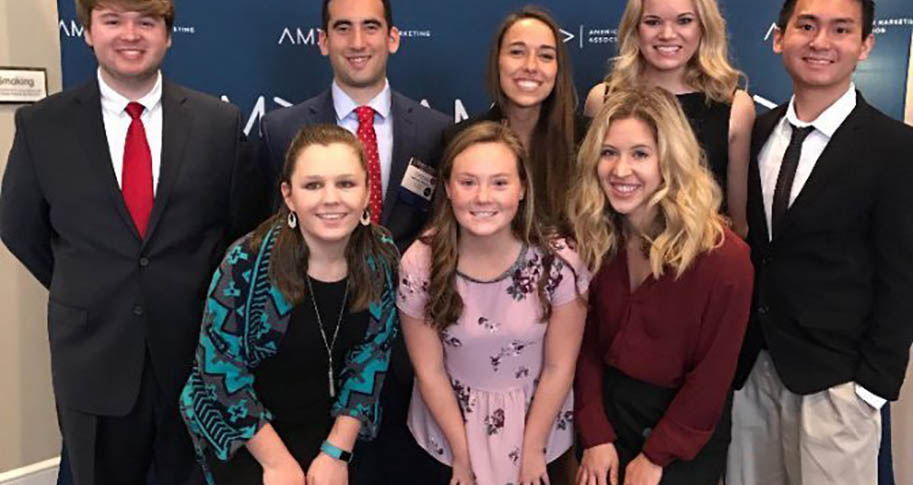 The University of Arkansas chapter of the American Marketing Association won the Exemplary Collegiate Chapter Performance for Communications and the Fundraising Award at the organization's 39th Annual International Collegiate Conference in New Orleans.
Eight University of Arkansas students – Kara Kalisz, Alex Hashimoto, Zachary Henson, Morgan Myers, Erica Phillips, Lindsey Simpson, Anna Tovar and Hunter Wilson – were among the conference's 1,700 attendees.
"It was an excellent opportunity for the members to learn from industry professionals about marketing, sales and future career opportunities," said Simpson, the U of A chapter president.
The eight U of A students participated in the Sales Certificate Program. Some of those students also participated in the perfect pitch competition, booth competition, sales completion and a session on leading your chapter to success.
Henson and Kalisz advanced to the finals for the perfect pitch competition.
"The conference was extremely helpful for the development of our chapter here at the University of Arkansas," Simpson said. "Next year, we aim to reach at least silver status as an international chapter."
Judges for the collegiate competitions included a panel of executives from Northwestern Mutual, TEKsystems, ABC Supply Co. and Aerotek Programming.