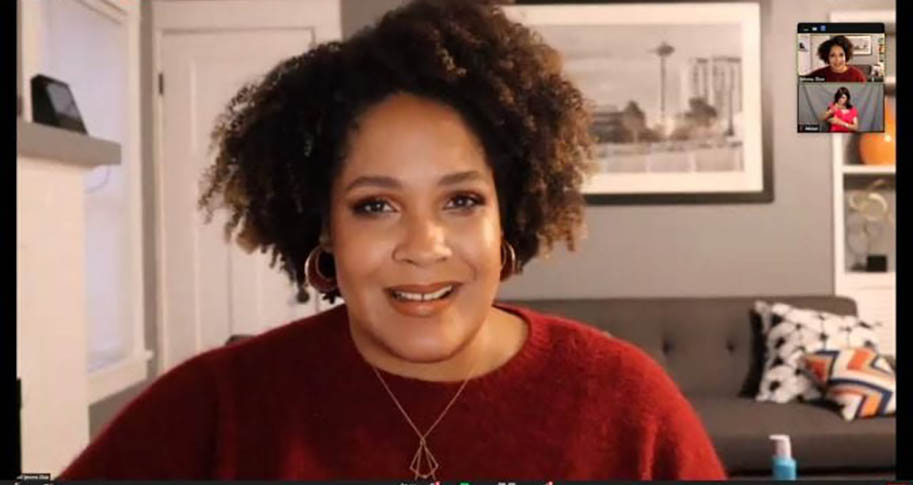 Ijeoma Oluo, the New York Times bestselling author of So You Want to Talk About Race, spoke via Zoom to a large gathering of Northwest Arkansas business and community leaders and students, faculty and staff from throughout the state about integrity and the many aspects of race and how that impacts higher education and work.
At its peak, more than 600 people in the combined Zoom and Facebook live feed heard Oluo, a Seattle-based writer and speaker, on Tuesday, Nov. 10.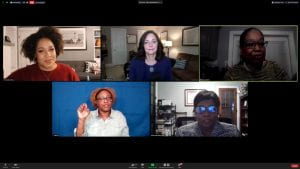 Her talk was the capstone presentation of a semester-long program called Let's Talk About Integrity and Race organized by the Walton College. That program was organized and led by the Walton College's Office of Diversity and Inclusion and its director, Barbara Lofton, and the Business Integrity and Leadership Initiative, headed by Cindy Moehring, the initiative's founder and executive director.
"Ijeoma Oluo's talk is so timely and needed," Lofton said. "Our country and our communities need to be able to discuss sensitive issues to grow and advance. It is time to talk. It is time to heal."
This was a unique event, bringing together a large, diverse gathering to specifically discuss integrity and race. There was an outpouring of participation from the entire University of Arkansas system, other colleges and organizations throughout the state of Arkansas, community and business leaders from Northwest Arkansas and even some regional participants from the University of Texas system.
"While this is the first event of its kind, it won't be the last," Moehring said. "Integrity, trust in institutions and systemic racism are hot-button topics right now. It will take all of us listening to each other and working together — businesses, community leaders and educational institutions – to create change for the better going forward."
Throughout the fall semester, faculty, staff and students from the University of Arkansas' Fayetteville campus and community and business leaders from the region have studied Oluo's book a few chapters at a time and then discussed strategies for speaking up to address systemic racism. After concentrating on that book all semester, it was meaningful for participants to hear from the author herself.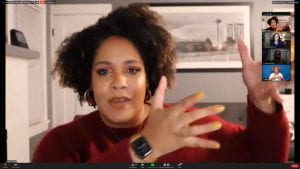 The presentations during the semester-long program were extended beyond the campus into the larger community in partnership with the Northwest Arkansas Council. As part of that effort, Walton College and the council sponsored workshops for 120 community leaders to engage the wider Northwest Arkansas region in the dialog about integrity and race.
U of A System participants attended from the University of Arkansas for Medical Sciences, the University of Arkansas at Little Rock, the University of Arkansas at Fort Smith, the University of Arkansas Pulaski Technical College, the University of Arkansas at Hope-Texarkana and the Division of Agriculture, among others. Lofton and Moehring pointed out that this helped the Fayetteville campus fulfill its mission as the flagship and land grant institution in Arkansas.
Comments in a chat after Oluo's presentation included, "Incredible opportunity for the community," as well as "Wonderful experience" and "Can't wait to take this information back to my employer."
Anne O'Leary-Kelly, senior associate dean of the Walton College, said the session with Oluo exceeded her expectations, "which were already high."
"The session was enlightening, challenging, fair and well-presented. Fulbright College (at the U of A) has already asked for the recording to share with their faculty who were unable to attend," O'Leary-Kelly said.
A video of Oluo's presentation and discussion is available to view until Nov. 25.