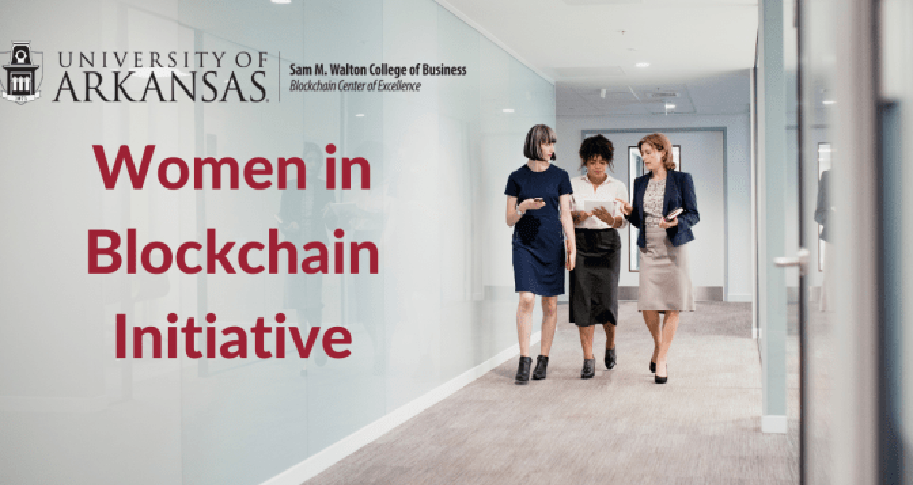 The Blockchain Center of Excellence, part of the Department of Information Systems in the Sam M. Walton College of Business, launched the Women in Blockchain Initiative, a new content series, to highlight female blockchain leaders and use-cases that support and promote women.
"Women are capable of leading blockchain companies, publishing research and building blockchain-based applications, but are currently under-represented in this technological space," said Kathryn Carlisle, senior managing director of the center. "The overall interest in blockchain and cryptocurrency is growing rapidly, but there is still a long way to go to in terms of closing the gender gap for wealth creation and leadership opportunities."
The initiative was kicked-off by sharing a video spotlight series that is now featured on the center's website and published on the Women in Blockchain playlist on the Walton College YouTube page. Content and interviews will be continually added throughout the next year for individual leaders and use-cases. Current spotlights include blockchain professionals in areas ranging from secure U.S. government nuclear codes storage to financial inclusion for women working on and owning farms in Africa.
Carlisle and Mary Lacity, Walton professor of information systems and director of the Blockchain Center of Excellence, will contribute to the initiative by speaking at special events such as the Women in IT Conference.
"As technologists, the BCoE faculty and staff believe everyone should participate in the design and implementation of new economic systems that are enabled by emerging technologies like blockchains," Lacity said. "We hope that students will see the possibilities for their careers by celebrating the women who are leading the way. The Women in Blockchain Initiative is part of a broader diversity, equity and inclusion initiative in the Walton College and across the University of Arkansas."
Eventually, the initiative will expand to include more workshops, partnerships and different forms of recognition. If there is a female blockchain professional or use-case that you would like to nominate, please email blockchain@uark.edu.