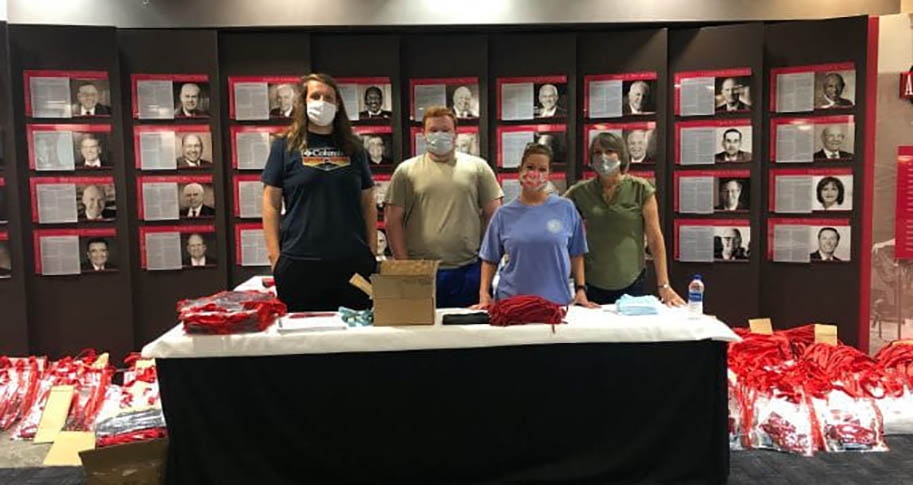 Walton Conference Hub staffers know how to turn on a dime. When asked to support the campus community by assembling safety kits for 26,000 students, they didn't hesitate.
For the past two weeks, conference hub staff Shannon Bullock, assistant director, Walton Conference Hub; Diana Blake, facilities coordinator; Grant Peters, student worker; Daniel Hubbard, student worker; Chase Smith, event sales coordinator; and Rebecca Guilbeau, event support specialist, have worked eight hours or more each day to assemble thousands of COVID-19 care kits with masks, thermometers and hand sanitizer to distribute to U of A students.
Each staff member put other projects on hold and got to work.
"They are absolute rockstars," said Becca Clifton, director of the Walton Conference Hub and Facilities. "I have been so proud of my team throughout this project! When I volunteered us to assemble and distribute 26,000 bags, they never wavered, but instead asked how soon they could get started. Their enthusiasm and positivity during these uncertain times is contagious!"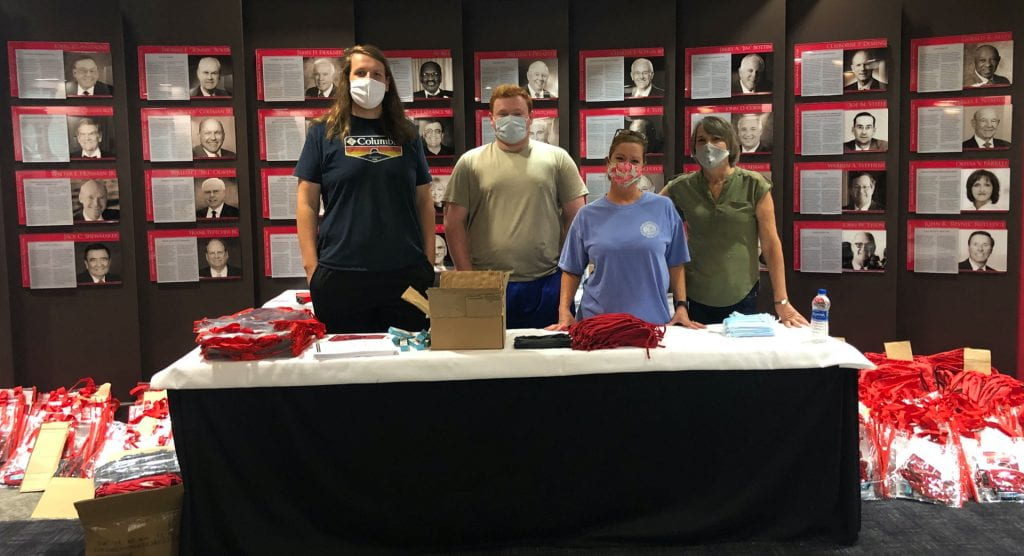 Staff and faculty from across campus volunteered to assemble bags as well.
"This has truly been a campus-wide effort to safeguard our students," Clifton said. "All colleges and many departments across campus have contributed their time to order products and assemble bags."
Students: Leading with Heart
Thousands of COVID-19 care kits were assembled the first week and were distributed to fraternities, sororities and dorms.
For the final push to prepare for off-campus students, the team reached out to Angela Oxford, student development specialist for the Center for Community Engagement, which coordinates students and organizations with volunteer opportunities.
The center manages several initiatives including the Clinton Global Initiative University, Service Learning Initiative, Jane B. Gearhart Full Circle Food Pantry and Volunteer Action Center.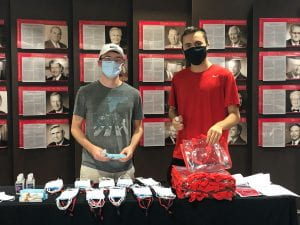 Through the Volunteer Action Center, Oxford quickly recruited students to assist. On Friday, Aug. 21, 10 students were staffing tables each hour from 8:00 to 3:00.
"We couldn't have done it without them," Clifton said. "Their help was invaluable."
COVID-19 Care Kits
Off-campus students may pick up a bag through Wednesday, Aug. 26 at the Student Union Mall or on Shollmier Plaza (between the Business Building and Willard J. Walker Hall) between 11 a.m. to 2 p.m. Students must have their student ID card, maintain 6 feet social distance and wear a mask!