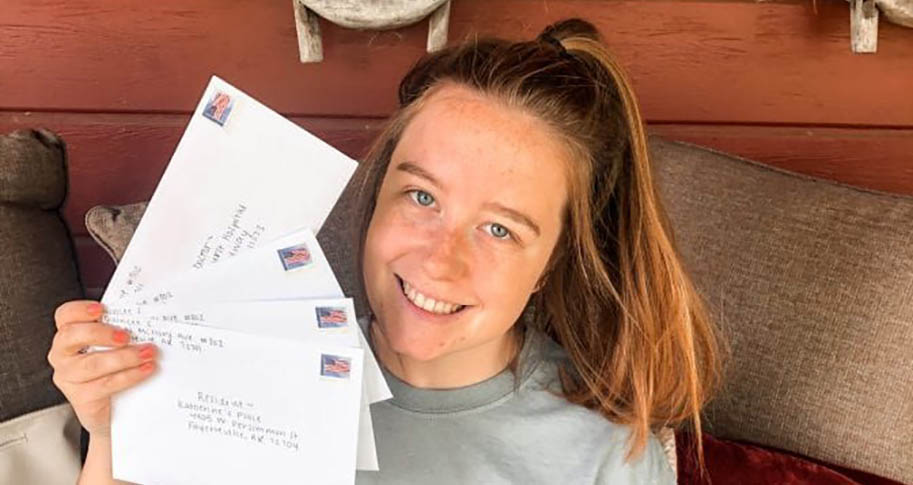 When Covid-19 ended their service project to collect feminine hygiene products for homeless shelters, sophomores Quincee Scates and Kaitlin Ketchey, both officers in Future Women Business Leaders at the University of Arkansas, quickly pivoted to an online project anyone could help with: writing letters to provide support to shut-ins or medical professionals.
"We were both disappointed about the cancellation of our original event, so we decided on an alternative," Scates said. "Writing letters can be done in quarantine and while social distancing! We know the health of senior citizens is a big focus right now and can't imagine what they are experiencing being stuck in a little room all day.
"We wanted to bring a smile to their face during this confusing time."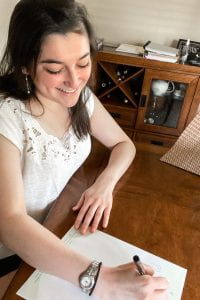 Scates, a marketing major with a business analytics minor, is the co-founder, vice president and treasurer for Future Women Business Leaders. Ketchey, also a marketing major with a business analytics minor, is the co-founder and president of the organization. Together they are promoting the letter-writing campaign and asking students, faculty and staff to participate.
Future Women Business Leaders is a registered student organization at the U of A. Its faculty adviser is Molly Jensen, a clinical associate professor in the Department of Marketing at the Sam M. Walton College of Business.
"Kaitlin and I are firm believers in having a positive impact and that little actions can go a long way," Scates said. "You never know what someone is going through and the pandemic is added stress that nobody needs."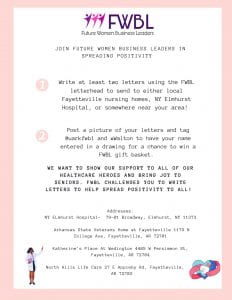 From the organization's Instagram page — @uarkfwbl – they ask everyone to follow two steps.


Write at least two letters using the FWBL letterhead to Fayetteville nursing homes, NY Elmhurst Hospital or a hospital or nursing near your home. (See below for addresses.)


Post a photo of your letters and tag @uarkfwbl and hashtag #Walton on Instagram to have your name entered in a drawing for a Future Women Business Leaders gift basket.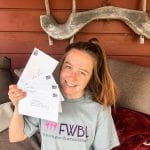 "After watching the news and noticing that New York was one of the states hit the hardest, we gave members the option to write somewhere that wasn't as close to home as well," Scates said. "Doctors and nurses are risking their lives every day due to the lack of personal protective equipment, and we wanted to thank them for their dedication to helping others!"
"We would love for anyone and everyone to participate! It is as simple as writing some kind words and mailing the letter. People can print out our letterhead, but if a printer is unavailable, a sheet of notebook paper will be just as good." Ketchey said. "We suggest using the Marketing Department as the return address, for the safety of others — Department of Marketing #302, Sam M. Walton College of Business, University of Arkansas, Fayetteville, AR 72701."
Mailing Addresses

Address letters to the following or send messages to a hospital or nursing home nearby.
NY Elmhurst Hospital

79-01 Broadway

Elmhurst, NY 11373
Arkansas State Veterans Home at Fayetteville

1179 N. College Ave.

Fayetteville, AR 72703
Katherine's Place at Wedington

4405 W. Persimmon St.

Fayetteville, AR 72704
North Hills Life Care

27 E. Appleby Rd.

Fayetteville, AR 72703
About Future Women Business Leaders

Future Women Business Leaders caters specifically to business students. It connects student members with faculty and industry mentors to encourage success as a women business leader through guest speakers, mentors and panels. Membership is open to any student – male or female – enrolled in Walton College. The organization focuses on diversity and inclusion.
To join or to find additional information about the organization, visit Hog Sync, Instagram at @uarkfwbl or by emailing uarkfwbl@uark.edu.