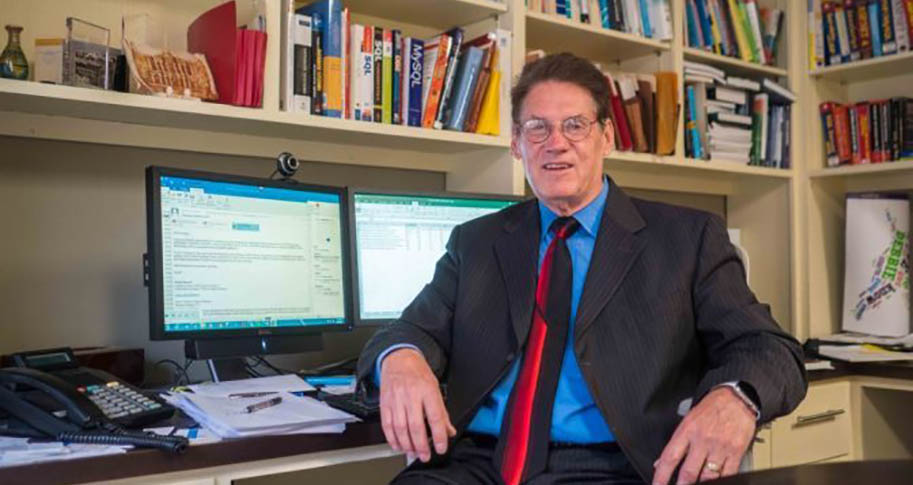 David Douglas, emeritus professor in the Department of Information Systems at the Sam M. Walton College of Business, has been recognized with the Lifetime Achievement Award from the Decision Sciences Institute, Southwest Region.
Douglas has been active in the Decision Sciences Institute and Southwest Decision Sciences Institute as well as the Federation of Business Disciplines since 1986. He has served in many capacities including president of the regional group in 1996-97 and president of the federation in 2004-05. He is the recipient of the Decision Sciences Institute, Southwest Region, Outstanding Educator of the Year award in 2000 and the Federation of Business Disciplines Sam Bruno Lifetime Achievement Award in 2012. He continues to be involved with the groups, focusing on data analytics.
Douglas received the honor March 7 in Albuquerque, New Mexico, where he and Elizabeth Keiffer, a Walton College information systems instructor, presented a half-day hands-on predictive analytics workshop sponsored by the institute. Workshop topics included prediction with linear regression, decision trees and neural networks for classification models; and an overview of deep learning.
Douglas retired in August 2017 after 42 years on faculty with the University of Arkansas. His initial appointment was in industrial engineering in 1975. He moved to what is now the Department of Information Systems in 1978 and served as department chair from 1985 to 1997 and again as interim department chair in 2010. The department implemented its Ph.D. program and its Master of Information Systems program during his time as chair.
Douglas earned a Ph.D. in industrial engineering from the University of Arkansas. He teaches in a wide variety of information systems areas with emphasis on data analytics, data mining, business intelligence, enterprise systems and global information technology. His research includes impact of data analytics and cognitive computing, and he has taught in several countries and presents workshops worldwide. He has received a number of honors and awards including International Educator of the year, 2010 Majdi Najm Outstanding Service Award from SAP University Alliances, IBM International Professor of the month, two IBM faculty awards and National Science Foundation co-principal investigator for Enterprise Computing Community.