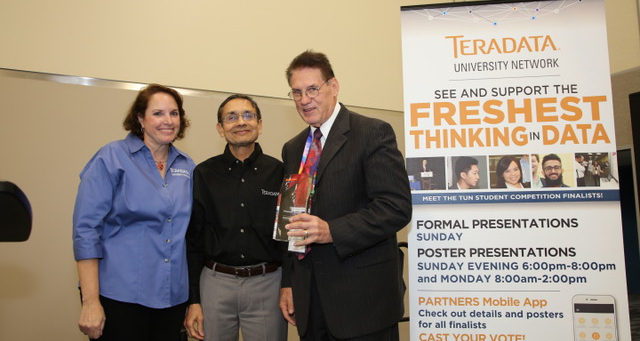 David Douglas, emeritus professor of information systems in the Sam M. Walton College of Business at the University of Arkansas, has been recognized with the Teradata University Network Pioneer Award.
The award, presented at the Teradata Partner's meeting in October, recognizes key individuals who drove the establishment of the Teradata University Network and the network's most strategic contributors. Enterprise Systems in Walton's Department of Information Systems has been a partner since the Teradata University Network's inception and provides database, data warehouse and analytics software along with data for faculty and students for academic purposes worldwide.
Douglas was director of Enterprise Systems at the Walton College until his retirement in August 2017.
Recently, Enterprise Systems partnered with Duke University and Teradata to offer a data science massive open online course, or MOOC. The course, designed to allow registration anytime in a three-year period, had more than 10,000 registrations in its first year. Student instruction is handled by Duke University, which uses the University of Arkansas academic-only Teradata system and an anonymized dataset from Dillard's.
In addition to the partnership with Teradata, Enterprise Systems works in conjunction with IBM, Microsoft, SAP and SAS on a variety of large-dataset hosting and academic research projects.