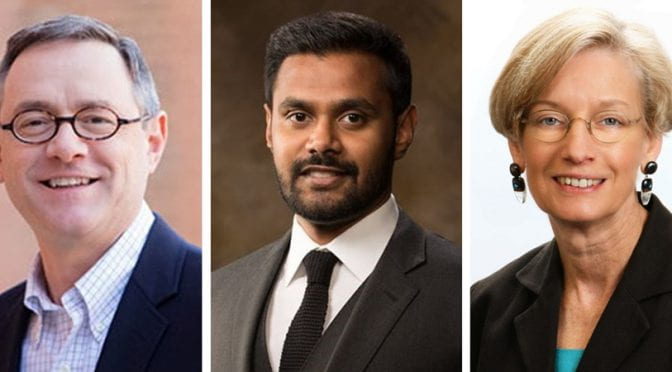 Mann has been the global chief economist at Citibank since February 2018, where she is responsible for thought leadership, research guidance of a global team of economists and cross-fertilization of research across macroeconomics, fixed-income and equities.
Prior to this position, she was chief economist at the Organisation for Economic Co-operation and Development, where she also was director of the economics department and was finance deputy to the G20 in 2014-2017. Prior to the OECD, she held the Barbara '54 and Richard M. Rosenberg Professor of Global Finance at the International Business School, Brandeis University, where she also directed the Rosenberg Institute of Global Finance in 2006-2014.
She spent 20-plus years in Washington, D.C., where her positions included senior fellow at the Peter G. Peterson Institute for International Economics; economist, senior economist and assistant director in the International Finance Division at the Federal Reserve Board of Governors; senior international economist on the President's Council of Economic Advisers, and adviser to the chief economist at the World Bank.
MARK PALIM
Palim is vice president and deputy chief economist at Fannie Mae. He is responsible for overseeing the Economic and Strategic Research Group's forecasting functions and manages multi-disciplinary partnerships across the company to address specific business issues facing Fannie Mae. Palim is a key spokesperson on economic trends and a frequent speaker at national mortgage finance and housing industry events.
Prior to working at Fannie Mae, Palim was an economic consultant at PricewaterhouseCoopers and LECG. His practice focused on applying economic and financial theory to a variety of business disputes and policy questions. He worked as a consulting and testifying expert in antitrust cases and disputes in the financial services industry.
In addition, Palim led a team of 75 adjudicators charged with valuing claims for the Department of Justice and the Special Master administering the Federal September 11th Victim Compensation Fund.
MERVIN JEBARAJ
Jebaraj is the director of the Center for Business and Economic Research. During his time at the center, he has been instrumental in creating and executing economic studies for clients such as the Arkansas Economic Development Commission, the Northwest Arkansas Council, the Walton Family Foundation, Arvest Bank, the University of Arkansas and many others.
He has contributed to economic thinking and public policy discussion that journalists, business people, and community leaders alike rely on to understand how national and regional issues impact Northwest Arkansas and Arkansas as a whole. Arkansas Businessand the Northwest Arkansas Business Journal recognized Mervin in their 40 Under 40 lists and on the Arkansas 250 list.
He makes presentations that share the center's expertise directly to over 5,000 individuals annually and tens of thousands more hear and see his economic analysis and commentary through television, radio and print media.
Jebaraj serves on the Community Development Advisory Council of the Federal Reserve Bank of St. Louis, on the Board of Directors of the Association for University Business and Economic Research and on the Board of Directors of the Walton Arts Center. He is also a member of the National Association for Business Economics.