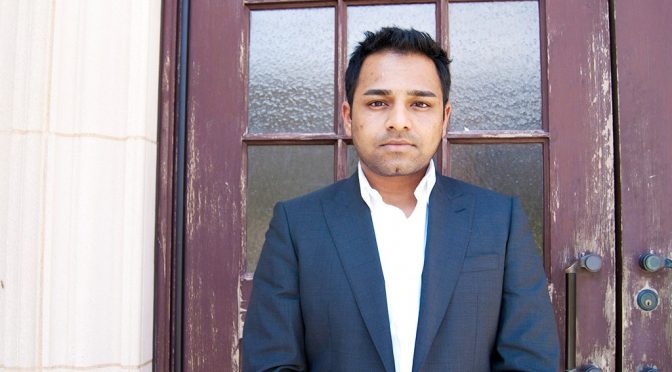 Abhijith Anand reflects fondly on his introduction to computers as a child.
He was exposed to computers at an early age when his family brought home a PC. It was running on Windows NT and had an office software program similar to Lotus 1-2-3 and Word 6.0 for managing spreadsheets and word processing. There was also a screensaver that featured different colored 3D pipes. Hours were spent trying to de-crypt those pattern of 3D pipes and playing computer games like Prince of Persia.
Growing up, Anand thought he might be a scientist, drawing inspiration from science communicator Bill Nye and astronomer Carl Sagan. But his fascination kept shifting back to digital technology – especially how it impacts society. As it so happened, Anand's hometown was the perfect place to fulfill that fascination. Bangalore is dubbed "The Silicon Valley of India" for its abundance in information technology companies.
He worked hard and pursued this interest. It paid off.
Anand earned a bachelor's degree in engineering at the K.S. Institute of Technology in Bangalore before earning master's degrees in information and communication technology and information systems and technology-research at the University of Wollongong in Australia. He received his Ph.D. in information systems at the University of Waikato in New Zealand.
"The IS faculty in Walton is definitely one of those places an IS-Ph.D. candidate would aspire to be when they graduate, and it was the same with me too," he says.
Aspired, but not anymore.
Anand accepted the offer of an assistant professorship with the Department of Information Systems at the Sam M. Walton College of Business. Joining the department in summer 2017, Anand still can't contain his excitement to be among the faculty who authored papers that intrigued and inspired him as a student. When he finally met them, it got even better. He found them to be outgoing, down-to-earth and encouraging.
Anand teaches business analytics and business intelligence courses. He says his students challenge him with intelligent questions, which motivates him to be the best version of himself he can be. He says the most rewarding moments are when his students inform him that his classes helped them get their jobs and internships. He's also excited for them as they near graduation and embark on their careers.
"There's a big demand for analytic skills," he says. "There's a big paycheck for analytic skills, too."
Anand says his research often centers on finding ways for businesses to understand their data and how they can derive value from it.
For example, a credit card company may need to understand the algorithms running behind the scenes to aptly understand when fraud has taken place or if it's a false alarm. Combining the right data with the right analytical tools can help organizations predict unusual behaviors.
There are also many possibilities of integrating isolated data sources for a greater use, Anand says. A car insurance company may want to utilize a weather data program into its software so that it can notify customers, such as through text messages, to get their car to a safe place to avoid damage from an impending storm. A fitness monitor might have an application to let the user know when it's time to buy a new pair of running shoes based on their fitness activities.
Anand's research has been published in MIS Quarterly Executive, the International Journal of Information Management and the Business Process Management Journal.
Digital technology also plays a role in Anand's leisure time. He says he still enjoys playing around with hardware circuits, building custom gaming machines and playing video games every now and then.