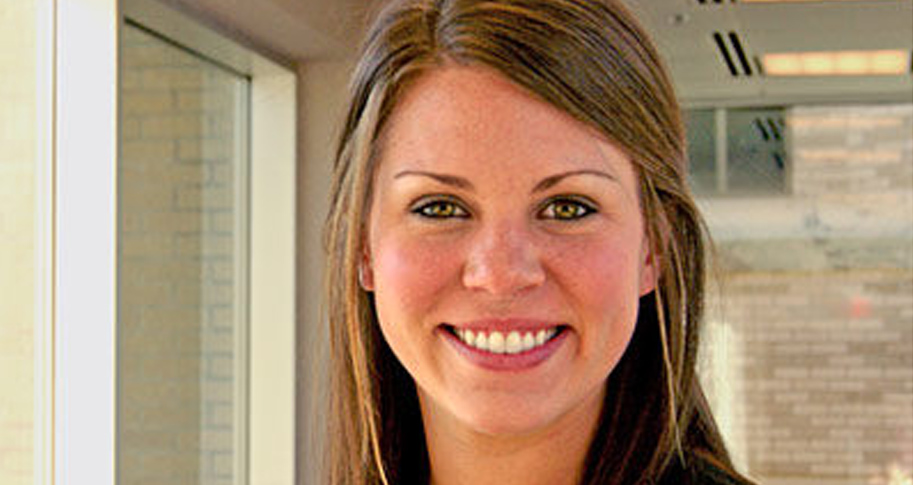 Dancing is Amanda Dooly's passion. Growing up in Fort Smith, she spent long hours studying ballet as well as contemporary dance styles. Her skills are so strong, Texas Christian University offered her a spot in the School for Classical and Contemporary Dance.
Although Amanda says she had envisioned a career in the arts, by the end of her senior year at Southside High School, she was thinking about other occupations. Her father, treasurer at Baldor Electric Co., played a big role in her decision to pursue a business degree, especially after she traveled with him on a business trip to New York. While there, she and her father met with the global investment bank BNP Paribas. The discussions she had with the directors and vice presidents intrigued her.
When it came time to choose a college, the University of Arkansas, only about an hour north from her hometown, seemed like the logical choice. "I decided to come here because it's closer to home," she says. "Family is big to me."
Amanda says when she first enrolled as a Sam M. Walton College of Business honor student, she majored in international business with Spanish as her focus language. During her junior year, she changed her major to accounting and continued to take Spanish courses in order to complete a minor.
Little did Amanda know that a high school meeting with BNP Paribas would lead her to last summer's internship with the company. She lived in New York, and her title with BNP Paribas was corporate acquisition finance summer analyst. She analyzed financial data regarding proposed corporate takeovers, acquisitions and mergers.
Amanda says her internship and business courses all point to a bright future. "All of the resources at the Walton College prepare you for a career after graduation," she says.
Participating in the Walton College Ambassador program allows Amanda to represent the college in different ways, such as giving tours to prospective students.
This doesn't mean she's left dancing behind. She is able to choreograph pieces for the Western Arkansas Ballet Company in Fort Smith and the Southside High School Dixie Belles. She also serves on the board of directors of the Dance Coalition in Northwest Arkansas and has even provided her dancing skills to the University of Arkansas. Last year she was Pork Chop, the smallest of the university's uniformed mascots, and performed at all of the home football, basketball and volleyball games as well as gymnastics meets. Amanda's family also offers a scholarship in her name through the Western Arkansas Ballet Company to enable aspiring choreographers to attend a summer choreography intensive. As a member of the Zeta Tau Alpha sorority, she has served as fraternity educator and step show chair and volunteers with Race for the Cure each spring.
This May, Amanda will continue her education through the Integrated Master of Accountancy (IMAcc) program, a five-year Walton College program where, upon completion in 2013, Amanda will receive bachelor's and master's degrees and be eligible to take the certified public accountant exam.
"I have been very blessed to have so many unique and inspiring opportunities available to me throughout my college career," Amanda says. "I would encourage other students to take advantage of any opportunity they are presented with from the minute they step on campus."