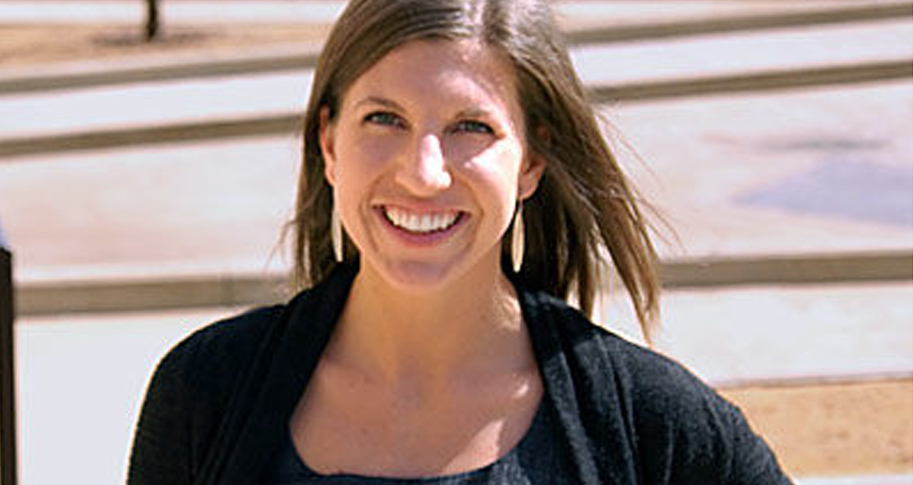 As students find their seats, Anastasia Thyroff's classroom is often filled with music. The songs, which she broadcasts through the classroom computer, can be something she's heard while on her travels or something that reflects a personal aspect about her.
During the week of the Super Bowl, she played songs that were featured in commercials for the televised event. It got conversations going.
"There is nothing worse, in my opinion, than a class where the students look zoned out or bored out of their minds," Anastasia says.
Her teaching and enthusiasm are two of many reasons the Sam M. Walton College of Business bestowed her with the 2012 Outstanding Graduate Student Award.
"I've been thinking a lot about how grateful I am for this award," she says. "It makes me very appreciative for all of the teachers who have inspired me and help guide me down the path of academia."
As part of the nomination process, Anastasia had to compile a portfolio of her accomplishments for the selection committee.
"Sometimes, as Ph.D. students, we're just going and going and going. It was nice having an excuse to stop and reflect," she says.
In her third year at the Walton College, Anastasia is pursuing a doctorate with a concentration in marketing. She also teaches Integrated Marketing Communication.
Growing up in Rochester, N.Y., Anastasia always planned on being a teacher. When she signed up for a business class in high school, her plans took a detour.
"I fell head over heels for marketing," she says. "I just 'got' marketing." Her classmates also noticed, she says. When they did a virtual enterprise project, all of the "companies" tried to get her to be their director.
Others were taking notice as well.
"My business teachers, they knew I'd end up in marketing," she says.
As for finding a university, Anastasia says she was growing tired of Rochester's cold winters, which can include large amounts of lake-effect snow courtesy of Lake Ontario. She says she found a warmer alternative in South Carolina when she enrolled at Clemson University. While there, she took a marketing research class and, again, her focus was being refined. Anastasia says when a professor suggested she pursue a Ph.D., she realized her childhood dream of becoming a teacher could be fulfilled while being involved with both marketing and research.
"It's just a win-win-win," she says.
After earning her bachelor of science degree in marketing, she continued her education at the University of Georgia where she earned a master's degree in marketing research. When it came time to select her final phase of her education, she says there were a couple of offers from universities. But when she visited the University of Arkansas, she sensed something special.
"It just immediately felt like home," she says. "The marketing department was no different. You could just tell there's this nice, friendly camaraderie."
There's also plenty of room for research. Anastasia is currently exploring how nanotechnology is being legitimized – or not – in our everyday lives.
Anastasia says when she needs to take a break, she'll grab her dog Belle, a soft coat wheaten terrier, and go for a run.
"I rescued her two months ago, and she's the love of my life," she says.
Then, it's back to the classroom, playing music for her students and engaging them in discussion.