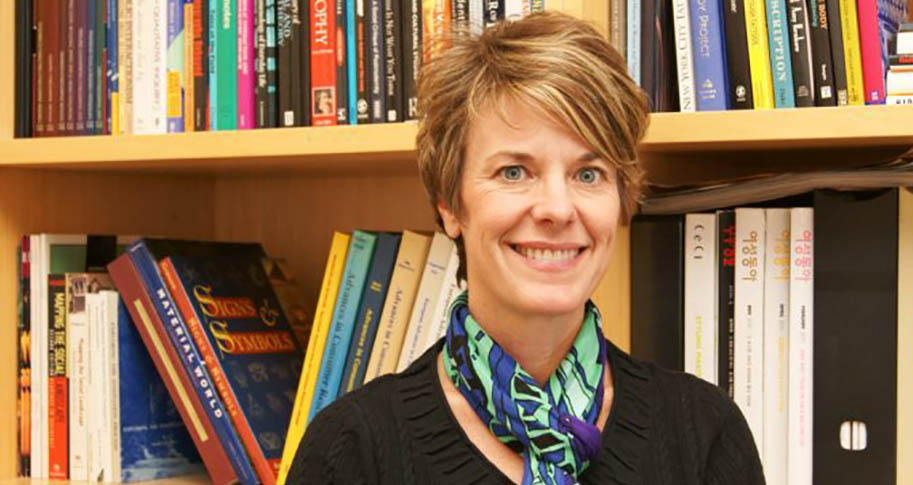 Anne Velliquette has experienced the many faces of marketing.
She realized the art of a beautiful floor display and the role of purchasing when she interned as a buyer at a department store. When she sold and marketed turkey products, she was required to learn every aspect of what it takes to prepare the bird for commercial sale. As a graduate student, she prescreened inventors and new businesses trying to get their products on the shelves at Walmart.
Now Velliquette is a member of the marketing faculty at Walton College. She's no stranger to Walton, however. She earned her marketing Ph.D. at the University of Arkansas before working as an assistant professor at the University of Utah. She returned as an adjunct instructor before joining the department as clinical assistant professor in 2014 where she teaches Introduction to Marketing and Integrated Marketing Communications.
"I love being back here," Velliquette says. "I was trained by many of the individuals in the marketing department."
Originally from Fordland, Missouri, which is about 30 miles east of Springfield, she earned her bachelor's degree in marketing at Southwest Missouri State University (now Missouri State University) in Springfield. Following graduation, Velliquette worked for Cargill Inc. in Buena Vista, Georgia, where she sold raw commodities, such as "massive" turkeys as well as turkey parts, to poultry production processing facilities and even worked on the production line deboning poultry so she could understand her job better. From there, Velliquette returned to Springfield to work in marketing and sales for a food brokerage firm whose clients included Springdale-based Tyson Foods Inc.
"I like being in the classroom. I like the interaction with students."
With a desire to further her career, she felt an M.B.A. would be helpful and enrolled full time at Southwest Missouri, where she had a graduate assistantship with the Wal-Mart Innovation Network, which pre-screened products from new inventors and businesses. "It was a really fun program, and we had some really interesting and successful products come through," Velliquette says.
While at Southwest Missouri, she taught small business development workshops. That's when she discovered something: she enjoyed teaching.
"I like being in the classroom," Velliquette says. "I like the interaction with students."
While there, her mentor encouraged her to get a doctorate in marketing. The University of Arkansas, only two hours from Springfield, seemed like the perfect choice. At Walton, she studied under many of the faculty, including Dub Ashton, Scot Burton and Jeff Murray, and gained more teaching experience as well.
Velliquette also founded Support Arkansas Made, a program modeled from her position with the Wal-Mart Innovation Network, which assisted Arkansas manufacturers in the evaluation of new products and product ideas based on marketable criteria.
After earning her doctorate, Velliquette's first teaching job as a professor was at the University of Utah, where she received the College of Business Teaching Excellence Award.
She returned to Northwest Arkansas when her husband, Craig, was transferred by his employer, IBM. Velliquette and her husband have a son and a daughter.
In her classes, Velliquette partners with companies to give students real-world experiences. Their projects include writing creative briefs and creating ad campaigns, and the students tend to shine in their presentations, she says. "If you give them a chance to work with a real client or business, they step up and do a really great job," Velliquette says.