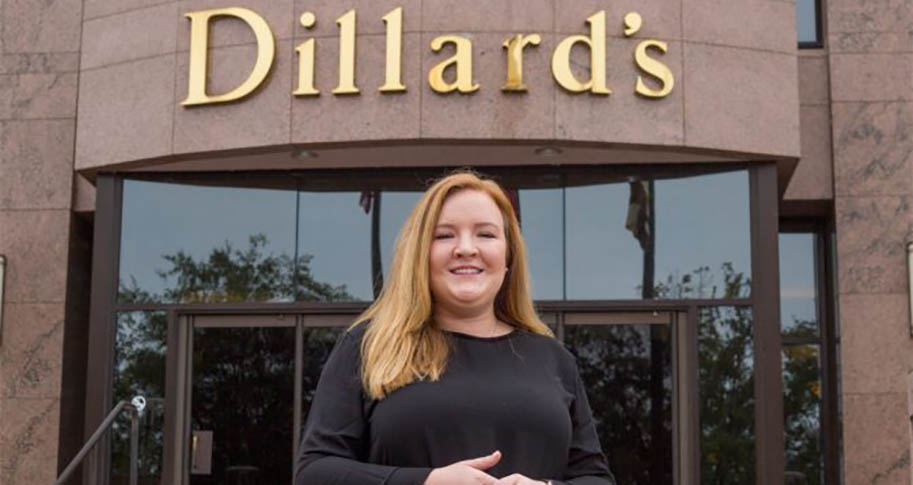 The atmosphere was just like working for a company.
In fact, when Ashley Collins began her first career job after graduation, she was grateful that her classes at the Sam M. Walton College of Business mirrored a work environment – one that prepared her to develop software for a large company.
"I appreciated that because coming into a full-time job right off out of college, you're kind of frightened at what might be on the other side of the 'world,'" Collins says. "I was very prepared, and I was very thankful for all of my classes."
Since the summer of 2017, Collins has worked as an Agile COBOL Developer for Dillard's Inc. of Little Rock, helping the company's approximately 300 department stores in several capacities, from helping refactor some of its main screens in the mainframe that users interact with daily to supporting Dillard's Intranet and Extranet base code. In short, she's helping Dillard's distribution, supply chain and other operations run like they should. COBOL is a high-level programming language that aims to develop business applications. It is a procedural language that is widely used in legacy applications that are deployed on mainframe computers. The applications tend to be large-scale batch and transaction processing, Collins says.
Collins graduated from Walton College in May 2017 with an information systems degree. She credits her Business Application Development Fundamentals class for enabling her to understand the complex software programs utilized by businesses and corporations, such as agile programming.
"Agile is a type of methodology some, not all, companies implement," Collins says. "Since I'm on an agile group now, it was very helpful to work on a project an entire semester and work on this methodology because if I hadn't done that, walking into Dillard's on Day One, I would have been completely lost on how agile works."
As an undergraduate, Collins spent six months in 2016 in Walldorf, Germany, working at SAP headquarters, which specializes in software that integrates all areas of businesses. She served on SAP's operations team and learned about the methodology used when developing custom software for businesses.
Back on campus, Collins was a member of the Association for Information Systems led by Susan Bristow, information systems clinical assistant professor. During her freshman year, Collins was a Kappa Delta representative in the GAMMA registered student organization, which consisted of Greek students advocating for mature management of alcohol. Collins was also a member of Big Brothers, Big Sisters.
She commutes from her hometown of Bryant, about 25 miles southwest of Little Rock, and is falling in love with her new job. When she toured some of Dillard's facilities, it confirmed how she felt. "I've been running with them ever since," she says.
Collins has a message for anybody who's considering attending Walton, whether they're someone who hasn't declared a major or a high school student looking at universities.
"No matter what you do, there's going to be somebody there who's willing to help you, and, for me, that says a lot about the college in general," she says of Walton. "It is not a cakewalk. They're going to challenge you."
Collins isn't the only person in her family to have a degree from the Walton College. Her older sister, Kelsey Collins Greer, graduated with a B.S. in economics, with a minor in finance, and her brother-in-law has a B.S. in accounting.
She also knows that the college has positioned her for a long, successful career. "Five years down the road, I will not be bored," Collins says.