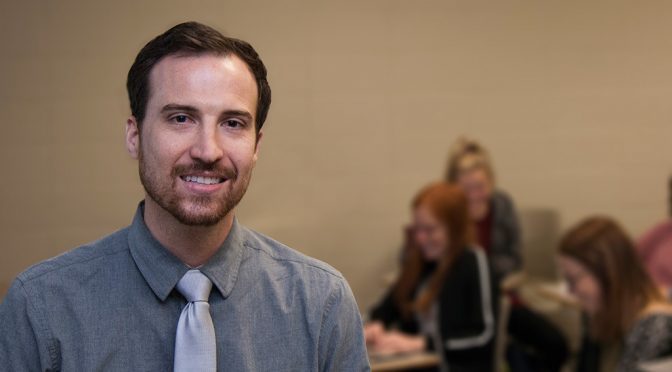 There are so many ways to market a new product. B.J. Allen prefers those that break tradition.
Using television, the internet and radio is obvious. But what other avenues are there?
It's using strategy. It's understanding customers. When he's not researching cutting-edge methods, he's inspiring his students to come up with unique ways of creating marketing campaigns that get everyone buzzing.
The Sam M. Walton College of Business' dedication to innovation was one of the many reasons why Allen joined the Department of Marketing in the summer of 2017 as assistant professor. He teaches New Product Development and Strategy to graduate students and Marketing Topics and honors courses to undergraduates.
"I really enjoy teaching," he says. "I love researching. I knew that from my job experience."
Allen grew up in Centerville, Utah, a suburb of Salt Lake City, and served as a missionary in Detroit for a couple of years before returning to Utah, where he enrolled at Brigham Young University. He was faced with the task of declaring a major. "I didn't know anything about anything," Allen jokes now.
Business seemed like a sensible idea, so a business major he was.
After graduation, Allen moved to Chicago to work for Sears' corporate headquarters, running marketing analytics as an internal consultant for the department store chain. If the company wanted to launch a new product, he would research whether the product was in demand and, if so, the best way to market it. "That's when I learned that I loved analyzing numbers and strategic business problems," he says.
From there, he returned to Salt Lake City to work in a similar position for the online retailer Overstock. Around this time, Allen says he experienced a "pre-midlife crisis." He visited his college mentor, who suggested he enroll in a doctoral program. "A Ph.D. was the farthest thing from my mind," he says.
But the more he thought about it, it made sense.
Allen was accepted into the doctoral program at the University of Oklahoma. When his adviser moved to San Antonio to work at the University of Texas, Allen followed him there. Upon graduation, Allen began applying and interviewing for jobs. While he wasn't sure where he would end up, he did have a mental checklist of where he wanted to move with his wife and kids.
"I was looking for an innovative business school that was really supportive of research and also emphasized teaching and student welfare in a really family-friendly area," he says.
Walton College invited Allen for a campus interview. Having never been to Arkansas, he wasn't sure what to expect. Any worries were eased once he got a good look at the area. "I was really blown away by how beautiful it is," he says.
In addition to the college's dedication to innovation, he noticed something interesting about the faculty.
"Most had been here for a while," he says. "They like being here."
He also noticed a strong collegiality among faculty and staff.
"That was another reason I wanted to join," he says. "Everyone was just so kind."
The family packed up their things and made the Natural State their home.
Allen says he loves working with his students as they examine the successes and failures of past product launches. The students are also interested in discussing their future. "They want to know what they can do better when they go into their careers," he says.
He reads business journals for research ideas and also draws from projects he has worked on in the past. One area that particularly interests him is crowdsourcing – utilizing consumer input, often through the internet, in product development. (Proctor & Gamble, Lego and General Electric are among the companies that feature websites for innovative suggestions.) Allen studies not only how the process works but how it also may encourage consumers to purchase more of a product. His work has been published in the Journal of Marketing and the Journal of Retailing.
Allen also enjoys spending time with his family, such as coaching his children's soccer and basketball teams. The youngest, not quite ready to sink 3-pointers, has a distinction that his parents and siblings don't: He's an Arkansas native.