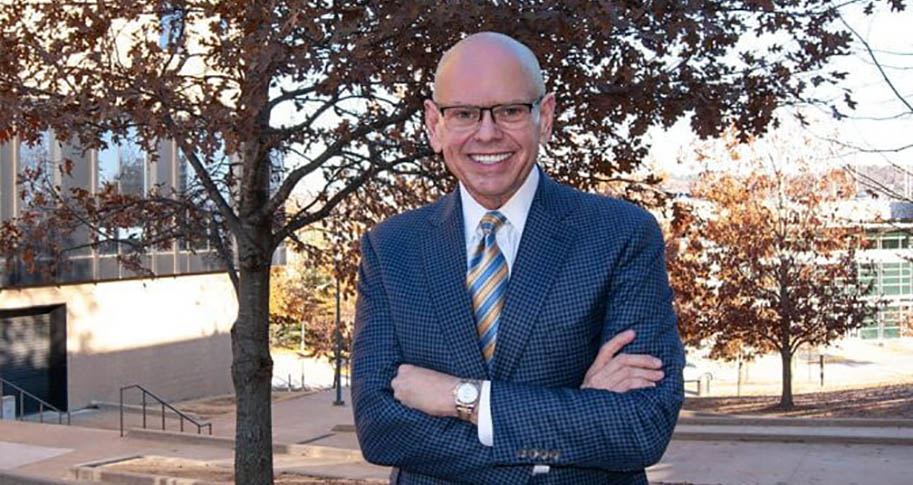 Do you play a musical instrument? Are you good at geometry?
These are questions that Barry Bryan might ask a student considering accounting as a major. It's been his experience that these skills often make for good accountants.
"Interestingly enough, I think most musicians find accounting to be logical," he says. "Where a musician can see a key change coming or know how to read what's happening with the way a piece of music is structured – the logic behind that – I think they find accounting logical."
And if a student says they are good at math, Bryan will counter by asking how they are with geometry, "because if they were good with high school geometry, they'll find it very logical."
When Bryan himself was pondering accounting as a major, he was a student at what is now the Walton College and among the first undergraduates to attend classes in the Business Building on McIlroy Avenue.
In August 2020, he returns to the college as a teaching professor for the Department of Accounting, an assignment he is excited about.
"It certainly means a great deal to me in that as an alum and an Arkansas native, I feel as though I have a vested interest in the success of the department and the school," Bryan says. "Throughout my career, I have associated the accounting department and the business school with contributing to the success of so many individuals, both professionally and philanthropically."
Gary Peters, Department of Accounting Chair, is equally enthusiastic.
"We are fortunate to have such a teaching champion join our faculty," Peters says. "Our students and faculty will benefit immensely."
Poets & Quants for Undergrads, a news website dedicated to business school education, named Bryan one of the Top 40 undergraduate professors for 2017. Poets & Quants said that Bryan "has a care for his students that is so pure, some say they've never come across a professor quite like him. They say his teaching and his mentoring aren't surpassed by any other and that his enthusiasm for students extends far beyond accounting."
So much so, that most of Bryan's Facebook friends are his former students.
But the accolades don't end there. He is the recipient of many awards related to his teaching and service, including from Southern Methodist University in Dallas, from where he will retire as professor before coming to Walton. He also was named the Texas Society of CPAs Outstanding Educator in 2013 and given the Ernst & Young Inclusiveness Excellence Award for Accounting and Business School Faculty in 2010.
Bryan grew up in the southwest Arkansas town of Gurdon where, as a child, he had teaching aspirations.
"When I was a little boy, I remember writing a paper in elementary school when the teacher asks you what you want to be when you grow up," Bryan says. "I actually wrote 'a college professor,' but I didn't think it would be accounting."
Years later, he was thrilled to be offered a band scholarship to the University of Arkansas. But when it came to declaring a major, Bryan's interests were all over the map. He had both a love for music and history, was active in several student organizations and even considered becoming a lawyer. Jim Modisette, then chair for the Department of Accounting, offered some practical advice. "He said accounting would be a good major whether I wanted to go to law school or not," Bryan recalls.
Modisette proved to be right. Though Bryan didn't go to law school, he continued on at the university to earn an M.B.A. and has since had a successful career in accounting that includes serving on the audit staff of Coopers & Lybrand, which later became PricewaterhouseCoopers. While in public practice, he realized he wanted to teach auditing to college students. He earned his Ph.D. at Texas A&M, where one of his professors was Ann O'Leary-Kelly, now Walton senior associate dean and professor.
Since then, Bryan has taught at different universities and replicates his real-world experiences in the classroom rather than focus on lectured-base instruction. For example, he conducts walk-through tests, a process to gauge the reliability of the controls in a client's accounting system, with actual accountants present to advise. He also has his students use and familiarize themselves with accounting software helpful with conducting data analysis and risk assessments. This, Bryan says, clarifies to his students what accounting is all about.
"Unless their parents were accountants, they are, probably, unsure of what they're getting into," he says.
Bryan also stays current with the accounting profession by working with KPMG, one of the Big Four accounting organizations in the world, in its Orlando, Florida, training facilities. There, he helps new hires get acclimated to the company, introduces them to KPMG's audit methodology and also conducts technical training for senior associates.
His history with the University of Arkansas and the state as well is a big draw for Bryan, who has never wavered in his support for the Arkansas Razorbacks. Now that he has a great-niece and great-nephew attending the university, he looks forward to spending more time with them in addition to getting to know his future students. "Barry is a great example of how our faculty have a heart for Arkansas," Peters says.
Bryan is looking forward to his next chapter, one that allows him to do what he's been doing for years.
"I like the relationships with the students," Bryan says. "I like being around young people. They keep me energized and keep me current with what's happening in the world."